Beat the imposter syndrome blues with Sonya Barlow as she breaks down common drivers and how to tackle them.
About this event
Imposter syndrome: we all know the feeling.
It's those nagging doubts of inadequacy that we don't belong or that we're going to get 'found out,' which really dig at the core of who we are and what we want to achieve professionally.
In fact, it turns out that 66% of professionals struggle with imposter syndrome and a lack of confidence. For many of them, this directly impacts their self-perception, as well as their ability to progress and achieve success in their work.
In this workshop led by entrepreneur, TEDx Speaker, and Business Coach, Sonya Barlow, you can mark a move away from the negative and bring yourself one step closer to living the kind of life you want, thriving professionally, and smashing your career goals.
In the session you will:
Discover the theories and strategies behind confidence and imposter syndrome
Learn mental and mindful strategies to build your confidence and combat the different types of imposters you might identify with
Leave with a greater understanding of your own strengths and successes, armed with new ways of handling high-pressure situations and feelings of imposter syndrome
This event is part of Creativity Works, a Mayor's Fund for London programme supported by Citi Foundation and delivered by Create Jobs at A New Direction.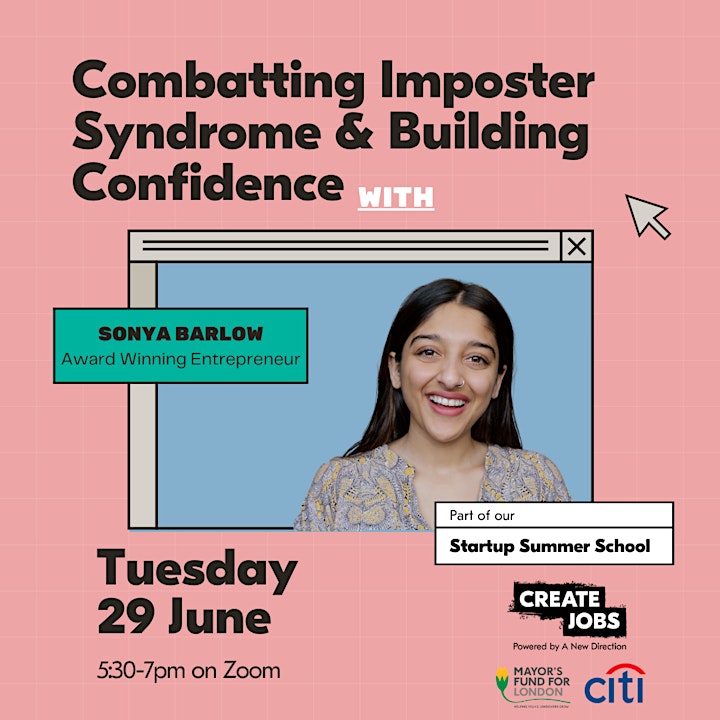 Organiser of Combatting Imposter Syndrome & Building Confidence with Sonya Barlow