Sales Have Ended
Registrations are closed
Your registration was done successfully .Thanks for registration .
Sales Have Ended
Registrations are closed
Your registration was done successfully .Thanks for registration .
Combining imaging data using machine learning workshop
About this event
Neuroimaging techniques allow for characterizing the structure and function of the nervous system. The aggregation of imaging datasets (both within and between modalities) is a critical step in training machine learning algorithms that may be used to identify meaningful patterns and support clinical decisions. This event is aimed at early career researchers with experience or interest in using imaging data. We will explore methods to combine datasets (Day 1) and different modalities (Day 2) through talks and practical workshops.
Program:
Day 1 - Combining datasets (14/09/2021)
3:00pm Session opening
3:15pm Timothy Rittman - Combining Clinical Cohorts - pitfalls and opportunities
3:45pm Esther Bron - Cross-cohort validation of machine learning for dementia diagnosis and prediction
4:15pm Break
4:25pm Richard Bethlehem - Brain chart for the human lifespan
5:10pm David Cash - Harmonisation strategies for multi-centre imaging studies
5:55pm Joanne Beer - Harmonising longitudinal multi-scanner imaging data with Long ComBat
Day 2 - Combining modalities (15/09/2021)
3:00pm Session opening
3:15pm Elena Rodriguez-Vieitez - Data-driven multivariate approaches in PET imaging, and their application to understand heterogeneity in AD
3:45pm Faeze Heidari - Combining heterogeneous data sources for diagnosis AD
4:15pm Break
4:25pm Ottavia Dipasquale - Enriching fMRI analysis with molecular imaging using REACT - Receptor-Enriched Analysis of functional Connectivity by Targets
5:10pm Andreas Schindele - Deep Learning for Alzheimer diagnosis combining FDG-PET and fMRI imageswith Python
5:55pm Closing remarks
DEMON Network Seminars are available for DEMON Network members only. Joining the Network is quick and free. If you are not yet a member of our Network, please visit www.demondementia.com/join to sign up before registering.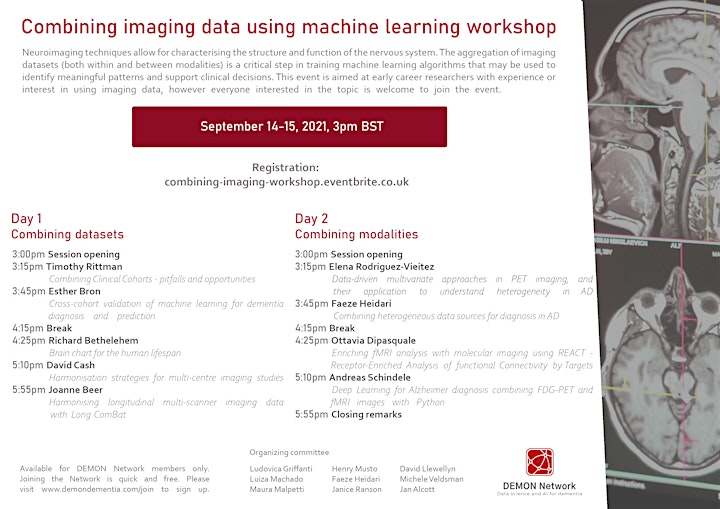 Organiser of Combining imaging data using machine learning workshop