Description
Do you want to make changes and improve your life in 2017? Join

Mairi McTaggart, internationally qualified coach, for a weekend that can change your life.

In a small group of no more than 10 women, experience the creative and restful space that Mairi offers. Using techniques derived from positive and Gestalt psychology, the creative arts, mindfulness and a taste of gentle yoga, you will be involved in a series of activities that build on each other and help you focus, gain clarity about your situation, reconnect your mind with your body, gain inspiration and motivation and propel your life forward.

In the pampering surroundings of hotels chosen for their luxurious interiors and accessible location, the two day programme (10.00 – 5.00 Sat and Sun) will be both emotionally and physically nurturing and developmentally challenging. Your comfort and nourishment will be fully catered for with lovely lunches, tasty treats and refreshments throughout the day. After immersing yourself in this experienced space, where your best interests will be paramount, you will emerge having:
Gained clarity about what you want to achieve and how to get there.

Learned how your particular strengths can support you in reaching your goals.

Increased your self knowledge as a means of strengthening your inspiration and motivation.

Tried out a range of creative, deep and effective techniques.

Adopted a range of approaches for ongoing success that you can actively use in your daily life.

Created a plan to realise your ambitions.
Malmaison Hotel Dundee, 11 & 12 February 2017
Two full days pampering your emotional wellbeing is a treat and an investment that can change your life. New Year discount of almost 35%. You pay £150 instead of £230.
Do you know someone who would love this? Why not get them a gift that really matters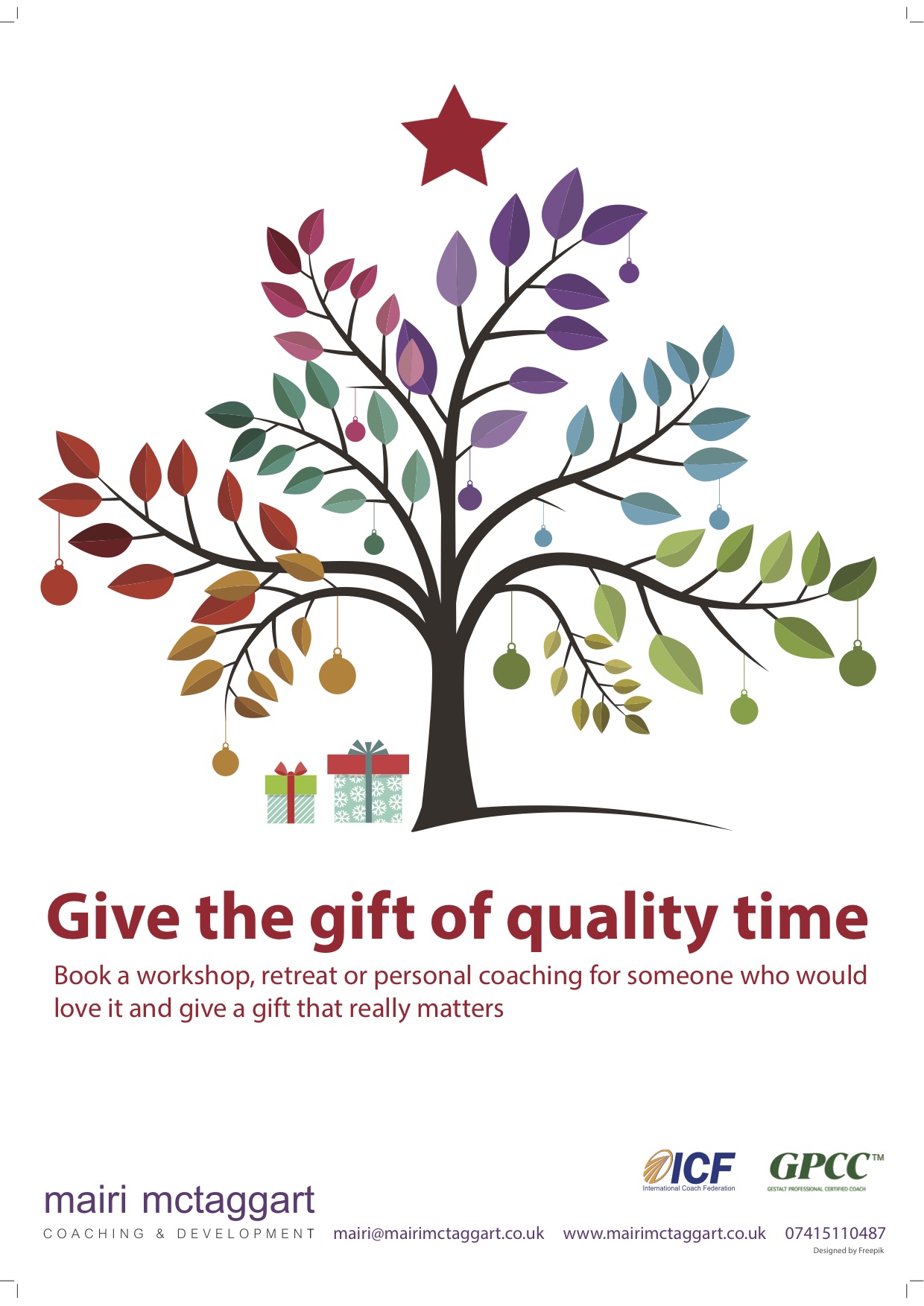 What previous participants have said about Mairi's workshops and coaching:
"I am uplifted, energised, motivated and excited about my future"
"Lovely environment, very peaceful, informative and enlightening! Lovely facilitator, so nice! Thank you."
"What a wonderful group of people. Now I'm wondering what other opportunities exist to do more!"
" Really enjoyable day. Everyone should take a day out and do this"
"Mairi creates real change by connecting her clients with a deeper sense of who we are. She brings a powerful combination of calm and encouraging belief in our potential, together with skill in listening and interpreting our language, both verbal and physical. "
"I have been a coach for more than 10 years, and have myself worked with several coaches during that time. My experience of receiving coaching from Mairi was very different from anything I have previously experienced. The way she combines Gestalt coaching theory with her exceptional interpersonal skills and sensitivity make her coaching both very powerful and also supportive. If you are seeking fresh insights, answers to your own complex questions, and gentle support, I cannot recommend Mairi highly enough."
I

f you wish to stay overnight, accommodation can be booked at the hotel if available. There are several other hotels within a few minutes walking distance that are less costly.