Description
Come and sing . . .
St Donats Chorale invites you to an inspiring day with one of the best-loved choral works of all time.
Well-known soprano Jennifer Walker will lead singing workshops that cover the techniques needed for Handel's Messiah (including all those tricky runs), followed by sectional and full rehearsals. The whole day will culminate in a public performance of this magnificent work with a full team of soloists, chamber orchestra, organ and harpsichord.
Jennifer Walker – soprano
Anne Braley – mezzo soprano
Tom Smith – tenor
Gareth Blake – bass
James Bull - organ
Opus 8 Chamber Ensemble

Conducted by Carl Grainger

. . . or just come to listen
If you don't fancy singing why not come and enjoy the concert. There are audience tickets available either on this site or at the door on the night. An audience ticket would also entitle you to watch the rehearsals and workshops, but not to take part in them.


---
The programme for the day

10.30am - Registration and coffee
11.00am – 1.00pm Vocal Workshops and sectional rehearsals
1.00pm – 2.30pm Lunch break
2.30pm – 4.30pm Full Rehearsal with Orchestra and soloists. (The finish time is approximate)
7.00 Reconvene for Performance at 7.30pm
---
What Should I Bring?
Bring your own lunch or visit the nearby town centre where there are a variety of cafés, pubs and restaurants and places to buy sandwiches and other takeaway food. Llantwit beach is ½mile away.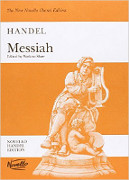 You will also need a copy of the vocal score. The Watkins Shaw edition, published by Novello, is preferred although you can use a different edition if you prefer. You can buy a copy of the score here.
Dress code for singers is smart, mostly black and white, concert dress. Choirs coming as a group are welcome to use their normal concert uniform.