Sales Have Ended
Ticket sales have ended
Looking forward to welcoming you to Come Network With Me at The TownHouse! Best wishes Sarah
Sales Have Ended
Ticket sales have ended
Looking forward to welcoming you to Come Network With Me at The TownHouse! Best wishes Sarah
Description
CNWM is a relaxed, friendly, supportive & fun networking occasion for 12 local small business owners to network amongst like minded women.
Includes buffet dinner & red/white wine
Salads:
Chick pea and caramelised onion couscous with pistachio
Shirazi salad (cucumber, tomatoes, red onion)
Feta, fig and avocado salad Green salad
Dips:
Persian aubergine and walnut dip
Butter bean hummus
Persian cucumber yogurt dip
Other:
Persian chicken skewers
Persian herb frittata Sweet potato and cumin burgers with tahini
Dessert:
Blackberry, coconut and chocolate torte OR Squidgy chocolate tray bake
Guests were asked to sum up the event in one word and this is what they said:
"Supportive— Helen Arthur, Scarlet & Nell
"
Gorgeous— Alex Crass, JAKS Decoration & Design
"Stylish & Inspirational — Lidia Drzewiecka, Visuable
"
Motivating— Hali Jafari, Truly Nourished
"
Warm— Jessi Frey, JessiFrey.com
"
Inspiring— Maryam Jafari
"
Enlightening— Sarah Mowl, SarahMowl.co.uk
"When I first received an invite for CNWM from Sarah Cook something was telling me that this is going to be a game changer for me and my business and I instantly knew I wanted to attend. It was the end of December 2015, I've just made a decision to go full time with my business and I was looking for a quality event that I could regularly go to so I can grow my network of business friends in Bristol, find trusted suppliers and expose my business to potential opportunities. I've heard so many good things about all Sarah's events and I decided that this is the one that I want to commit to as an investment in my business. And the fact that it came with a lovely meal and wine was a brilliant added bonus - network and have fun is what I like! I attended the first and second even so far and I could not recommend it highly enough! Starting from the sophisticated venue, through delicious food to a brilliant group of amazing women that I've met - I absolutely love it all! And the results - WOW! Exceeded my expectations! Long story short, I got to know Sarah a little better and that resulted in her trusting me to rebuild her website. At the time of the second event, Sarah's new website just gone live and she has given me a brilliant recommendation which resulted in 3 "
more ladies approaching me to do theirs too. Thanks to CNWM my business is growing whilst I enjoy myself making friends with great like minded people. I used to work for a networking organisation and I know very well that the power is in the network and I feel that I've found my network of choice at CNWM! Thank you Sarah for setting it up! Here is me btw: www.visuable.co.uk"
— Lidia Drzewiecka, Visuable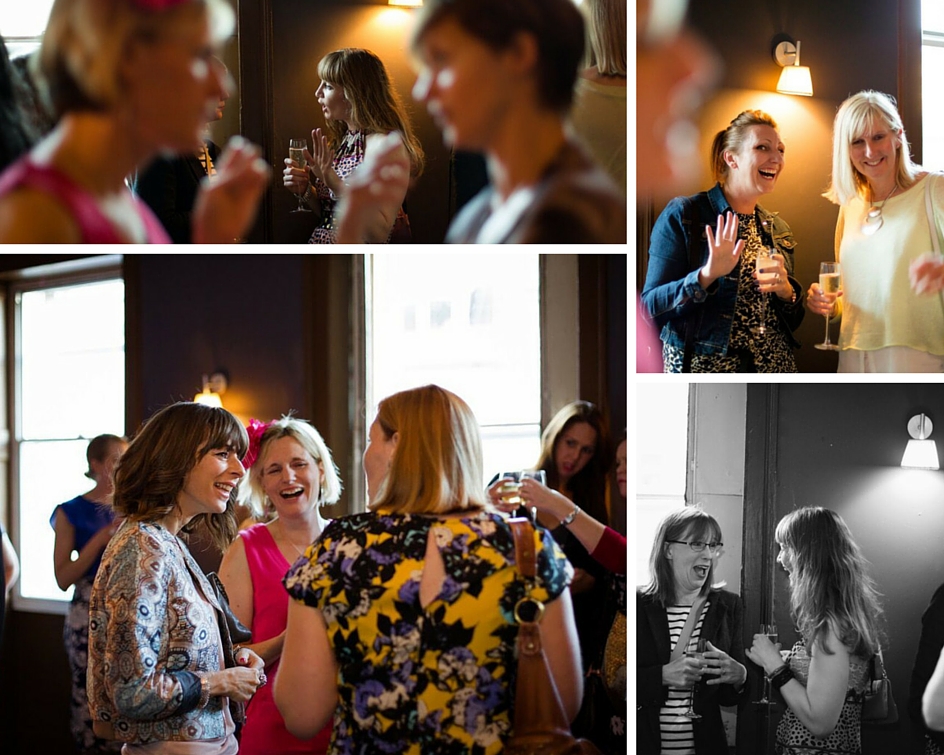 "I just wanted to say how amazing the CNWM idea is! If you haven't attended then you must and if you have then make use of it and connect with those you met!
I really didn't know what to expect when I came to the last event but I knew it would be fantastic if my gorgeous friend Sarah Cook had organised it! I met sarah a few years ago and I think it's fair to say we've both had an amazing journey in life and business since then and there's been many tears, laughter and Brie involved!!
Anyway at the last CNWM event I met some fab ladies who I'm sure I will meet again but I did make a business decision to meet up with the lovely Lidia Drzewiecka and talk branding (something that I really had to prioritise are sort ASAP). It was a pleasure to meet with Lidia and I can't wait to get started on our plans for my website next month.
Excuse the long post here but I really just wanted to say that aside from a great evening and experience CNWM can be the perfect place to meet your next business contact and what's even better is everyone is female!
Love Hali xx"
— Hali Jafari, Truly Nourished
Menu to follow soon! (Guaranteed to be VERY delicious!) Heartfelt Vintage can cater for dietary requirements in advance please send an email to sarah@shcsocialmedia.co.uk to inform us of your specific requirements - thank you.