Description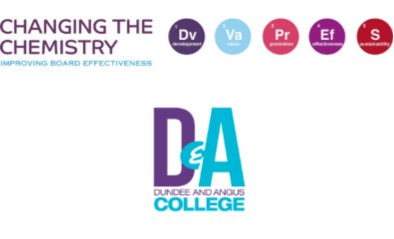 Do you have enthusiasm and an inquiring mind?

Are you keen to share your views and make a difference?

Do you want to extend your network and enhance your leadership skills?
Accelerate your Career and Come on Board!
Dundee and Angus College, in collaboration with Changing the Chemistry, is running a free event in Dundee on Thursday 8 March 2018, to encourage more people, particularly women and younger people, to consider applying for board positions generally, and Dundee and Angus College specifically.
Dundee and Angus College will shortly be advertising for new Board members with appointments to be taken up for an initial four year term from end of March 2018.
You may never have considered a board position before – but your experience and skills may be invaluable. At Dundee and Angus College we are very keen to increase the diversity of our non-executive Board members. Although this is a non-remunerated position, it could be a great career opportunity for you!
Speakers will include:
Angela McCusker, Chair of Dundee and Angus College

Grant Ritchie, Principal of Dundee and Angus College

Jane Richardson, a Dundee and Angus College Board member and a Trustee on the Board of Changing the Chemistry

Amanda Millar, Chair of Changing the Chemistry
Queries: Contact Tracey D'All by emailing t.dall@dundeeandangus.ac.uk
Many of us don't realise how much we have to offer to an organisation, so even if you are really not sure the boardroom is for you, please do come along and learn more.
Please contact: contact@changingthechemistry.org if you cannot make this event but wish to learn more about the boardroom and the support available to apply for board roles, or to be kept informed about future events.
Changing the Chemistry is a Scottish Caritable Incorporated Organisation (SCIO), Scottish Charity number SC045519.
Dundee and Angus College is a Scottish Charity, SC021188
The information you provide will be collected and processed by Dundee and Angus College (registered with the ICO as a Data Controller) and will only be used in connection with this event or legitimate interests related to it. Your data will be stored securely and will be processed in accordance with the Data Protection Act (1998) and the College's Data Protection Policy. The information you provide will also be shared with Changing the Chemistry on the basis of legitimate interest. If you would like further information relating to the processing of your information you may contact us at foi@dundeeandangus.ac.uk