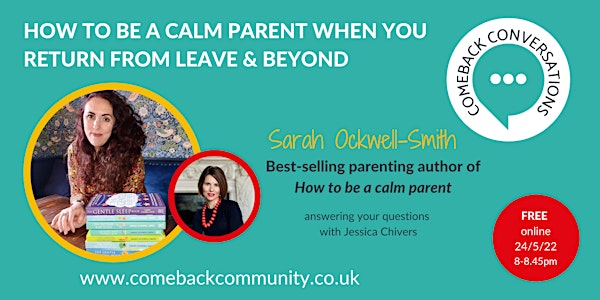 COMEBACK CONVERSATION: How to be a calm parent when you return to work
Your work comeback covered in inspiring, monthly problem-solving conversations with coaching psychologist Jessica Chivers and guest experts.
About this event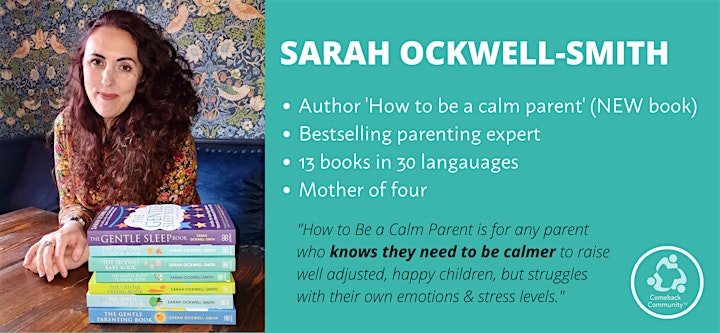 Sarah Ockwell-Smith is a well-known parenting expert and highly regarded popular childcare author who specialises in the psychology and science of parenting, 'gentle parenting' and attachment theory, with a particular interest in child sleep.
She has authored 13 parenting books, translated into over 30 languages, which have sold almost half a million copies. Sarah is also a mum to four teenage children.
Her new book, How to be a calm parent (published March 2022) is for any parent who knows that they need to be calmer to raise well adjusted, happy children, but struggles with their own emotions and stress levels.
How many times have you asked yourself 'what's wrong with me? Why can't I stay calm?'. So many of us would love to follow a gentler, more positive style of parenting, but we don't think we're cut out for it, because we aren't naturally calm. We feel that there is something wrong with us, that we're not good enough. We believe we are failing our children by not controlling our own emotions adequately.
What we don't realise is that this describes almost every parent there ever was - and ever will be.
In her trademark gentle, supportive and reassuring style, bestselling author Sarah Ockwell-Smith shows that while we all lose it at times, everyone can become a calmer parent. Based on her many years' experience working with parents, Sarah provides research, advice and practical exercises that will set you on the path to calmer parenting that will benefit both you and your child.
We can't wait for this session with Sarah.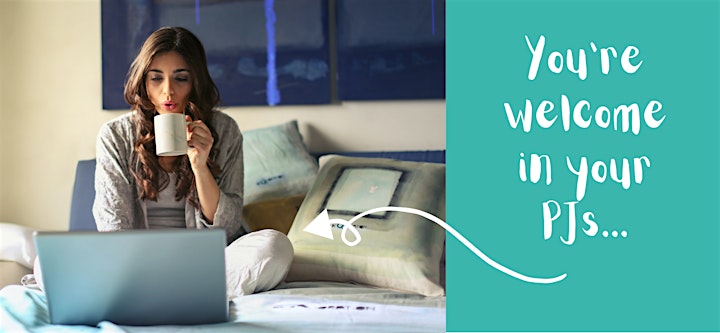 How do I ask a question?
Two easy ways. You can send it in advance on the registration form or ask via the chat box on the night.
Why are you hosting Comeback Conversations?
We are on a mission to keep everyone everywhere feeling confident, connected and cared for when they take extended leave from work. That's why we're making Comeback Conversations freely available live every month.
Can I listen again later?
Recordings of Comeback Conversations are available to the people whose employers subscribe to the full Comeback Community™ experience.
You can listen to our podcast, COMEBACK COACH, free any time.
How do I get access?
We'd love your employer to bring the full Comeback Community™ employee experience to every colleague who's taking maternity, shared parental leave, adoption leave, sabbatical or sick leave where you work. Introduce us to your HR team and you could receive a beautiful box of goodies (because we love sending postal joy to people who think of others).
Can I come in my PJs?
Yes! Come as you are in all your natural glory. In your PJs, in your sweaty gym gear, whatever you like. Listen whilst you're cooking supper; watch whilst you're feeding your baby; take us to the toilet or whilst you're quaffing a nice glass of Sauvignon Blanc. We don't care what you're wearing, where you are or what you're drinking (please drink responsibly, there's no worse a crime than spilling hot chocolate on somebody else's laptop). We just want you with us!
Do I have to say anything or can I just watch?
You can be completely anonymous just like you're watching TV at home. Just leave your camera off and and you don't even need to use your real name when you sign in if you prefer. We'll have everyone on mute so you don't have to worry about embarrassing sounds in the background.