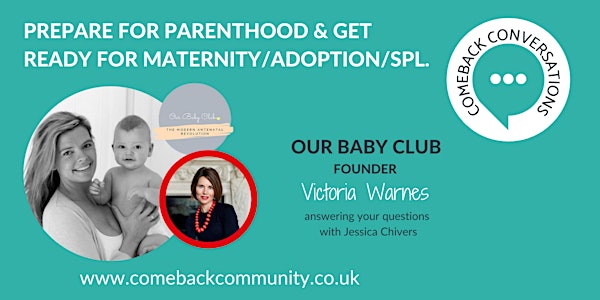 COMEBACK CONVERSATION: Preparing for parenthood & matenity/adoption/SPL
Your work comeback covered in inspiring, monthly problem-solving conversations with caching psychologist Jessica Chivers and guest experts.
About this event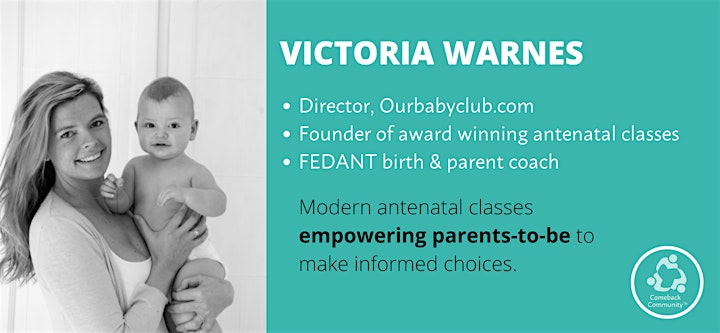 Four years ago, following a postnatal heart attack Victoria Warnes left her career in advertising to launch the Modern Antenatal Revolution in her home town of Maidenhead, Berkshire. Today Our Baby Club offers award winning antenatal classes with a difference to expectant parents in multiple regions across the UK.
Resolutely determined to make a real difference to the wellbeing of today's new parents she has created an unbiased antenatal education delivered by FEDANT accredited Birth & Parent coaches that encourages parents to make informed choices about their birth and early parenting choices based on a combination of the latest evidence-based research and the real life lived experience of parents. The inclusive and zero judgment classes enable both parents to not only prepare for birth but to advocate for their choices and support them in heavily prioritising their positive wellbeing as they begin their transition into parenthood.
How do I ask a question?
Two easy ways. You can send it in advance on the registration form or ask via the chat box on the night.
Why are you hosting Comeback Conversations?
We are on a mission to keep everyone everywhere feeling confident, connected and cared for when they take extended leave from work. That's why we're making Comeback Conversations freely available live every month.
Can I listen again later?
Recordings of Comeback Conversations are available to the people whose employers subscribe to the full Comeback Community™ experience.
You can listen to our podcast, COMEBACK COACH, free any time.
How do I get access?
We'd love your employer to bring the full Comeback Community™ employee experience to every colleague who's taking maternity, shared parental leave, adoption leave, sabbatical or sick leave where you work. Introduce us to your HR team and you could receive a beautiful box of goodies (because we love sending postal joy to people who think of others).
Can I come in my PJs?
Yes! Come as you are in all your natural glory. In your PJs, in your sweaty gym gear, whatever you like. Listen whilst you're cooking supper; watch whilst you're feeding your baby; take us to the toilet or whilst you're quaffing a nice glass of Sauvignon Blanc. We don't care what you're wearing, where you are or what you're drinking (please drink responsibly, there's no worse a crime than spilling hot chocolate on somebody else's laptop). We just want you with us!
Do I have to say anything or can I just watch?
You can be completely anonymous just like you're watching TV at home. Just leave your camera off and and you don't even need to use your real name when you sign in if you prefer. We'll have everyone on mute so you don't have to worry about embarrassing sounds in the background.