Event Information
Location
Seven Arts
31A Harrogate Road
Leeds
LS7 3PD
United Kingdom
Award Winning, 5 Star Rated Comedy Improvisation Show from "The Discount Comedy Checkout"
About this event
Limited Seats - Book Early to avoid dissapointment!
Live comedy is back ! Full two hour show!
Show 7:30pm - 9:30pm
£10 Per Person
Adult Only Comedy Improvisation Show from award winning 5 star rated group "The Discount Comedy Checkout"
Prepare yourself and bring your suggestions for this adult 100% raw show! Running for 14 years this show has to be seen to be believed. Quick fire and hilarious we shy away from no scenerio! You have been warned!
Winners of Best National Show at the Morecambe fringe and 5 star rated by remotegoat this show has to be seen to be believed.
Seating will be socially distanced and will have a table service for drinks.
Email info@comedycheckout.com
REVIEWS
"5 STARS! The comedy is creative and crude, quick and quirky, the performers commit completely to the games and create funny and fantastic characters at a moment's notice."
- Remotegoat
​
"There?s a wonderful slapstick nature to it all but they are all impressively literate in film culture and genres too, creating brilliant, quick draw pastiches of popular cinema that will have you in stitches."
- Manchester's Finest
​
"Brilliant Improv group The Discount Comedy Checkout, who led by the audience, took us on a train journey through different film genres with some hilarious results."
- Lytham Life and Style
​
"This was incredibly powerful to see and was a massive crowd pleaser. This was a fantastic set from a group who work extraordinarily well together"
- Notts comedy review
​
"Any suggestions were taken. We were warned.... The group have the confidence and talent to run with any suggestion and create something proper funny. Definitely what is needed on a Saturday night out."
- The Culture Vulture​
​
"The troupe are hugely talented. I urge you to book your tickets now."
- Only Joyce Blog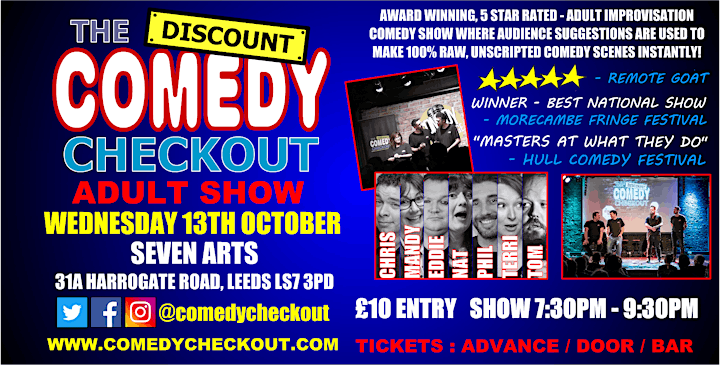 Date and time
Location
Seven Arts
31A Harrogate Road
Leeds
LS7 3PD
United Kingdom