Comedy with Tiernan Douieb + Bec Hill \\ The Art House \\ Fri 5/6/15 19.30...
Description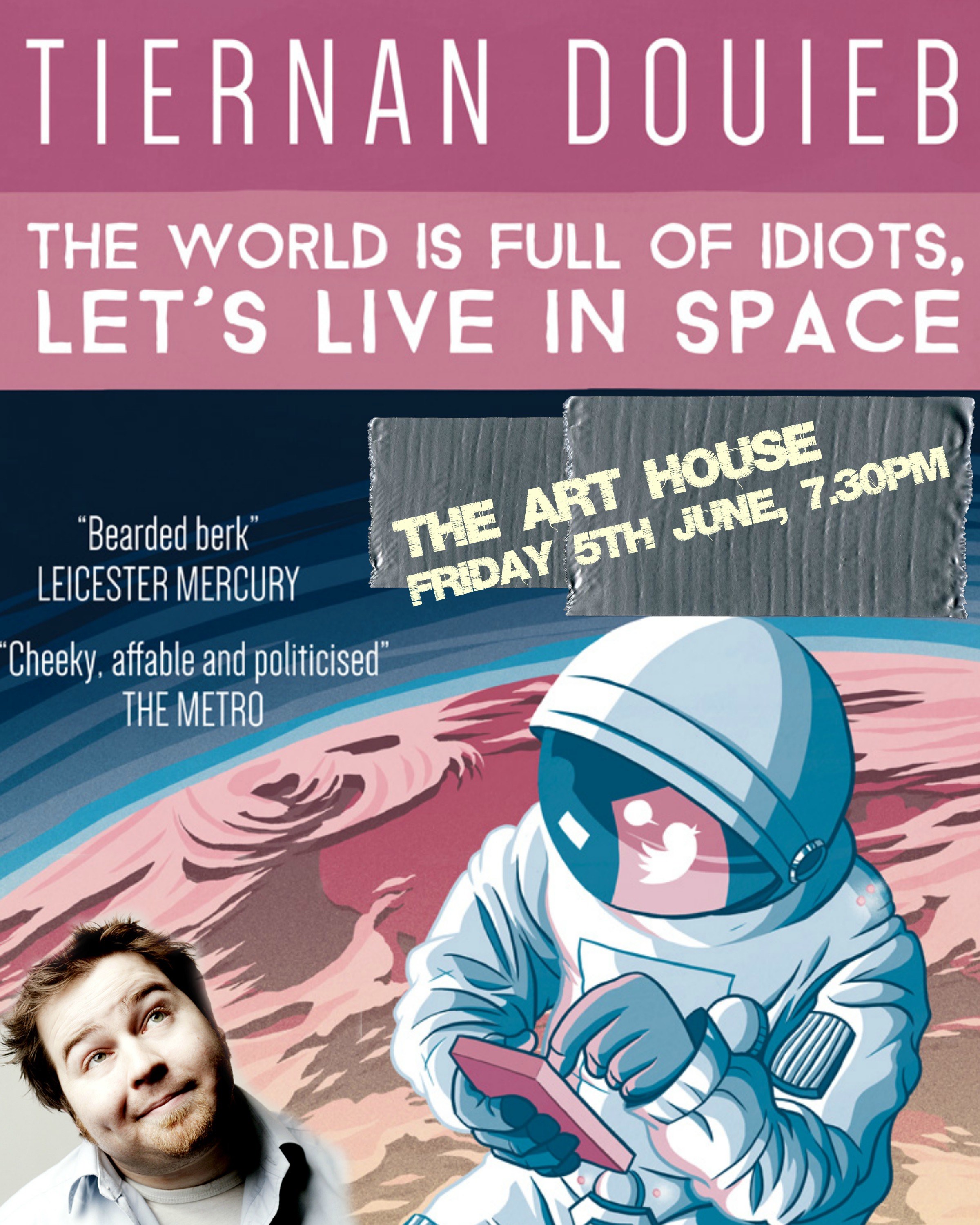 Commander Chris Hadfield from the Canadian Space Agency said that after 6 months on the International Space Station that he felt a great sense of just how much the world is all one place and we are all one people living together on it.
In this new hour of stand-up, professional cheery misanthrope Tiernan Douieb wonders why we have to send people quite so far away to have that realisation, and just how feasible is it to fire a large portion of the world into space until they behave? Lots of new words from 'very friendly but fiercely political' (Time Out) comedian Tiernan, that together will form sentences to create jokes about politics, people and why most things are despairingly wrong, including himself.
'..gets the juxtaposition between heavy context and winning punchlines right when it is most needed'
- Festmag
'Opinionated yet likeable'
- The Guardian
'With this fresh style and material he blows so many other Fringe comedians out of the water.'
- Three Weeks

'Knows his way around comedy like we know our way around a tiny barn made of matchsticks.'
- Miniature Donkey Magazine
'..a leftie commie asshole just like Hitler'
- An NRA member on Twitter
Tiernan Douieb (pronounced 'Eee-Waaaah Crunk') is one of them people who you've heard about with beards.
This is a preview of his new Edinbugh Fringe show - he has previously performed three solo Edinburgh shows that people said they liked but might've pretended.
Here he is in a videogram from 2013: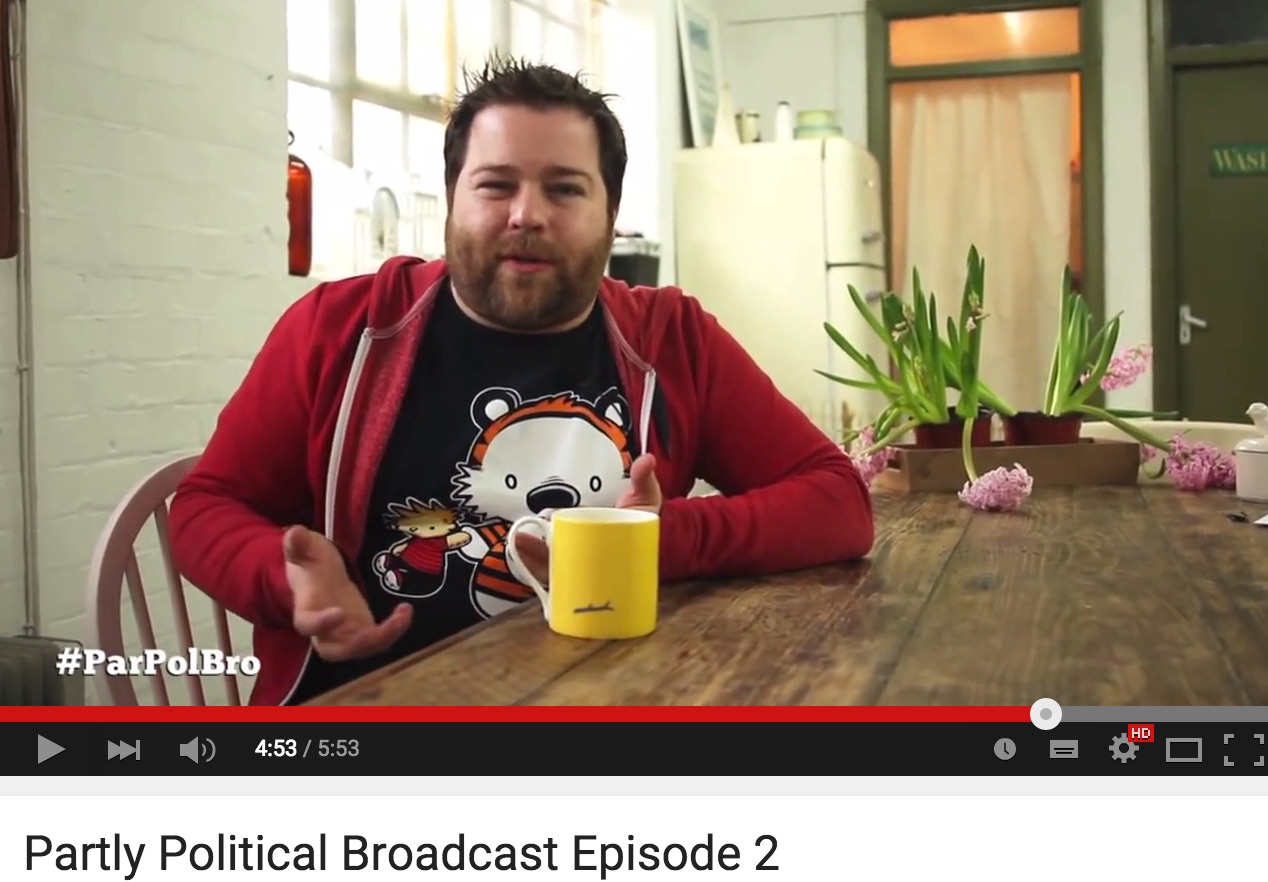 As you can see, Tiernan has had a beard for quite some years now, with it varying in shape & size, but only disappearing entirely once.
On that occasion Tiernan realised his chin not only terrified and upset others, but also redefined his face shape so it was no longer the cuddly, bear like image people knew and loved and instead a hairless cold pink smorgasbord of shame.
So since then Tiernan has grown, nurtured and developed his face coat, providing somewhere for small animals to nestle and children to rub sticks against to cause fires. Tiernan is officially the 6708th most hirsute person in his street and once had his overall body furs compared to 'a skinned Muppet stuck to a judges wig.'
The only downsides to all this are that he is far less aerodynamic when chasing bad guys in cars and static balloons make him look really surprised all over.
Oh and he once saw a really fat squirrel eating a Cornetto like a human would.

He's never really got over that.
Some other things Tiernan has done:
Supported Frankie Boyle on his work in progress shows in 2015
Had his back shaved by Gillian Anderson as part of Mark Watson's 27 Hour Show for Comic Relief.
Did his first solo tour in 2014 with his show 'Read Something.'
Gigged with a joke telling robot (who did material Tiernan wrote for him).
Played a small part in season 3 of C4's Fresh Meat.
Co-runs Comedy Club 4 Kids all across the country making small people laugh.
Took part in Mark Watson's 25 Hour Show for Comic Relief in March 2013 by getting custard pies of increasing size in the face every hour. His face got quite sore and pies now make him sick.
Ran the world's first ever Twitter Comedy Club where he gigged in his pajamas while drinking a Cup A Soup.
---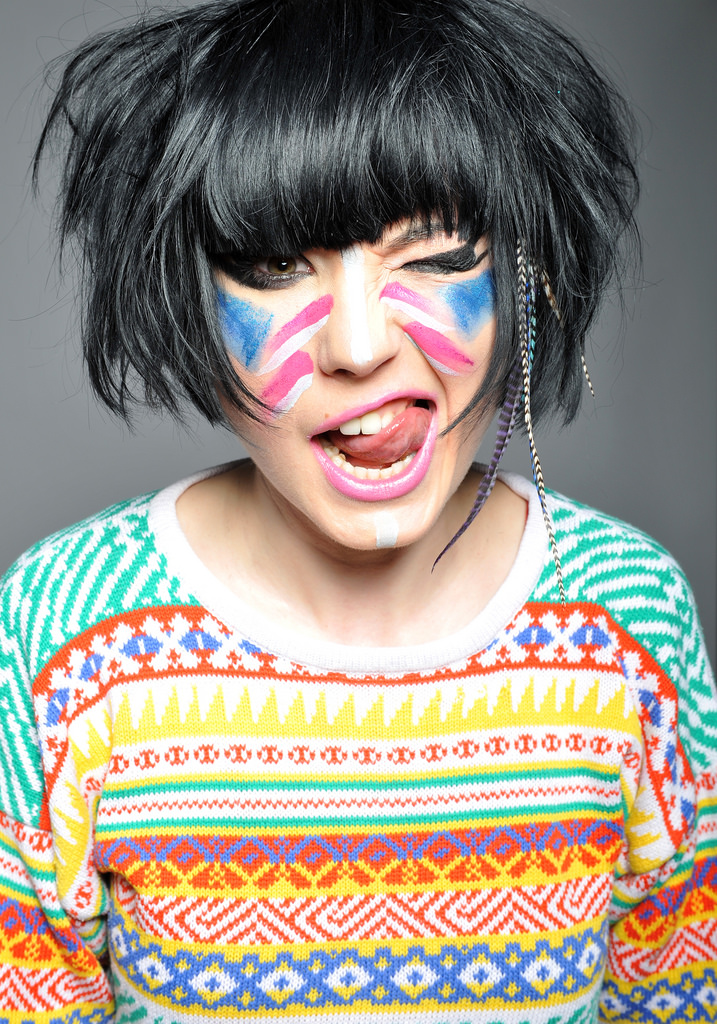 "I've never seen a jelly adult. Probably because their young are so delicious." - BEC HILL

Australian-born, London-based, Bec has a cult following in Australia, the UK and Ireland thanks to her acclaimed solo shows and hugely popular YouTube videos. She has a talent for incorporating arts and crafts into her stand-up routines; creating a unique and unforgettable comedy style that she calls "paper-puppetry".


Last year, she appeared at London's famous Union Chapel with Alan Davies, Jimmy Carr and Kevin Eldon, and Galway's Black Box Theatre alongside Milton Jones, Rob Delaney and Abandoman. She was also the support act for "Axis of Awesome" on their UK tour.


Bec is the creator of the UK's only pun-based comedy night, Pun Run. Her one-liners were featured in FIVE different "best jokes of the Edinburgh Fringe" articles in 2014. She is also one half of the award-winning family comedy double-act, Bec & Tom.

Accolades:
◦ Dublin Trinity College "Spirit of The Fringe" Award, 2014
◦ Barry Performers' Choice Award for "Best Show", Edinburgh Fringe 2014
◦ Golden Loo Seat Award for "The Nation's Favourite Toilet Joke" by WaterAid, 2014
◦ Starred in Sundance UK Grand Jury Prize winning short film "Russian Roulette", 2014
◦ No. 4 in "Dave's Joke of The Fringe" Top 10, 2014
◦ The Telegraph's Top 10 Comedians to Follow on Twitter, 2013
◦ Time Out's Top 10 Funniest Comedians on Twitter, 2012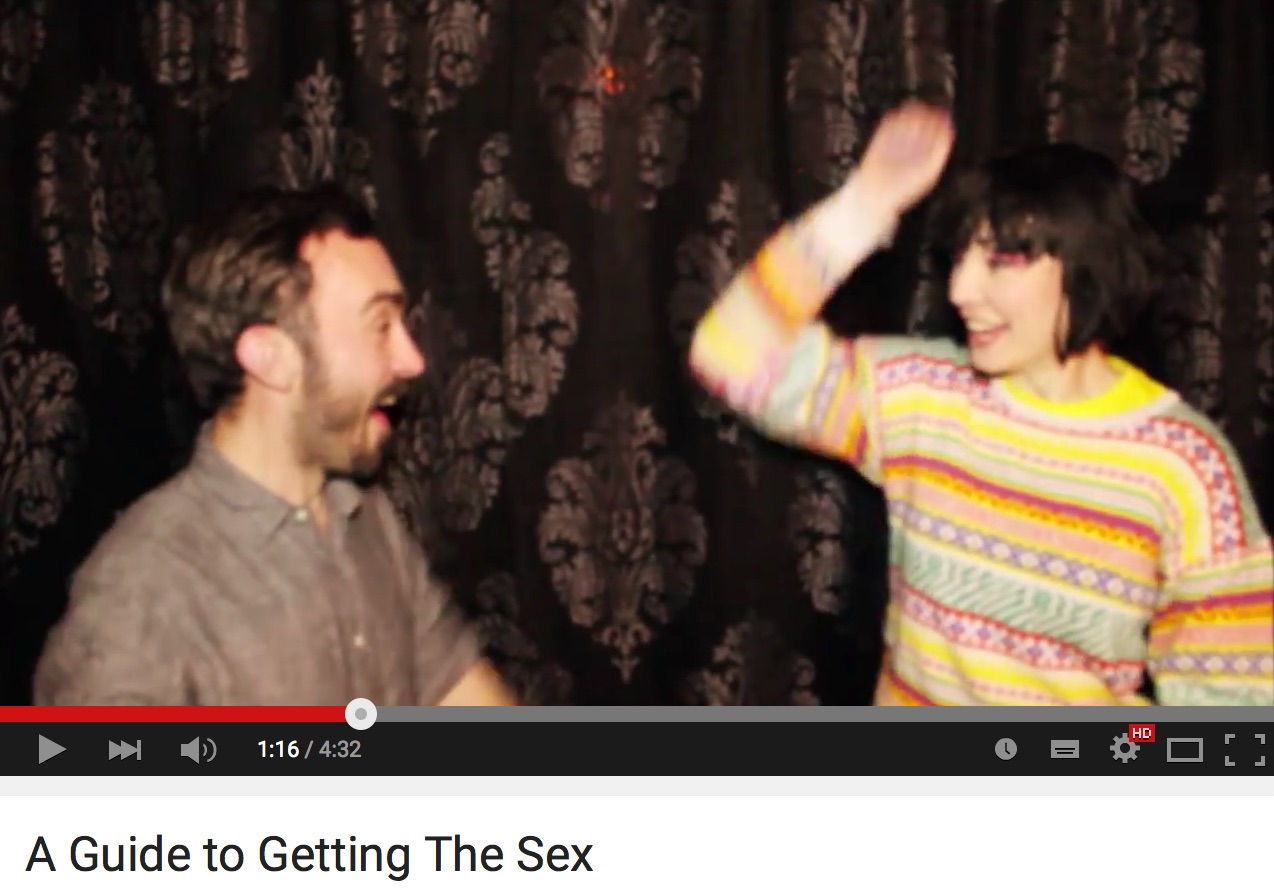 TV/Radio/Film credits:
◦ "Console Yourself" - Guest, GinxTV, 2014 & 2015
◦ "Al Murray's 7 Day Sunday Christmas Special" - Guest, Radio 5 Live, 2014
◦ "Russian Roulette" - Lead actress, short film, (Grand Jury Prize Winner) Sundance UK, 2014
◦ "Dilemma" - Writer, Radio 4, 2014
◦ "CTRL Freaks" - Presenter, London Live, 2014
◦ "The Dog Ate My Homework" - Panellist (3 epiosdes), CBBC, 2014
◦ "Bluestone 42" - Writer, BBC3, 2014
◦ "The Now Show" - Writer, Radio 4, 2013
◦ "Chevrolet Euro Trip" - Herself, Chevrolet Captiva commercial, 2013
◦ "Newsjack" - Writer, Radio 4, 2012
◦ "Under The Bridge" - Presenter, HeeHaw Digital, 2012
◦ "Balloon TV" - Co-presenter with Stephen K Amos, Capture, 2008

Quotes:

★★★★★ "Brilliantly conceived, this is one of the stand-out shows in this year's comedy programme." - The Sunday Herald, Edinburgh Fringe 2014

★★★★★ "...an hour of non-stops laughs." - One4Review, Edinburgh Fringe 2014

★★★★★ "...a pleasure to watch..." - Edinburgh Guide, Edinburgh Fringe 2014

★★★★ "Bec Hill: exuberant, daft and inventive." - The Scotsman, Edinburgh Fringe 2014

★★★★ "There's something special about Bec Hill." - The Times, Edinburgh Fringe 2014

★★★★ "The pint-sized Australian dynamo deserves an award..." - The List, Edinburgh Fringe 2014

---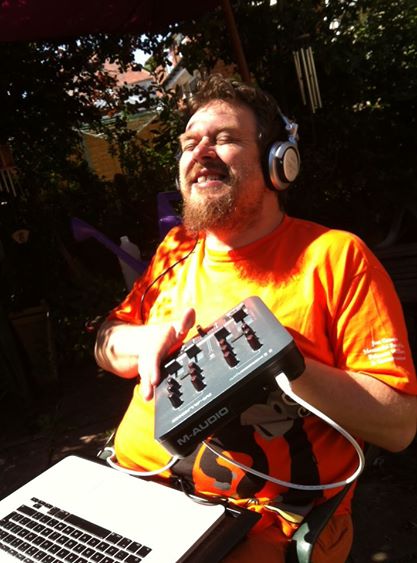 Our Director Paul Bickmore (better known as Bik) spends a lot of his time tracking down a varied, interesting range of performances for us to host here at The Art House.
A seasoned musician himself (as well as being the man who does the sound engineering on the night - something he does extremely well), Bik hand selects the very best acts to showcase in our gallery space - his criteria?
They have to make him feel like this - and they will have the same effect on you, we promise.
---
Travel information:-
We are a city centre venue and parking can be in short supply. If you are driving, please make sure you leave plenty of time to find a space click here for a map of where the nearest parking spaces can be found.
We recommend Kings Park Road car park: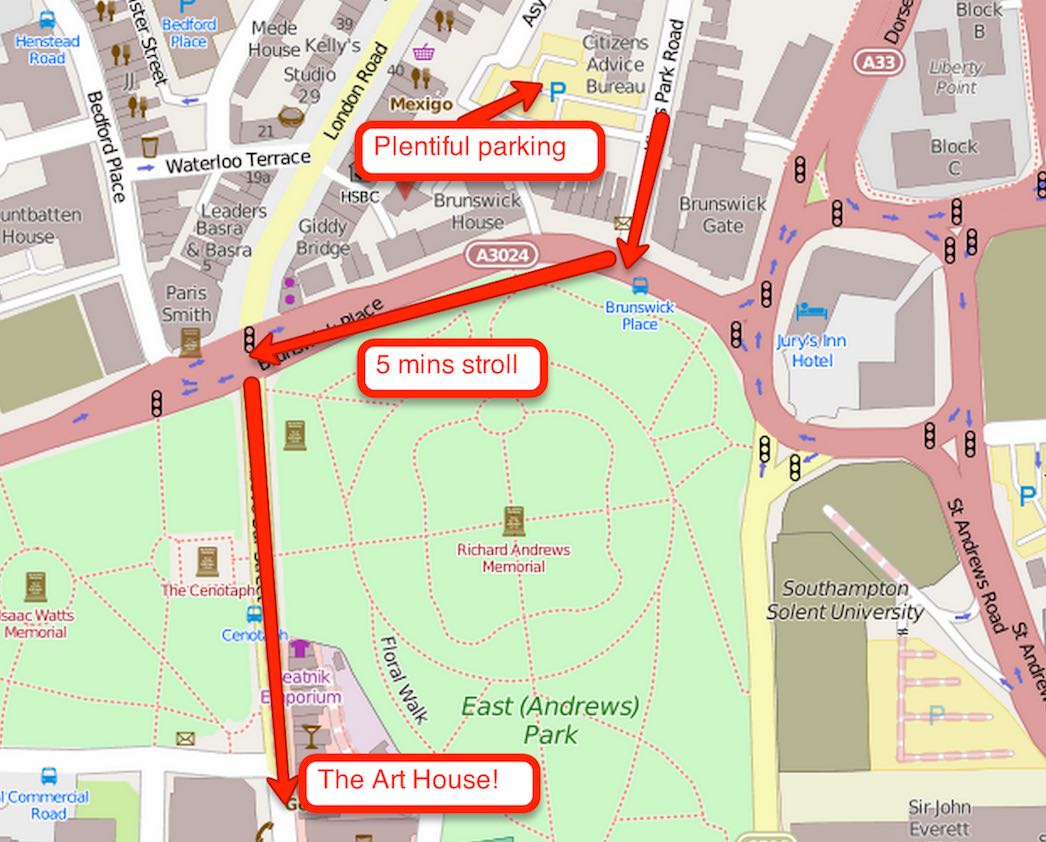 We are about 10 minutes walk from Southampton City Centre train station (head up the hill toward the Guildhall clock tower) and on the route for most city centre buses (the Unilink U1 stops virtually outside.)
Do you have a question about coming to this event? Please click here for a list of our event FAQs
Click here to go to The Art House what's on page
Accessibility info:-
Events are generally suitable for adults, young people and older children - children must be accompanied by an adult at all times, however. Young children are also welcome to come along but be aware some poems and songs may contain adult content (although we try to keep these until after children have left!)
Most events are held on our first floor, accessible by a wide staircase with a sturdy banner. Comformatable seating is provided. We regret that, due to space and other constraints, we are generally unable to relocate our events to the ground floor for those who require ground level access - so sorry.
---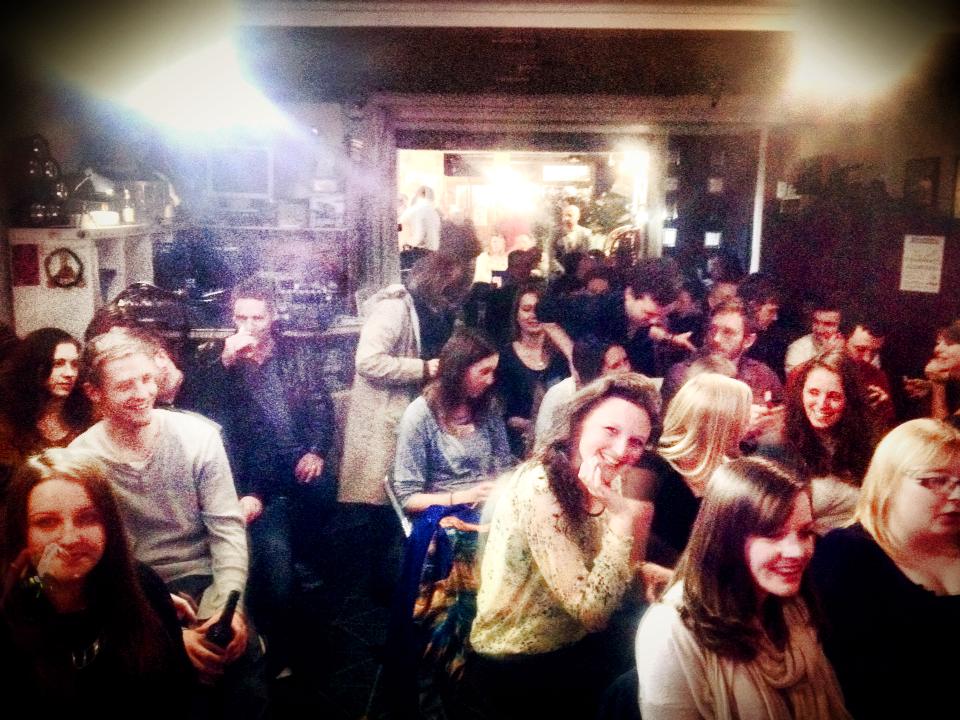 FAQs
Are there ID requirements or an age limit to enter the event?
Events are open to all ages unless otherwise stated, however please note that our mission is to provide creative activity primarily to adults, therefore most of our programme is aimed at 16 years and over. Performances may include stronger language.
Life drawing classes are open to over 18s only.
What are my transport/parking options getting to the event?
Please click here for details of how to find us.
What can/can't I bring to the event?
Please don't bring your own food or drink to The Art House.
Where can I contact the organiser with any questions?
The best way is by email to info@thearthousesouthampton.co.uk
Do I have to bring my printed ticket to the event?
If you have a smartphone, we prefer that you save paper and show us your ticket on a phone.
What is the refund policy?
Tickets are not refundable unless the event is cancelled.
The name on the registration/ticket doesn't match the attendee. Is that okay?
As long as the person making the booking is with you, that's fine.
All bookings for events are subject to our Terms and Conditions which can be viewed here.