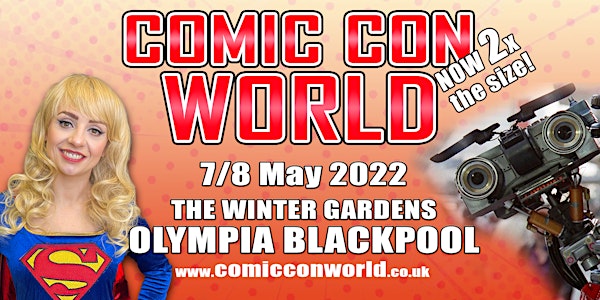 Comic Con World - Blackpool 7-8 May 2022
Location
Winter Gardens
97 Church Street
Blackpool
FY1 1HL
United Kingdom
A family friendly comic con event, cars, displays and props from movies, cosplay heroes, Free play gaming zone. see website for details.
About this event
BIGGEST COMIC CON IN LANCASHIRE   
                     CHILD £5.99 ADULT £8.99 FAMILY £25.99
SATURDAY SOLD OUT - Cash on Door still available from 11:30am
SUNDAY 70% SOLD - Cash on Door still available from 11:30am
                                                   Updates and competitions www.comicconworld.co.uk

NEW to 2022
Back To The Future Movie Car Delorean
Gone In 60 Seconds Show Car
Matthew Dale from Star Wars
New Mandalorian Set
Life Size Falkor from Never Ending Story
Giant Spider Man
Large Toothless
BLOCK WORLD (Larger for 2022 with now prize)
100,000 bricks to bring your imagination to life! Take your time and create a building to add to our growing city! 
Ghostbusters display
Life size Johnny 5 Short Circuit
Taken.UK
One of the most popular figures on the UK convention circuit, Taker.UK brings the biggest cosplay superstar in the history of Wrestling to Blackpool.
The Taker.UK experience will give you a unique opportunity to not only meet the Deadman but also enter his bespoke casket for pictures .... you may even get your hands on the WWE heavyweight Championship belt !!
Above Subject to change.

 COSPLAY £150 COMPETITION
Dress as your favourite fun and colourful heroes.
Cosplay fans will be pleased to hear that we will have a cosplay competition, to enter see FAQ. Winner gets £50 for Children in toys and £100 for Adults.
 RETRO ZONE
Remember battling your friends on classic consoles like SNES, Nintendo, N64, Mega Drive, and more? We've picked out a selection of the best games for them all from the biggest franchises, genres and film crossovers. Mario, Sonic, Star Wars, Street Fighter, Lego, Space Invaders, James Bond and many more! Of course, all are free play. Come step back in time and challenge your friends at Super Smash Bros, Mario Karts and GoldenEye. 
EXHIBITORS (Larger for 2022)
A wide variety of stalls offering a range of products, such as manga, posters, photos, badges, funko pop figures, jewellery, T-shirts, masks, computer games and much more.
Keep an eye out on facebook for updates on traders attending.
 Some of the stalls attending:
Game, Cex, Best Buy Toys, I Collectables and more!
STAR WARS BLOCK SCENE
Check out the new scene from across the Star Wars galaxy, the Emperor meeting Darth Vader shuttle scene in blocks!
PIRATE DISPLAY and WEAR
Come see the undead pirates and try on One-Eyed Willy's costumes! Take a selfie in the galleons or off the draw bridge for no extra cost!
COSPLAY KINGS
Come and meet some of the biggest UK cosplayers.
Above Subject to change.

COMIC ARTISTS
Manja Workshop with Sonia Leong
Lew Stringer (The Dandy, Beano, Viz)
 www.ARCADE-TYCOON.com - BE IN A GAME COMPETITION Ever wanted to contribute to a real-life computer game and have everyone playing it see your artwork? All you need to do is drop by the Competition Zone and draw your arcade-game design for a chance to be included!
*terms and condition apply, see FAQ for details.
OFFICIAL SPONSORS
CEX &  Everything Blackpool
Please note subject to change at any time.
Artist Celebrites
Sonia Leong is a comic book/Manga artist and author of many drawing guides including Draw Manga: Complete Skills (Search Press) and Beginning Manga (Franklin Watts). Her award-winning debut graphic novel was Manga Shakespeare: Romeo and Juliet (Self Made Hero). She's worked on Doctor Who (BBC Books), Assassin's Creed (Titan), Domo-kun (TokyoPop) and Bravest Warriors (VIZ), amongst many other projects in comics. She also illustrates for children's books, fashion, advertising, film and television, recently appearing on CBBC's Britain's Best Young Artist. She is the Director of Sweatdrop Studios, a UK-based independent comic publisher and is currently working on the Chronicles Of Ciel, a series of fantasy light novels.
Lew Stringer has been a professional comics artist and writer since 1983. He's freelanced for The Beano, Buster, Viz, The Dandy, Oink!, Doctor Who Magazine and many more on comic strips such as Pup Parade, Keyhole Kate, The Pathetic Sharks, The Daft Dimension and lots of others.
 Above Subject to change.