Description
This workshop will help us to softly and truthfully connect with the feelings that arise in us, in response to our current planetary condition. By doing so we hope to "foster [a] desire and ability to take part in the healing of our world" and find a new place in our hearts from which to act from.
Coming Back to Life* will be built around the group process work known as 'The Work that Reconnects' which was originally founded in the 1970's by deep ecologist and environmental activist Joanna Macy. The work has since evolved taking various forms across the globe, and this format of it will also include practices inspired by the Plum Village tradition of mindfulness, established by poet and Zen Monk Thich Naht Hanh.
While the processes we will use stem from various wisdom traditions this workshop hopes to be accessible to all including those of any faith and those without.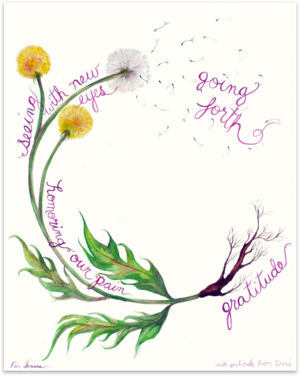 Spiral artwork by Dori Midnight
The four stages of the spiral which we will move through during the day are known as 'giving gratitude', 'honouring our pain', 'seeing with new eyes' and 'going forth'. By connecting with both joyful and difficult emotions we will adventure into a new way of understanding how we might help our world in need, from our own unique position.
*Coming Back to Life is the title of Joanna Macey and Molly Young Brown's recent update of their guide to The Work that Reconnects.
Read more at Joanna Macy's website.

What is the form of the workshop?

- Yoga and mindfulness excercises,
- Facilitated group work in the form of individual, paired and group dialogues and note making,
- Offerrings of song and poetry,
- Spending time outside.
Is this workshop for me?
This workshop is aimed at supporting people working for environmental and social justice and, also those who wish to activate their capacity for this.
Here, the terms environmental and social justice are used in the loosest sense. You might be a researcher, gardener, activist, artist, teacher, carer, support worker, civic worker or community organiser (to name but a few). The chances are, if you've read this far, the reason you have chosen to spend your time doing any of these things is down to a care or value that you cary in your heart.
If you have arrived here and feel that you're not working for environmental or social justice in some way already, then this workshop could inspire you to contribute to these endeavours, with the skills that you already posses and the context you are already in.
It is important to note, that as mentioned above, we will be working with both positive and challenging emotions. While the facilitators will work to create a safe and supported space, please consider if you feel able to do this.
If you have any questions about whether this kind of experience would be right for you, please contact Kathy (details found at the bottom).
What is the cost?
This workshop is offered as a gift. Kathy, Ffion and Ayesha, offer time without charge, in service of life on Earth.
The venue costs £120 to hire, soup will be provided at lunch and refreshments throughout the day. Therefore there is a booking fee of £15 per person based on the assumption and hope that there will be 10 participants.
The workshop is offered without expectation of anything in return, apart from your presence during the time. However, if you feel called to offer some further form of exchange you are welcome to, please contact Kathy or use the options on the booking form.
If there is a surplus of money from the basic infrastructural costs of the event then the three facilitators will participate in a 'Money Pile' to match resources with needs. This will help us to both appropriately and wholeheartedly distribute surplus between the three of us and/or specific organisations who are contributing towards compassionate causes relevant to the Work that Reconnects e.g Ubuntu Women's Shelter.

If you book, please bring with you:
Warm Clothes. We will be in an Old Barn, it's comfy and has a fire/heaters and it will almost be Spring.

Something to share at lunch, soup will be provided.

An object or item of importance to you, to show and share with the group. (You'll get it back!)

An open mind and heart, if this could be a challenge then simply bring whatever you've got.
A schedule will be provided closer to the event, but we will arrive at 9am for tea and gentle yoga to get us going and then begin the workshop at 10am.
To contact Kathy:
e: kathrynalicebeckett@gmail.com
t: 07884434798