Comma Press is an award winning independent publisher from the North of England returning to Leeds with their popular Short Story Course
About this event
Please note that this eventbrite page is to register your interest and does not guarantee a place on the course. Information will be sent to you following registration to secure your place.
We are delighted to be returning with our genre specific Horror Comma Short Story Course led by the fantastic Andy Murray.
About the course
Over six sessions, you'll become familiar with short story narrative structures, and be able to apply them to your own work.
By the end of the course you will have
* Become familiar with a range of Horror forms and voices
* Gained a stronger understanding of how to tell a compelling horror story
* The necessary skills to progress your Short Story project with confidence
* Benefited from structured, peer-driven feedback and personalised tuition
*Produced 3 short horror stories, one of which will be published in a Comma Press Course E-Book at the end of the course
PLEASE NOTE Classes are capped at 15 places to ensure a high-quality experience. Use Eventbrite to Register your Interest and we will be in contact to confirm your place.
Price
£150 per ticket which covers 6x fortnightly sessions over 3 months including detailed feedback and end of course publication in a short story e-book anthology.
Information on how to pay will be provided directly via email following registration.
Considering signing up?
We make our courses as accessible as possible: they span the UK as well as online and take place routinely throughout the year; you don't actually need any previous experience - just enthusiasm for short story writing; and you only need a pen, paper, laptop/computer, and internet access in order to take part and keep in contact.
What our graduates say
Past particpants on our Short Story Courses have gone on to be published by the likes of Penguin, Canongate Books, The Best of British Fantasy, Granta, and Ambit Magazine, have had work reviewed in the The Guardian, The Irish Times, Lit Hub, Sunday Express and Metro and recognised by awards such as the The Brighton Prize 2018 (Highly Commended), Republic of Consciousness Prize (Shortlisted), TS BIFFY Micro Fiction (Winner), National Association of Writing Groups Short Story Competition (Winner), Northern Soul Northern Writer of the Year Award 2018 (Winner), The Brighton Prize 2018 (Highly Commended), Galley Beggar Short Story Award in 2017/18 (Winner), and the London Independent Story Prize in the Best Film Idea Category (Winner).
"As an aspiring writer, I can't recommend Comma Press' Short Story Courses enough: ongoing support from top-class published authors writing today, development of close-reading skills and of course that all important trait – rapid improvement of your writing skills. All this and more, as well as the opportunity to meet the next generation of up and coming talent." - Past Participant
| Register your interest on Eventbrite Now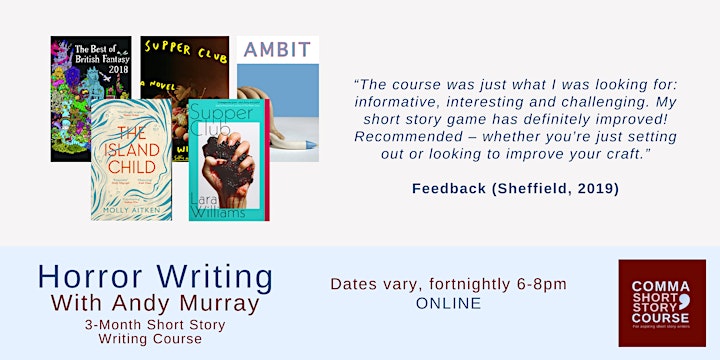 Dates, Times and Location
The course runs fortnightly for 3-months. Each session is two hours long.
We will be running the course ONLINE over Zoom. A link will be emailed to you following confirmation.
Tuesday 14th June 6-8pm ONLINE
Tuesday 28th June 6-8pm ONLINE
Tuesday 12th July 6-8pm ONLINE
Tuesday 26h July 6-8pm ONLINE
Tuesday 9th August 6-8pm ONLINE
Tuesday 23rd August 6-8pm ONLINE
Any questions?
Contact the short course team:
Email: commapublications@yahoo.co.uk with Re: Online Horror Short Story Course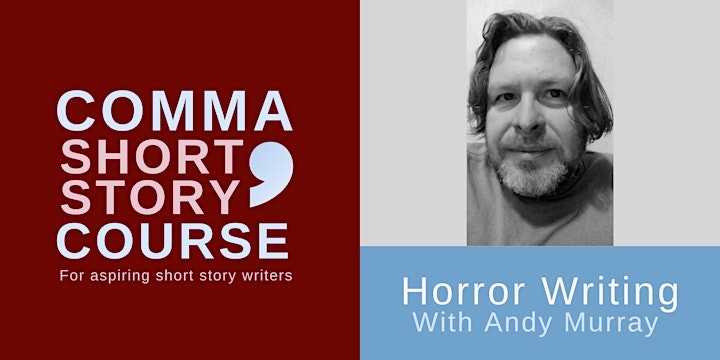 Tutor Profile
Andy Murray is a writer and lecturer based in Manchester. For Comma Press he edited the inaugural modern horror collection Phobic in 2007, and has since taught a number of horror short story courses. He lectures at the University of Salford and has written biographies of the scriptwriters Nigel Kneale and Russell T Davies (with Mark Aldridge).
In 2006 he wrote Into the Unknown, the first full biography of Nigel Kneale, for Headpress. Drawing extensively on a series of exclusive interviews with Kneale and others, it was fully revised and updated for a new edition in 2017.
He has contributed to the 2003 BBC Four documentary The Kneale Tapes, the 2013 Radio 4 documentary Archive on 4: Very British Dystopias and the DVD / Blu-ray commentaries for Quatermass and the Pit and Nineteen Eighty-Four. Over the years he has introduced a number of cinema screenings of Kneale's work around the UK, been a guest on several panel events and podcasts on the subject of Kneale and been interviewed in his capacity as Kneale's biographer for BBC Culture, The Times and The Telegraph.