Commando Spirit - Survive The Yomp

Saturday, 13 September 2014 from 06:00 to 18:00 (BST)
Event Details
Are you tough enough to Survive The Yomp and raise serious sums for Royal Marines in need?
Survive The Yomp is no walk in the park. Set in the stunning Scottish Highlands around historic Achnacarry Castle, this is a 30-mile hike across rugged and remote terrain; they don't call it "Commando Country" for nothing.
You are 21 miles in.
Your feet are throbbing and your shoulders burning.
Your brain is telling you to stop and rest but you know you must dig deep and carry on.
Every Royal Marine must have reserves of physical and mental strength to complete the Yomp, the 30 mile hike that is the final test they face to gain their coverted green beret.
Sign up for this challenge of a lifetime and you'll be supported by our Royal Marines all the way as you prepare to face a legendary test of stamin and mental strength.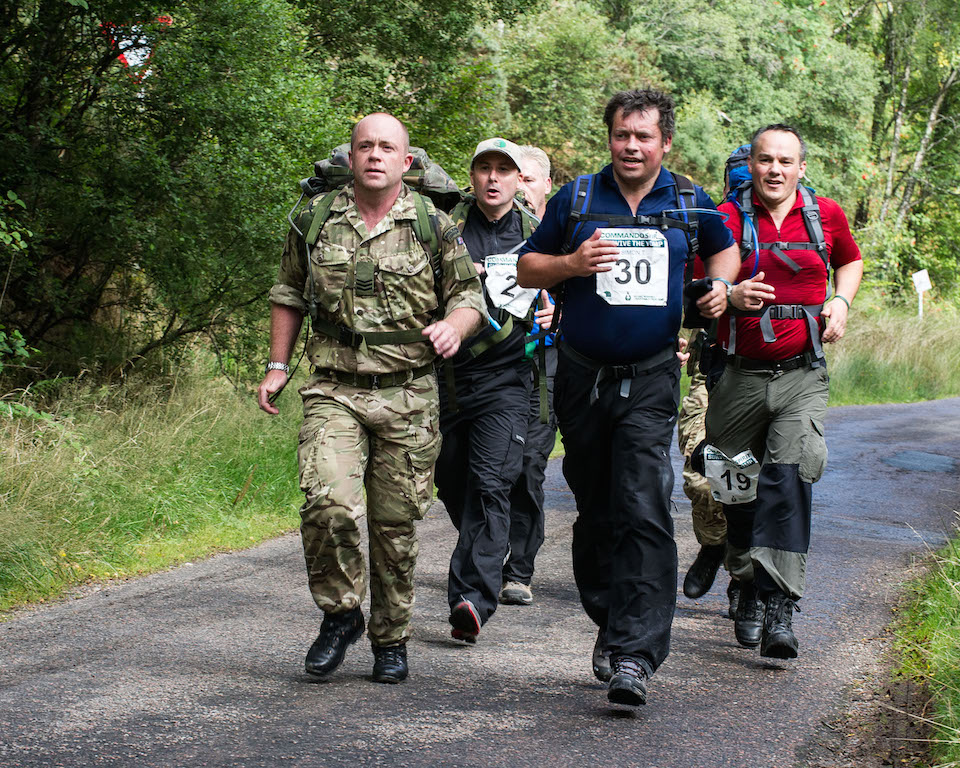 What's included in your entry fee:
* pre-event support by phone and email
* call from serving or former Royal Marine buddy
* Briefing Pack including:
  > Royal Marines Fitness manual
  > Commando Spirit T-shirt
  > Fundraising Guide
* Welcome reception with guest speakers, safety briefing and "Pasta Party" the night before
* Full support on the event including , wet stops, scran and safety cover
* Awards ceremony including celebratory meal, certificate, medal and event T-shirt
Not included in your entry fee:
* personal travel, accomodation and insurance
So if you are looking for the ultimate challenge, excited about training with the best in the world and you are ready to help raise life changing sums for Royal Marines and their families in need then what are you waiting for? Sign up and join us now but hurry there are only a limited numner of places available!
You are 21 miles in. Your feet are throbbing and your shoulders burning. Your brain is telling you to stop and rest but you know you must dig deep and carry on. Every Royal Marine has to have reserves of physical and mental strength to complete the Yomp, the 30 mile final test in their gruelling training to gain their green beret. Are you tough enough to Survive The Yomp and raise serious sums for Royal Marines in need? - See more at: http://www.commandospirit.com/SurviveTheYomp.stm#sthash.HjQJ4XNe.dpuf
You are 21 miles in. Your feet are throbbing and your shoulders burning. Your brain is telling you to stop and rest but you know you must dig deep and carry on. Every Royal Marine has to have reserves of physical and mental strength to complete the Yomp, the 30 mile final test in their gruelling training to gain their green beret. Are you tough enough to Survive The Yomp and raise serious sums for Royal Marines in need? - See more at: http://www.commandospirit.com/SurviveTheYomp.stm#sthash.HjQJ4XNe.dpuf
When & Where

Achnacarry
None
PH34 Achnacarry
United Kingdom


Saturday, 13 September 2014 from 06:00 to 18:00 (BST)
Add to my calendar
Organiser
Website:http://spirit.glowfish-creative.co.uk/organiser/commando-spirit/