Description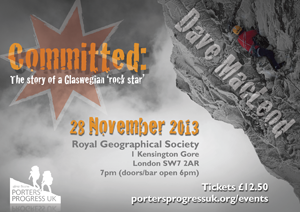 Dave MacLeod is one of the best rock climbers the UK. Based in the highlands of Scotland he has made first ascents of rock and ice climbs all over the highlands from St Kilda to Ben Nevis as well as in the Alps and Norway.
For someone who claims that he has little 'natural talent or the right body shape for rock climbing', it hasn't stopped Dave chalking up two of the hardest rock climbs in the world: Longhope on St John's Head (Orkney) and Echo Wall on the north face of Ben Nevis. Dave puts his success down to a 'quirk of character' and has written much on the subject of psychological control when it comes to climbing at the highest level. Come and hear this quirky character at the Royal Geographical Society as he takes you on a journey from his local climbing haunts as a young Glaswegian, to the hardest route on the North Face of the Eiger.
Organiser of Committed: The story of a Glaswegian 'rock star' - Dave Macleod Lecture
Porters' Progress UK supports projects to improve the safety and welfare of porters in Nepal and around the world, some of the toughest, hardest-working, and poorest people. Mountain porters are the unsung heroes of mountaineering and trekking expeditions. Yet they are often under-equipped. Even now, every year porters die due to inadequate clothing and equipment.

Porters' Progress UK is run by volunteers. All proceeds from our fundraising events go to projects supported by the charity. For more information visit www.portersprogressuk.org.  Registered Charity Number 1112943