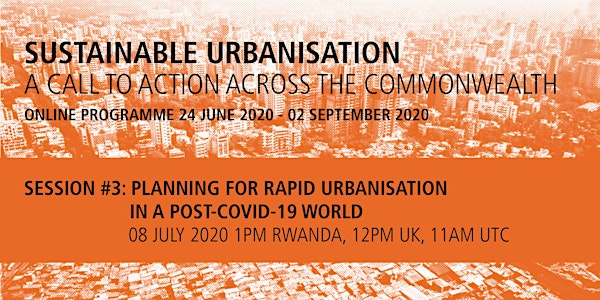 Commonwealth Sustainable Urbanisation Online Programme: Session 3
Sales Have Ended
Registrations are closed
Thank you for registering for this event, we look forward to welcoming you on the 8th July. The Commonwealth Sustainable Cities Partners
Planning for Rapid Urbanisation in a Post-COVID-19 World
About this event
As part of preparations for the 2020 Commonwealth Heads of Government Meeting that was due to be held in Kigali, Rwanda this month, the Association of Commonwealth Universities, the Commonwealth Association of Architects, the Commonwealth Association of Planners, and the Commonwealth Local Government Forum, with support from The Prince's Foundation, the Rwandan Ministry of Infrastructure, the Rwandan Ministry of Local Government, the Commonwealth Engineers Council and others, have been working together to promote sustainable urbanisation in the Commonwealth.
With nearly 50% of the projected increase in the world's urban population to 2050 forecast to be in the Commonwealth, there has never been a more important time for members of the Commonwealth to come together to tackle the challenges of climate change and rapid urbanisation; challenges which have now been compounded by the effects of the Coronavirus pandemic.
A Programme of online sessions has been created, all of which focus on engaging with the theme of sustainable urbanisation in the Commonwealth. For more information please head to www.commonwealthsustainablecities.org/onlineprogramme.
This event will be chaired by Ms Dyan Currie AM, President of the Commonwealth Association of Planners with presentations from:
• Ben Bolgar, Senior Director, Prince's Foundation, UK
• Haja Halimah Lukay, Development Planning Officer, Bo City Council, Sierra Leone
• Patrick Lamson-Hall & Maria Monica Salaza, Research Scholars, New York University Marron Institute of Urban Management
And a panel discussion to include:
• Shipra Narang Suri, Chief, Urban Practices Branch, Global Solutions Division, UN-Habitat
• Ihsan Zainal Mokhtar, President, Malaysian Institute of Planners
• Dr Clifford Amoako, Kwame Nkrumah University, Ghana
• Prof Carol Archer, University of Technology, Jamaica and the Caribbean Planners Association
• Bryce Julyan, Senior Techincal Director, Beca, NZ
There will be plenty of time for an interactive Q&A section, during which there will be time for live questions from the audience.
The other webinars in the online programme can be found on our Eventbrite page and are as follows:
Wednesday 15th July – Building Political Leadership and Strengthening Decentralisation in Urban Areas
Wednesday 22nd July – Upskilling Professional Capacity for Climate Change and the Recovery
Wednesday 29th July – Sustainable Urbanisation and Local Economic Development in the Context of COVID-19
Wednesday 5th August – Building Infrastructure-led Community Resilience
Wednesday12th August – Achieving Safe and Affordable Housing for All
Wednesday 19th August –Climate Responsive Design
25th & 27th August* – Sustainable Urbanisation and Small Island Developing States
Wednesday 2nd September – Towards a Call to Action and Next Steps & Close of the Programme
*this session will run twice to ensure participation from all SIDS, dates to be confirmed
We anticipate streaming the majority of the above events live to YouTube, details of which will be shared on our social media.
We are also holding a series of 7 lectures for built environment professionals in parallel to the main programme:
Thursday 2nd July – Introduction to the UN 2030 Sustainable Development Goals
Thursday 9th July – Planning for Rapid Urbanisation
Thursday 16th July – Planned City Extensions
Thursday 23rd July – Resilient Infrastructure
Thursday 30th July – Climate Responsive Design
Thursday 6th August – Heritage-Led Regeneration
Thursday 13th August – Sustainable Outcomes Guide
By registering for this event you will receive a unique link to the Zoom Webinar registration page. Due to limited capacity we recommend you register as soon as possible. Please note your ticket does not guarantee you a space in the Webinar. As such we will be providing a YouTube livestream link for those that do not manage to join the Webinar before it reaches full capacity.
We look forward to welcoming you at the launch session on the 8th July and future sessions in the online programme.