Description
Are you a communications professional in a research charity? Constantly looking for creative ways to turn 'scintillate scintillate orb carbonaceous' into 'twinkle twinkle little star', and with added impact? Want to meet others working in the same field and hone your craft?
Then come and join us for our one-day workshop, covering who to involve in your research communications, an interactive masterclass on the essentials of writing about research, using digital channels, and how to achieve effective communications.
With special guest Dr Kat Arney sharing her top tips for story telling prowess, you're sure to pick up some great suggestions from someone who was in your very shoes until quite recently.
After leaving Cancer Research UK with more than 10 years of experience under her belt sharing the charity's research stories with the press, and anyone else who would listen, Kat has since published her first book on genetics, written pieces for the Guardian, NewScientist and many other outlets, as well as regularly co-hosting The Naked Scientists and BBC Radio 5 Live's Science Show.
Full agenda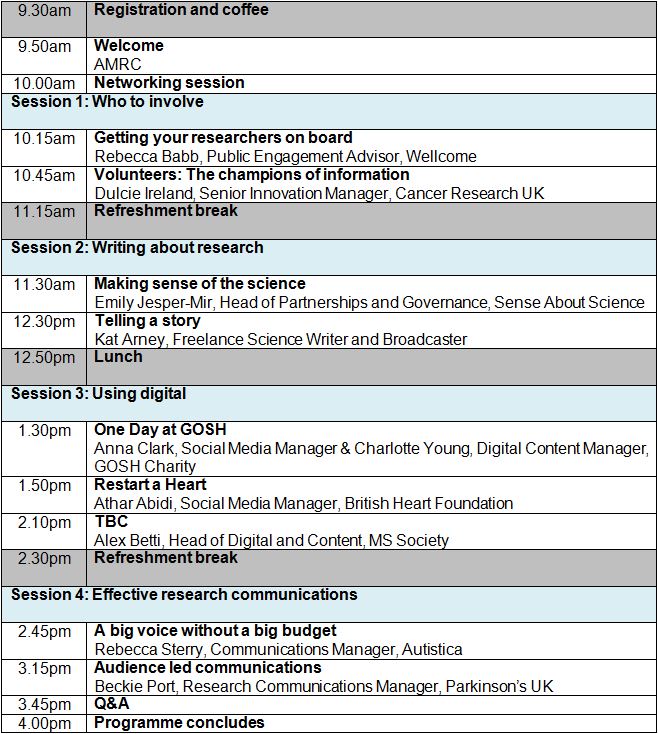 Cancellation policy
You can request a refund though your Eventbrite account.
Credit cannot be transferred between events, you may cancel and book on a different event.
If you cancel more than 10 working days before the event, we will issue a full refund.
If you cancel less than 10 working days before the event, we will issue a partial refund and charge you £50.
Please note, if the order was placed more than six months ago, your card details will no longer be stored with Eventbrite. AMRC can issue an offline refund, which will incur an admin fee of £50.