Description
Communicating with Your Audience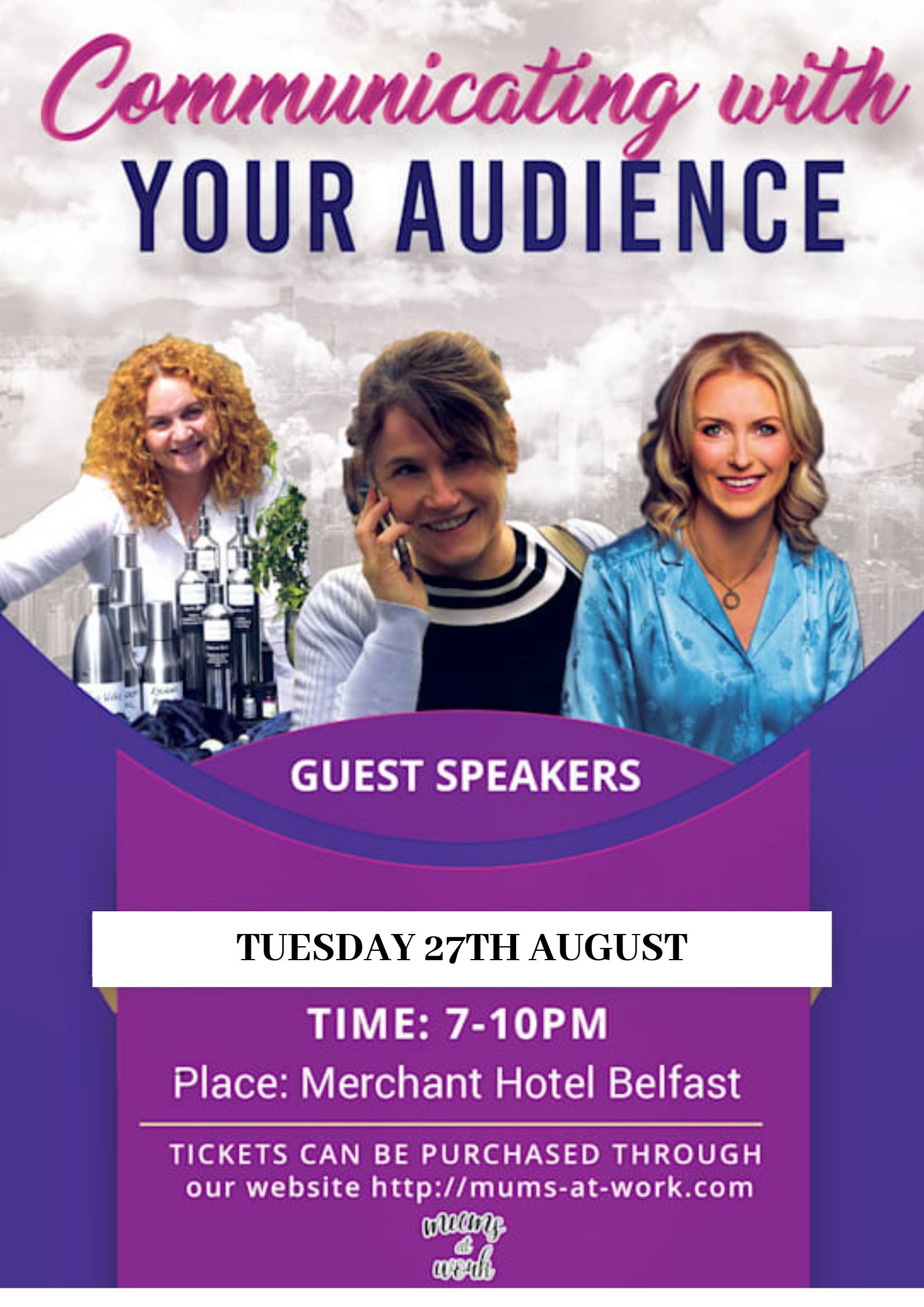 This is an evening networking event, aimed at retailers, business owners, marketers, self employed business women and all women who work with content, social media, communication and start up businesses who would benefit from learning how to communicate with an audience.
We are bringing you 3 guest speakers to help with confidence and clarity and tips of how to communicate a message, brand story or build a relationship with your audience.
Majella Colhoun - Transforming People Academy
Majella will be talking about the tools you need to build your confidence and mindset to build your business or career and to get your message and goals clear first. She is very happy to help women become more visible and present their message.
Karen Sufferin - Karen Wellness Coach
Karen will be talking about "Being your own Brand Ambassador" - and how to be present on social media personally communicating with your audience. Karen believes that people connect with people and you must have passion in your products and confidence in yourself to build a relationship with your audience as people buy from people they like and trust.

Andrea (McKernon) Morrow
Belfast woman Andrea Morrow has been an editor at Belfast Media Group and still works as a freelance journalist at The Irish News. She also led communications and press at the Belfast Hills Partnership. She has entered the entrepreneurial world and is spearheading a social economy dog centre project as well as developing her homemade skincare range. Andrea also runs Belfast Hills Walking Dynamos group in her spare time. "I've been telling people's stories in print for almost 20 years and know what stands up to the editorial test," says Andrea. "I'll be giving some examples on how you can be slick, accessible and successful for professional publishing and enhance you credibility - without paying for advertising."
This event is being hosted by Sinead Norton, founder of Mums at Work, an online community of like minded business women who support, recommend and refer each other. Mums at Work has a members club and online directory and the aim of the membership is to connect members so they can support and advise each other, collaborate, recommend and refer each other.
All attendees of the event will be provided with the business details of Mums at Work Club Members for future collaborations, referrals and purchases, as well as guest speaker information.
Agenda:
7.00 - 7.30pm Arrival and Registration
Tea, Coffee & Scones on arrival
7.30 - 8.15 Presentations by Majella Colhoun & Karen Sufferin
8.15 - 8.30 Short Break
8.30 - 9.00 Presentation by Andrea McKernon
9.00 - 10.00 Networking
The aim of this event is to give you some idea and tips on how to get your brand message clear, have the confidence and tools to communicate with your audience - and to meet other ladies at the event who you can connect with for business and professional purposes.

DAYTIME SESSION - MUMS AT WORK VIP CLUB MEMBERS ONLY 4PM - 6PM (FREE FOR MEMBERS)
Mums at Work VIP Club Members are invited to a daytime networking session - the link to register for this event will be in the membership area.
Join Mums at Work Membership here: