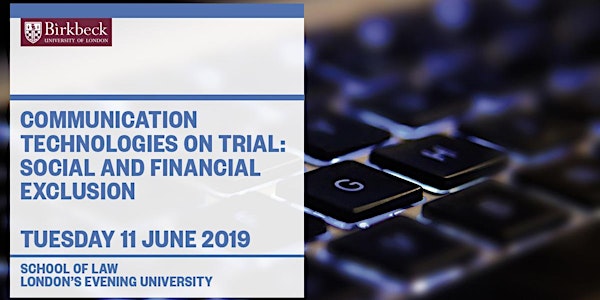 Communication Technologies on Trial Day 2 - Social and Financial Exclusion
Description
Communication Technologies on Trial Day 2 - Social and Financial Exclusion
The second evening of Law on Trial, Tuesday 11 June, focuses directly on the impact of digital exclusion on social rights and participation in the financial system. The spotlight will be on the role played by algorithms in controlling access to things like social security, appropriate health care, educational opportunities and mortgages. Our panel will reflect on the costs and benefits of a world controlled by algorithms.
Speakers
Chair: Jeremy Pilcher, Birkbeck

Teresa Numerico, University of Roma Tre

Brett Scott, Writer and campaigner

Noah Vardi, University of Roma Tre

---
Law on Trial 2019: Communication Technologies on Trial
Join us at our other Communication Technologies on Trial events
Monday 10 June Democracy
Wednesday 12 June Cultural Production
Thursday 13 June Work and the Environment
Friday 14 June Privacy, Security and Surveillance
The theme of this year's Law on Trial week is Communication Technologies on Trial. Through a series of focused debates, we will investigate the implications of the fact that communications technology, which is often used as though it were a public good, is privately owned and that the major actors and platforms that connect the infrastructure to the users are also transnational corporate interests. In particular, the week's events will focus on the ways that the architecture of the communications technology system poses serious challenges to legal regulation, while the dominance of neo-liberal thought arguably creates political resistance to regulatory solutions. Communication Technologies on Trial will investigate these issues through a range of presentations, panel discussions and public debates that focus on the sub-themes of democracy, social and financial exclusion, cultural production, work and the environment, and security, privacy and surveillance. It is jointly organized with the Velux funded digital humanities project "The Past's Future", which is based at the Saxo Institute and the School of Law at the University of Copenhagen. Find out more.
This event is free to attend and open to the public however booking is required via this page.
---
Latecomers to the event are not guaranteed entry. Please be advised that photographs may be taken at the event.
Bookings for this event are being taken via Eventbrite. Eventbrite is a privately run platform for event booking. By completing this booking, you will become an Eventbrite user, and your data will be processed by them as described in their privacy policy. Any data you provide will be passed from Eventbrite to Birkbeck and processed in line with our privacy notice.
Please contact us if you have any access requirements. More details of accessibility at Birkbeck venues can be found here.
Organiser of Communication Technologies on Trial Day 2 - Social and Financial Exclusion
We are a leading international centre for world-class legal and criminological research and scholarship. Our academic staff are recognised internationally as authorities in their field and deliver stimulating teaching programmes at all levels of study. Find out more about the School of Law at http://www.bbk.ac.uk/law