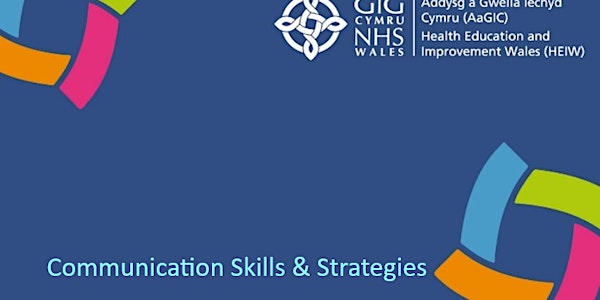 Communications, Skills & Stratagies. Sgiliau /Strategaethau Cyfathrebu
Sales Have Ended
Registrations are closed
Registration for the Communications, Skills & Stratagies workshop on 24/05/22 has now closed. Please contact PSU on HEIW.ProfessionalSupport@wales.nhs.uk for future dates.
We are delighted to offer a one-hour online Communication Skills & Strategies clinic. Rydym yn falch iawn o gynnig clinig Sgiliau/Strategaet
About this event
Communication Skills & Strategies
1 hour webinar
Audience: Trainees
Description:
The Power of Effective Phrasing and Delivery.
Recognising and Using Idiomatic/Colloquial English and why it matters.
Saying 'no' effectively.
Voice attitude and Constructive Challenge.
Buzz Words for Appraisals and Interviews.
Aims & Objectives:
To look at and practice a range of everyday phrases that can enhance your interactions at work.
To explore phrases that can help to create your individual professional identity.
Delivered by Jo Hopkins, comms4Docs https://comms4docs.com
GP Trainees:
• Tuesday 24/05/2022 (12:00 - 13:00)
• Wednesday 07/09/2022 (14:00 - 15:00)
Hospital Trainees:
• Thursday 07/07/2022 (13:00 - 14:00)
• Monday 22/11/2022 (13:00 - 14:00)
Sgiliau /Strategaethau Cyfathrebu
Gweminar 1 awr
Cynulleidfa: Hyfforddeion
Disgrifiad:
Pŵer Geirio a Mynegiant Effeithiol.
Adnabod a Defnyddio Saesneg Idiomatig/ tafodieithol a pham mae'n bwysig.
Dweud 'na' yn effeithiol.
Agwedd llais a Her Adeiladol.
Geiriau allweddol ar gyfer Arfarniadau a Chyfweliadau.
Nodau ac Amcanion:
Edrych ar ac ymarfer ystod o ymadroddion bob dydd a all wella eich rhyngweithio yn y gwaith.
Archwilio ymadroddion a all helpu i greu eich hunaniaeth broffesiynol unigol.
Darparwyd gan Jo Hopkins, comms4Docs
https://comms4docs.com
Hyfforddeion Meddygon Teulu:
• Dydd Mawrth 24/05/2022 (12:00 - 13:00)
• Dydd Mercher 07/09/2022 (14:00 - 15:00)
Hyfforddeion Ysbyty:
• Dydd Iau 07/07/2022 (13:00 - 14:00)
• Dydd Llun 22/11/2022 (13:00 - 14:00)