Description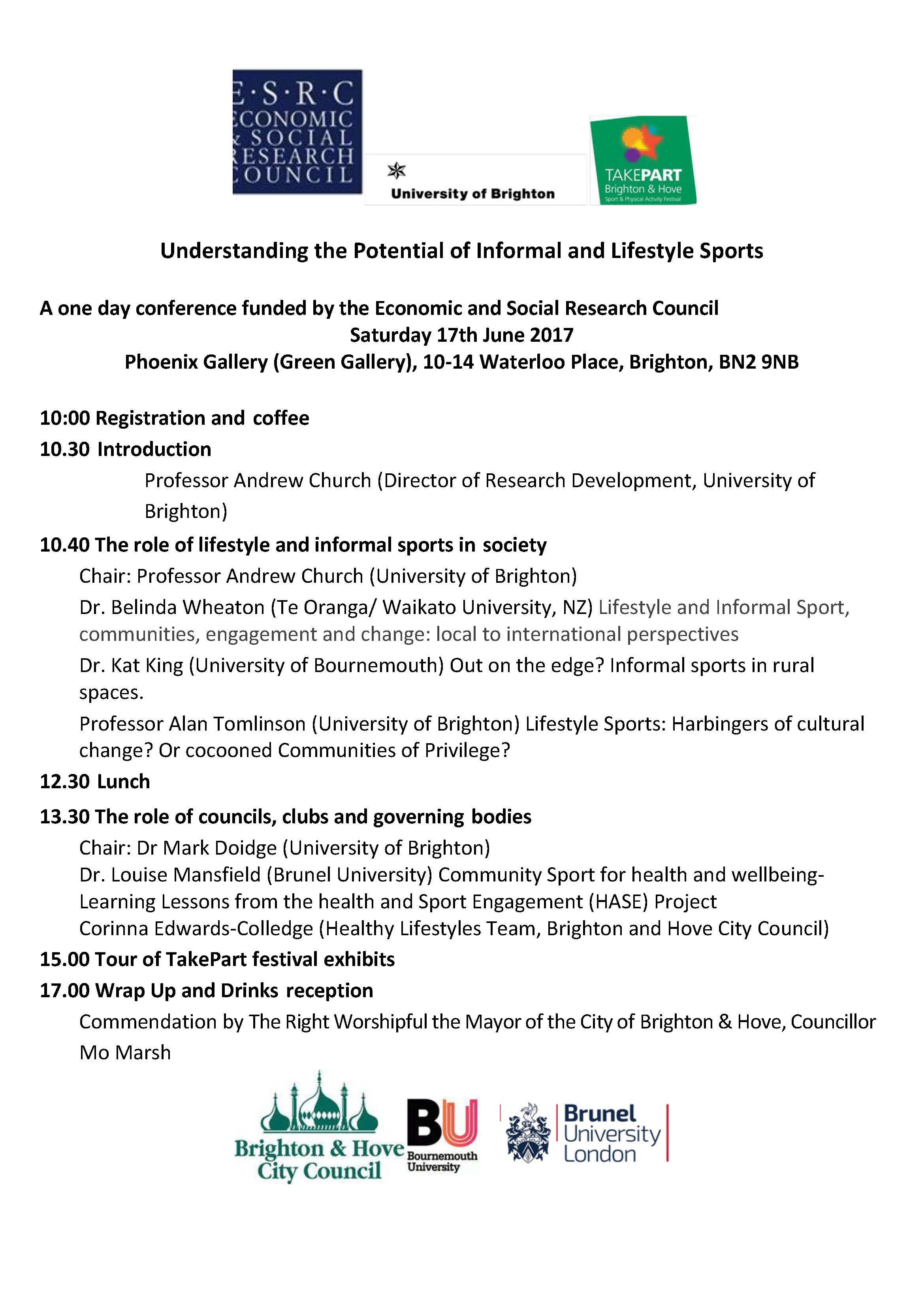 University of Brighton are hosting a seminar to run alongside the annual Take part Festival, which is celebrating its 10th anniversary.
Despite the widespread belief among politicians and policymakers regarding the value of sport in tackling a range of social issues from obesity to delinquency, participation in traditional sports continue to decline. In contrast, participation and interest in more informal sports, and lifestyle sports in particular, is increasing. However, due to the lack of formal organizations in many lifestyle sports, it is harder for policy makers to access these communities, or understand how to make interventions effective and relevant. This seminar series offers an opportunity for academic researchers from different disciplinary backgrounds to come together with policy makers, educationalists and practitioners, to consider the changing role of sport in contemporary lifestyles.
The specific objectives of the seminars are to
Engage in topical and timely scholarly debate around the social value of informal and lifestyle sport, to establish informal and lifestyle sports potential to inform policy, and identify future potential to inform policy, and identify future potential and challenges

Inform policy debate and development across areas including health and wellbeing, education, the arts, sport, youth and community development, tourism and planning

Establish innovative approaches to enhancing and developing active lifestyles.



TAKEPART is an award winning festival celebrating active lifestyles in Brighton & Hove.
Each year hundreds of sports clubs, activity groups, charities, businesses and other organisations collaborate to promote active lifestyles for all and showcase the many different ways people can enjoy being active in the city.
In 2017 the Festival will celebrate it's 10th anniversary, and takes place between 17th June - 2nd July 2017. Full details will be published on this web page in May.
The TAKEPART festival is the perfect chance to discover new activities you enjoy, or find local organisations who provide activities you love!
For further details of the TakePART Festival please follow the link below
https://www.brighton-hove.gov.uk/content/leisure-and-libraries/sports-and-activity/takepart-festival-sport-and-physical-activity
There are limited travel bursaries for postdoctoral students and early career academics. Please contact Dorthe Green for more details. D.Green3@brighton.ac.uk