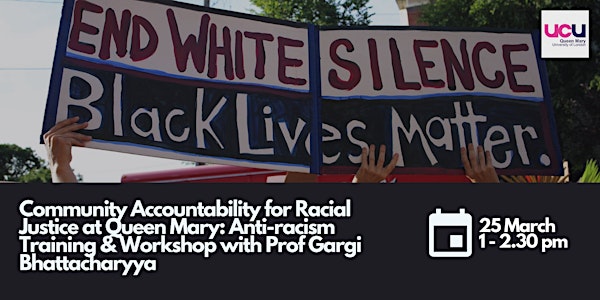 Community Accountability for Racial Justice: QMUCU Anti-racism Workshop
Community Accountability for Racial Justice at Queen Mary: Anti-racism Training and Workshop with Prof Gargi Bhattacharyya, March 25
About this event
The QMUCU anti-racism working group is inviting you to join our second Anti-Racism Training and Workshop which will take place on March 25.
This workshop is following our first workshop held last November, at which over 50 members engaged in a discussion around what needs to change within our union spaces to enable us to use the resources we have to work toward an anti-racist university.
Two key principles emerged clearly: solidarity, and accountability. As one participant explained, institutional racism operates both structurally and via its interlocutors. In other words, targeting the institution of Queen Mary is important but not enough: we need to hold individuals, structures and systems accountable, ensuring racist behaviours, practices and those systems that protect and enable them to breathe, are brought to light and removed from the university. This requires moving beyond the limited procedures offered by the university, to building networks of solidarity, support and community beyond the institution.
This will be the main objective of this second workshop. Professor Gargi Bhattacharyya will be facilitating a discussion of the 'Community Accountability Programme' developed by the UCU's Black Members' Standing Committee, with the aim of adapting it to our university and our union. Prof. Bhattacharyya (who has been the object of forced redundancies targeting union activists as well as gender and critical race scholars) has worked extensively on developing this programme, as part of a rethinking of what accountability might mean through an abolitionist lens. This involves both a collective investigation into our own and others' complicity with systemic racism at the university, and building new anti-racist networks with the capacity to challenge and change those systems. Register here and spread the word.
This workshop invites all QMUL staff and students - QMUCU member or not - as well as our connected networks and communities to take part.