Come and find out more about Community Champions Camden in your area and if it is something you want to be involved in!
About this event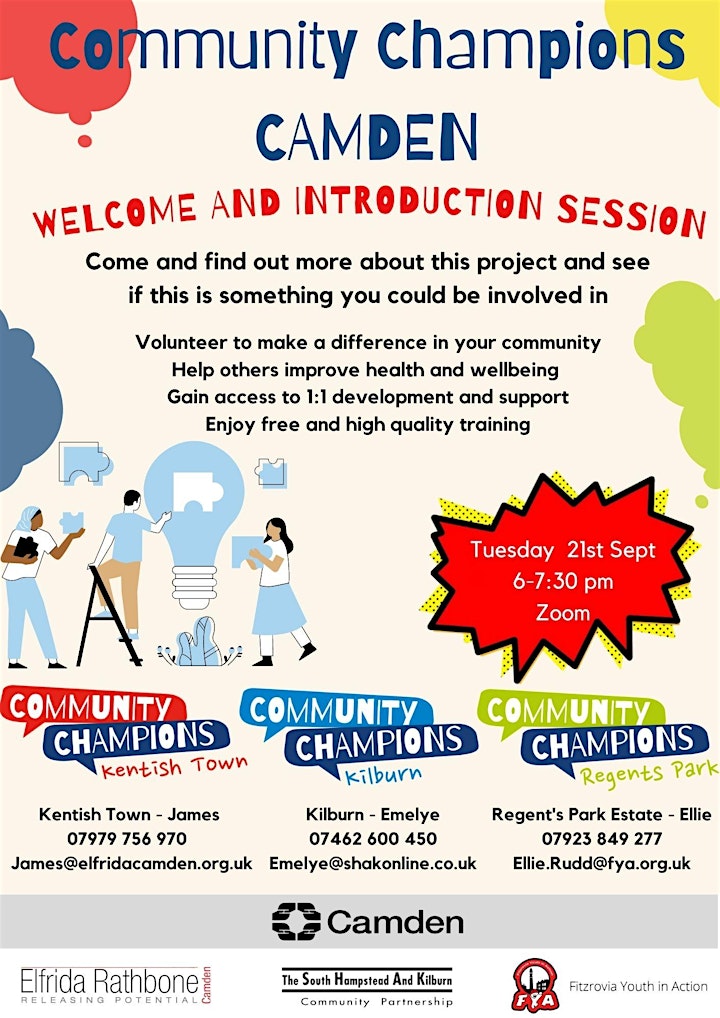 Join Community Champions Camden!
Community Champions Camden is about connecting your community - we are a resident led health and wellbeing initiative based in three areas of Camden putting resident and local voices at the heart of the action!
This is an Introduction and Welcome session, where you can find out about the programme and how you can be involved. This will be a great chance to meet other local residents, hear about the project and share your ideas!
The session will be run by Community Champion Coordinators James, Emelye and Ellie - there will be a chance to get to know other people, hear about the programme, what you can do and how you can benefit too!
If you are unsure how to join or have any additional questions please contact
Ellie Rudd, Fitzrovia Youth in Action - Regents Park Estate ellie.rudd@fya.org.uk 07923849277 @fyaonroad www.fya.org.uk/regents-park-community-champions/
James Easey - Elfrida Rathbone - Peckwater & Torriano estates, Oseney Crescent and Kenbrook House estates (Kentish Town) james@elfridacamden.org.uk 07979 756 970 @ElfridaCamden www.elfridacamden.org.uk/kentish-town-community-champions-2/
Emelye Rennards - South Hampstead and Kilburn Community Partnership (SHAK) - Kilburn Vale, Webheath, Kingsgate and Sidings estates emelye@shakonline.co.uk 07462 600 450 @shakonline www.shakonline.co.uk/shak_news/community-champions-kilburn-new-opportunities/