Description
What does Community Empowerment mean for disabled people?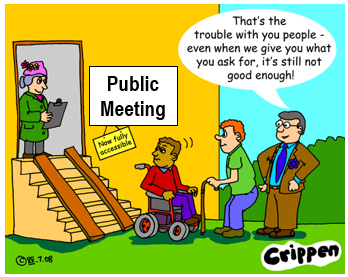 Inclusion Scotland invite you to our Annual General Meeting and Conference. This year's theme is Community Empowerment: Think Global, Act Local.
The event will consist of speakers (including the Minister for Social Security, Jeane Freeman MSP, Morven Brooks CEO of SDEF, Paul Nelis from Scottish Community Development Centre, Philippa Bonella, International Development Worker), workshops and plenary sessions.
The event will also be livestreamed online for those who are unable to attend in person. Details of this will be available nearer the event.
If you have any questions about the event please email events@inclusionscotland.org or phone 0141 559 5025.
The venue is wheelchair accessible and we will have BSL interpreters, live captioning and Personal Assistants available on the day. Please let us know any other arrangements which would improve access to the event.
Assistance with reasonable travel costs is available for disabled attendees if required. If you are disabled and require assistance with travel please contact us as early as possible to arrange this using the e-mail or phone number above. If you can arrange your own travel but would like to request help with the cost we can reimburse these if you contact us in advance of the event. Otherwise due to limited funds, we cannot guarantee that we will be able to cover your costs.