Description
The 2018 Community Energy Awards will take place at the Level 1 Galleries in The Arnolfini, Bristol on the evening of 19 October as part of Green Great Britain Week. The awards ceremony follows on from a conference, The Energy Transition: Top Down v Grassroots, jointly host with Bristol Energy Network and Bristol City Council to explore how local authorities and communities have been tackling climate change over the past decade since the Climate Change act was first enacted.
We invite the community energy sector to a drinks reception and celebration of its resilience and innovation at one of Bristol's most inspiring venues. Please use this page to register to attend the awards.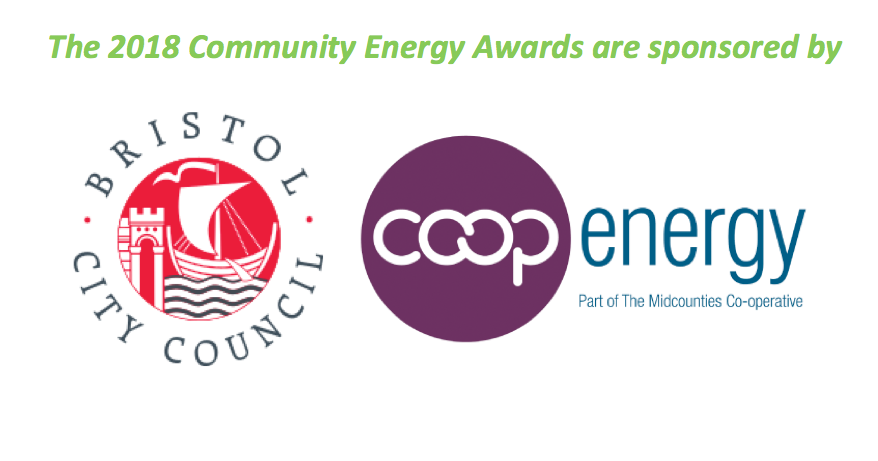 Bristol City Council and Co-op Energy are headline sponsors of the 2018 Community Energy Awards. Further sponsorship opportunities are available.
Nominations have now closed for all awards. The Community Energy Photo Award will be decided by the public. You can vote here.
Who are the keynote speakers?
Molly Scott Cato - Green Party MEP for the South West
Tim Lord - Director for Clean Growth, BEIS
Robin Webster - Climate Change Engagement Strategist, Climate Outreach
What are the award categories and shortlists?
Community Renewable Energy Project Award
The most outstanding renewable electricity generation project undertaken by a community group. (Sponsored by Co-op Energy)
The Schools' Energy Cooperative Ltd
YnNi Teg
Community Energy & Carbon Saving Award
The community group which has undertaken the most inspiring energy conservation and/or management project
C.H.E.E.S.E. Domestic energy loss surveys
Exeter Community Energy - Healthy Homes for Wellbeing
Plymouth Energy Community's Energy Team
Springbok Sustainable Wood Heat
Local Authority Award
The Local Authority which has done most to help local community energy organisations through partnering, investing, policy or other support
Greater London Authority
Suffolk Climate Change Partnership
The London Borough of Ealing
Collaboration Award
The most commendable collaboration between community and commercial / public / third sector partners (Sponsored by Power To Change)
Community Power Cornwall - Acquisition of West Country Renewables
Energise Barnsley
Energy4All
Community Energy Finance Award
The community group and/or its funders and advisers, which have achieved the most impact through a range of financial instruments/mechanisms, through grant funding, debt finance, community shares, funding platforms or new funding models
Communities for Renewables CIC
Community Owned Renewable Energy Partners
Mean Moor Wind Farm
The Thrive Community Energy Funding Bridge
Social and Sustainable Capital's Renewable Energy Portfolio and Strategy
Community Energy Champion
The individual who has made an outstanding contribution to the advancement of the community energy sector over recent years. We do not share the shortlist but will announce the champion on the night.
Community Energy Young Champion (Sponsored by GENeco)
A new award for 2018 celebrating the increasing amount of creative, organised and motivated young people getting involved in community energy. We do not share the shortlist but will announce the young champion on the night.
Community Energy Photo Award
The original photo which best captures the essence of the community energy movement. You can vote for the winner of the Photo Award here.
Who is on the Judging Panel?
Patrick Allcorn - Department of Business, Energy and Industrial Strategy
Sonya Bedford - Stephens Scown (2017 Comunity Energy Champion)
Jon Halle - Sharenergy (2016 Community Energy Champion)
Mark Billsborough - Co-op Energy
Shea Buckland-Jones - Institute of Welsh Affairs
Léonie Greene - Solar Trade Association
Will Walker - Power to Change
Philip Wolfe - WolfeWare
See more information on each of the judges.
What will award winners receive?
An award trophy and certificate
Addition to the Community Energy Awards Hall of Fame
Official awards stamp for their website
A case study will be produced about them and distributed to the media
Who is speaking?
Speakers will be announced shortly.
Previous winners
Community Renewable Energy Project Award
2017 Winner: Gower Power [see case study]
Commendation: Energy Local [see case study]

2016 winner: Awel Aman Tawe [see case study]
Commendation: Ynni Anafon Energy
2015 winner: Chase Community Solar
Community Energy & Carbon Saving Award
2017 winner: South East London Community Energy [see case study]
Commendation: Carbon Co-op [see case study]
2016 winner: Brighton & Hove Energy Services Cooperative [see case study]
2015 winner: Wey Valley Solar Schools Energy Co-operative
Local Authority Award
2017 winner: Oldham Council [see case study]
Commendation: Energise Barnsley - Barnsley Metropolitan Borough Council [see case study]
2016 winner: Plymouth City Council [see case study]
2015 winner: Cornwall Council
Collaboration Award [Sponsored by Power to Change]
2017 winner: M&S Energy Society [see case study]
2016 winner: Cyd Ynni [see case study]
2015 winner: Saddleworth Community Hydro
Community Energy Finance Award
2017 winner: Leapfrog Finance [see case study]
2016 winner: The Naturesave Trust and Naturesave Policies Ltd [see case study]
2015 winner: Ethex
Community Energy Champion
2017 winner: Sonya Bedford [see case study]
2016 winner: Alistair Macpherson [see case study]
2015 winner: Jon Hallé and Adam Twine
Community Energy Photo Award
2017 winner: Westmill Turbine Hug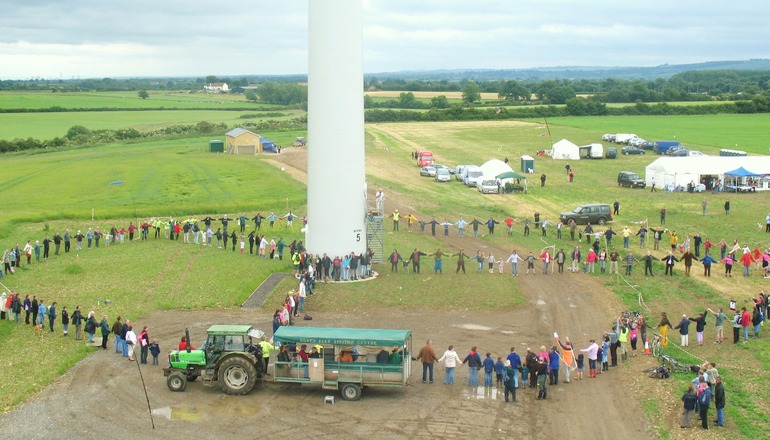 Organiser of Community Energy Awards 2018
Community Energy England was established in 2014 as a not for profit organisation to provide a voice for the community energy sector and help create the conditions within which community energy can flourish. We do this by increasing the profile of community energy, sharing best practice and advocating for supportive policies at national and local levels. Community energy includes the delivery of community renewables, energy efficiency, demand reduction and energy supply projects as further described here.

Community Energy Wales was constituted in 2012. CEW brings together a programme of practical support to inspire communities to take action, educational support to empower them to develop their schemes in accordance with their needs, financial advice and support to help implement the schemes sustainably over a long-term period, and influence the necessary people and policies to make these schemes a success and share their experiences with others.