The webinar helps you develop engaging and responsive communication style and build better relationships in multicultural communities.
About this event
Professionals who want to enhance communication with non-English Speakers and understand how to effectively manage Cultural and Language Barriers should attend this valuable communication skills webinar.
The webinar includes the following:
• Cultural values and attitudes
• Cross-cultural management skills
• Language issues and how to overcome them
• The impact of positive, neutral, and negative views within the community
This webinar provides community relation officers, community leaders, community development officers, service providers in area including policing, housing, health, social support necessary foundation and tools to become culturally competent.
Any Questions?
Please Get in Touch
01205 310 004
www.pablanguages.co.uk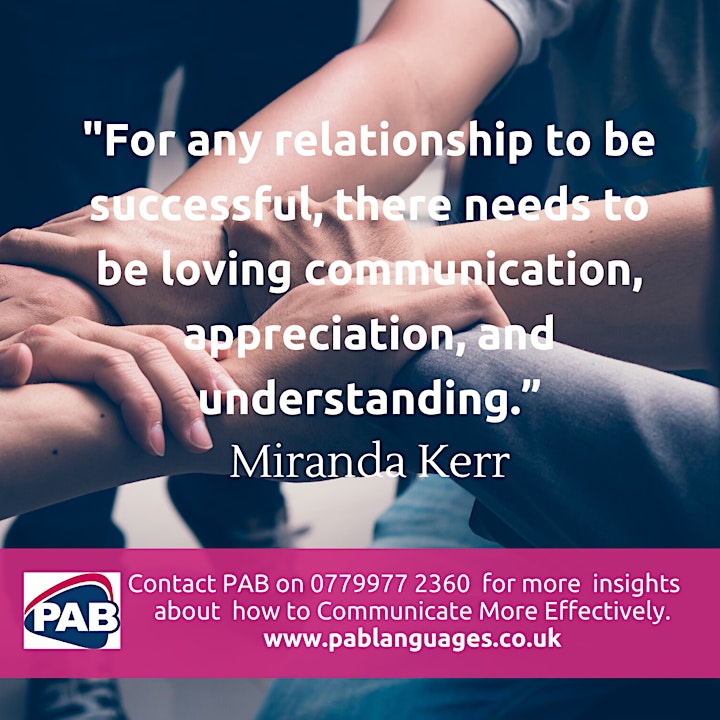 Organizer of Community Engagement
PAB Languages Center is an Award-winning company, with offices in Essex and Lincolnshire we work with over 200 languages incuding translation into over 200 languages, localisation and cultural awareness training.
We help businesses to communicate globally by providing these businesses with high-quality translation, localisation, and cultural awareness.
Accredited Credible Provider:  
- European Language Industry Association (ELIA)
- Institute of Independent Business Cultural Transition Partners
- Lincolnshire Chamber of Commerce Language Business Partner
- Essex Chamber of Commerce Language Business Partner
- ISO9001/2015
- Public Sector & Court Approved Translators & Interpreters
At PAB we offer standard, technical and certified translations for human resources, recruiters and health and safety professionals. Business translation services include translation of marketing materials, technical publications, commercial contracts, health & safety regulations, employee communications, sales collateral and website content.
We are recognised by private and public sector organisations for the quality of its translation and interpreting services across a diverse range of requirements.