About this Event
The Health Champions are back with their second Community Feast this year!
The team have been meeting up on a weekly basis to test and experiment with flavours from the Far East. Expect your taste buds to be tickled once again with more unusual combinations ingredients.
** WE WILL BE USING ALL VEGETABLES AGAIN. FISH SAUCE AND SHRIMP WILL BE USED MAKING THIS A PESCATARIAN MEAL **
Location: BBBC Cafe
5.30pm – 6pm // Eastern inspired mocktail
6pm – 7.30pm // Sit down dinner
7.30 – 8pm Finish
Drinks supplied by us will be a non-alcoholic cocktail and water for the meal but please do feel free to bring your own drinks or alcoholic drinks.
Menu
----- Taster -----
Thai Gazpacho
This dish is an Italian inspired chilled soup made from yellow tomatoes and peppers, cucumber, coconut milk, ginger, lemongrass, Thai basil and lime.
----- Starter -----
Tofu Garb Lai
Larb is a zingy mixture of flavours served on a lettuce leaf. Minced tofu is wonderfully seasoned with a fragrant lime juice dressing, toasted rice to give it some crunchy texture, and a wonderful assortment of fresh herbs to bring it all together.
----- Main -----
Indonesian Aubergine and Courgette Rendang Curry with Rice
A medium hot coconut based curry made with a fragrant home-made curry paste.
Thai Vermicelli Salad
A fresh summer combination of rice noodle salad with smoked aubergine, mango, avocado, fresh herbs and a light Thai dressing.
----- Desert -----
Coconut Tapioca Pudding with Mango and Lime
This dish is a lighter take on a chilled summer rice pudding served with fresh fruit. A perfect palette cleanser for a mid summer evening.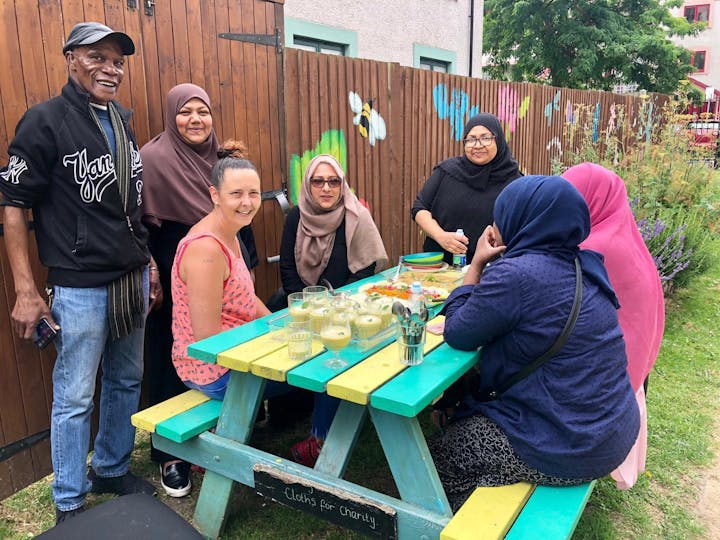 ***** IMPORTANT INFORMATION! *****
The menu will contain some allergy ingredients including fish and seafood.
Please check the list below before purchasing as we will not be able to make amendments to the menu. Please contact Alison if you have any queries.
Cereals containing gluten
Wheat (such as spelt and Khorasan wheat/Kamut), rye, barley and oats is often found in foods containing flour, such as some types of baking powder, batter, breadcrumbs, bread, cakes, couscous, meat products, pasta, pastry, sauces, soups and fried foods which are dusted with flour.
Crustaceans
Crabs, lobster, prawns and scampi are crustaceans. Shrimp paste, often used in Thai and south-east Asian curries or salads, is an ingredient to look out for.
Eggs
Eggs are often found in cakes, some meat products, mayonnaise, mousses, pasta, quiche, sauces and pastries or foods brushed or glazed with egg.
Fish
You will find this in some fish sauces, pizzas, relishes, salad dressings, stock cubes and Worcestershire sauce.
Molluscs
These include mussels, land snails, squid and whelks, but can also be commonly found in oyster sauce or as an ingredient in fish stews.
Nuts
Not to be mistaken with peanuts (which are actually a legume and grow underground), this ingredient refers to nuts which grow on trees, like cashew nuts, almonds and hazelnuts. You can find nuts in breads, biscuits, crackers, desserts, nut powders (often used in Asian curries), stir-fried dishes, ice cream, marzipan (almond paste), nut oils and sauces.
Peanuts
Peanuts are actually a legume and grow underground, which is why it's sometimes called a groundnut. Peanuts are often used as an ingredient in biscuits, cakes, curries, desserts, sauces (such as satay sauce), as well as in groundnut oil and peanut flour.
Sesame seeds
These seeds can often be found in bread (sprinkled on hamburger buns for example), breadsticks, houmous, sesame oil and tahini. They are sometimes toasted and used in salads.
Soya
Often found in bean curd, edamame beans, miso paste, textured soya protein, soya flour or tofu, soya is a staple ingredient in oriental food. It can also be found in desserts, ice cream, meat products, sauces and vegetarian products.
Sulphur dioxide (sometimes known as sulphites)
This is an ingredient often used in dried fruit such as raisins, dried apricots and prunes. You might also find it in meat products, soft drinks, vegetables as well as in wine and beer. If you have asthma, you have a higher risk of developing a reaction to sulphur dioxide.
Lupin
Yes, lupin is a flower, but it's also found in flour! Lupin flour and seeds can be used in some types of bread, pastries and even in pasta.
Milk
Milk is a common ingredient in butter, cheese, cream, milk powders and yoghurt. It can also be found in foods brushed or glazed with milk, and in powdered soups and sauces.