Community Health Talks: Let's Talk Health
Join us and tell us about your health experiences, whether good or bad, and about your experiences of any barriers to the Covid-19 vaccine.
About this event
Please note: This is now an ONLINE event
Derby City Council, Public Health and Community Action Derby, have joined together in seeking to hear about the health experiences of the Black African and Black African Caribbean.
Have you had a positive or negative experience of accessing health services locally that you wish to share with us?
Are you aware of any barriers being experienced within the Black community to the covid-19 vaccine?
What does good health look like and feel like to you?
You can share your experiences as part of a focus group, or on a one-to-one basis, or you may record and send it directly to us.
This is one of a few pilot groups we are holding, to hear the voices of these specific communities and we want to work with you.
Come along and invite someone too.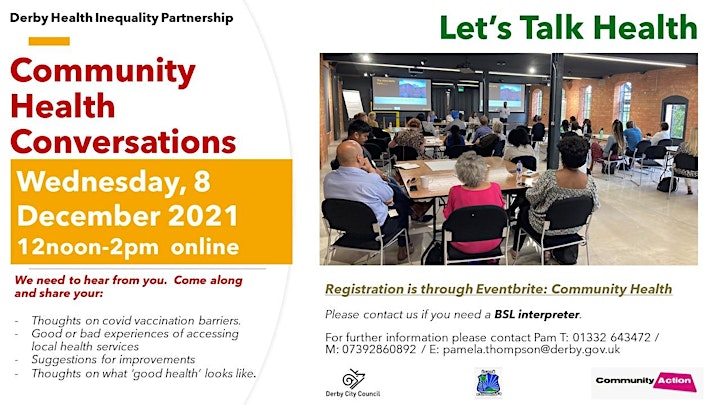 Organiser of Community Health Talks: Let's Talk Health