Zoom session for people responding to Covid-19 - volunteer, good neighbour, community group or organisation
About this event
As the days are getting colder and the nights are drawing in, why not join us and others, like you, for an afternoon of warmth and friendship - bringing some light to the end of the working week.
You might have you felt stressed, anxious, depressed or overwhelmed.
You have probably been juggling work, volunteering, homeschooling, supporting and caring for others or been furloughed.
How have you been coping? How has your community changed?
What has gone well that you'd like to share? What would you like support with?
As we head into winter, come and have a chat with us as we prepare for the festive season
If you are a community group, charity, an individual volunteer or a kind neighbour, you are invited to join the Community Helpers Peer Support Session.
The session is on Friday 19th November 2pm till 3.30pm .
We have now been experiencing the pandemic for over18 months and all that it brings. This session will focus on
a) our own self care.... a time of reflection, relaxation and restoration for our mental and emotional well being.
b) thinking ahead to winter and how we can help keep people connected, especially in North Staffordshire.
You can sign up for our free session here at Eventbrite. We will email you when you have signed up.
We will send you information about how to join the online session on Zoom. It is free.
All the Small Things CiC is a Social Action Hub. We have signed up to the Community Action Response for COVID-19.
We are working in partnership with the Community Organisers Local Organising Group to facilitate these sessions. We are working with local partner organisations to make sure people know where to get support and how to make a difference in their communities.
As a Social Action Hub we bring people taking social action together to help us all to share experiences and learn together. One of the ways we do this is with Peer Mentoring. Peer Mentoring Groups last up to two hours when we:
have time to meet each other
hear what we are all doing in our communities,
talk about concerns and questions we would like help with
suggest places we can go for guidance, advice and more support
If you have any questions please email Penny or Sarah:
allthesmallthingscic@gmail.com
Thank You for all of the hard work you are doing in your workplaces and communities at this time.
All the Small Things CIC allthesmallthingscic@gmail.com 0751 881 3131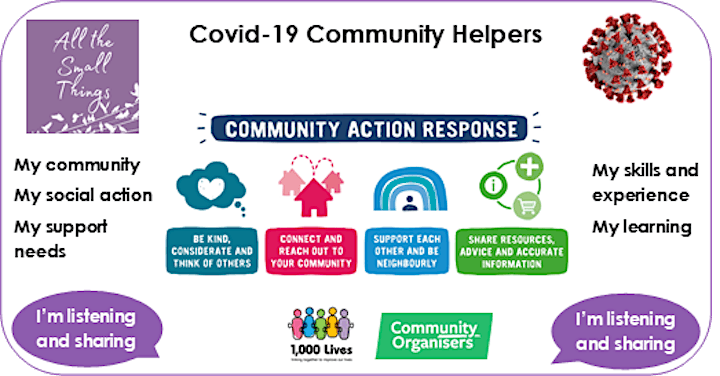 Organiser of Community Helpers Autumn Peer Support Catch Up