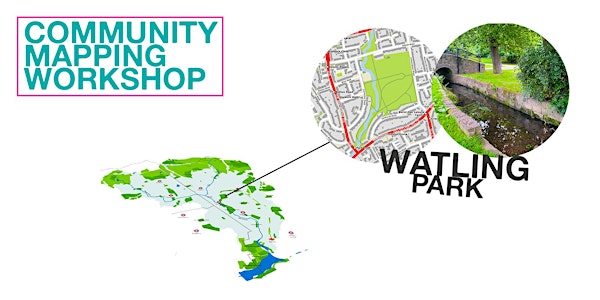 Community Mapping Workshop for Watling Park (SSFRI Project)
Location
Watling Community Centre
145 Orange Hill Road
Edgware
HA8 0TR
United Kingdom
Have your say and help us determine the future of Watling Park and the Burnt Oak Brook!
About this event
Where? Watling Community Centre, HA8 0TR (also online see below)
When? 29th January, 14:00-16:30
What? Presentations, discussions and exploring the park making maps.
Who? Open to all who know Watling Park.
Why? To have input on upcoming changes to Watling Park and the Burnt Oak Brook.
A BIT MORE INFO
The first step in the "Co-Design" process. There will be upcoming changes to the Watling Park to improve flood resilience, the Burnt Oak Brook and the park in general. In this session you'll learn about the concept of Community Mapping, and then create your own maps displaying key local knowledge information. These will then be digitised and used by Metis to model opportunities for works within the park.
SCHEDULE
14.00 - 14.45: Guide to community mapping [Indoors or via Zoom] Tea and coffee will be provided whilst Thames21 present on community mapping. This will cover the concept of community mapping as well as the physical mapping process
14.45 - 15.45: Map Watling Park  [Outdoors] Walking around Watling Park in small groups and equipped with maps, we will collect data about the space and what we'd like to see in the park.
15.45 - 16.15: Collate findings and discussion [Indoors or via Zoom] Returning back to Watling Community centre we will share our findings and discuss.
16.15 - 16.30: "Off-topic" conversations [Indoors or via Zoom] Time for "off-topic" conversations, this could be related to anything that feels relevant to the group.
Note these timings are the maximum timings, the session is likely to be much shorter than this.
HYRBRID ONLINE EVENT
This will be delivered as a 'hybrid online event', so if you do not want to attend in person you can join via Zoom. You can then choose to meet us outdoors in the park or arrange another time to do your mapping work.
THE SILK STREAM FLOOD RESILIENCE INNOVATION PROJECT 
This event is part of the Silk Stream Flood Resilience Innovation Project, a 6-year, £6 million project to help tackle the effects of climate change by making space for water, reducing flooding and improving water quality in the Silk Stream catchment for the benefit of communities and the environment.
Led by Barnet Council, and Harrow Council. Funded by the Environment Agency and DEFRA.
Click here for more information on the Silk Stream Project
Contact silkstream@thames21.org.uk for further information.