Community Rail - Helping towards a sustainable future and better long-term
About this Event
TWSW WEBINAR SERIES:
PLANNING FOR RESTART & TAKING THE OPPORTUNITY FOR LASTING CHANGE
SESSION 6
WHAT WILL BE COMMUNITY RAIL'S ROLE AFTER COVID19?
"Community and rail" or "Community Rail" or "Community and sustainable transport"?
How can our community members, groupings and organisations best partner forward?
Vision and versatility could secure a place for Community Rail Partnership in the post COVID 19 environment:
are CRP's aware of the challenge ahead; and
can recent events could provide a catalyst for reconsidering the interpretation of the 4 pillars of community rail.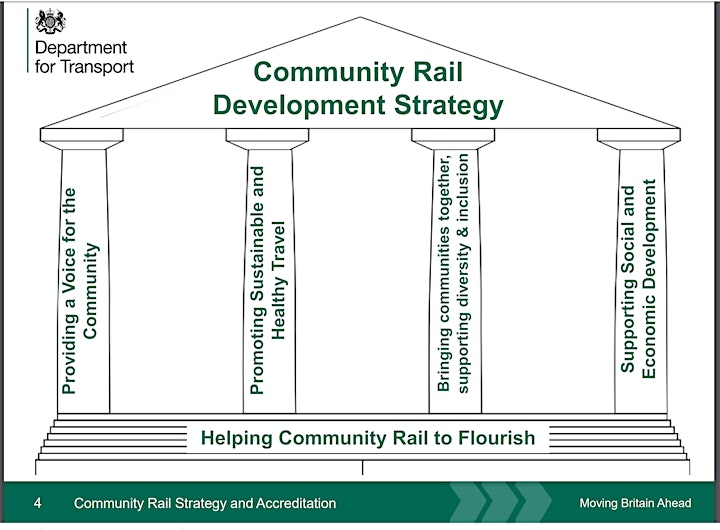 Graham Ellis provides the expert kick-start for this week;s fireside chat.
There are few who rival Graham Ellis when it comes to stimulating programmes around Community Rail and and recognising the concept's ability to evolve. Typical of our most brilliant Community Rail people, Graham has a remarkable feel for devising projects which deliver wide community benefits while are also in tune with the operator's and Local Authority aspiration.
Graham has campaigned long for appropriate public transport for the community, and worked within the community to support service adoption and growth. He was Sheila McKechnie Foundation Transport Campaigner of the Year in 2017, and runner up for ACoRP (now Community Rail Network) Volunteer of the year in 2019. He has piloted both the TransWilts CPR (in 2014) and the Melksham Rail User Group (in 2020) towards Community Rail Network membership. The four pillars of community rail are firmly embedded in the constitution of the Great Western Coffee Shop passenger forum ( http://gwr.passenger.chat ), where he is a founding member and an administrator.
JOIN US ON ZOOM
We want you to get involved. Please let us know that you would like to attend by registering for the event with Eventbrite.
TWSW will then be able to send the joining instructions and link to our Zoom Meeting. These should arrive by Friday morning.
We ran the last meeting securely and operate using a waiting room without a hitch. You can enter using the browser, it is not necessary to download the APP.
WE WANT TO YOU TO ASK QUESTIONS AND ENCOURAGE NEW FACES.
TWSW encourage you to submit topic related questions in advance to meetings@travelwatchsouthwest.org ahead of the webinar. Your joined up-journey comment may include
A message from Jools Townsend, Chief Executive, at Community Rail Network
"You might be interested to know that we have ourselves been consulting on the pertinent, but more positive, question of what role community rail can play to help transport and our communities recover and 'build back better' from Covid-19. This led to us producing this briefing, which I'm sure our members, team and partners will be keen to refer to inform the discussion on Friday: https://communityrail.org.uk/wp-content/uploads/2020/05/Community-rail-and-Covid-19-recovery-renewal.pdf However, we remain keen to hear about other ways that community rail might contribute and develop its impact further"