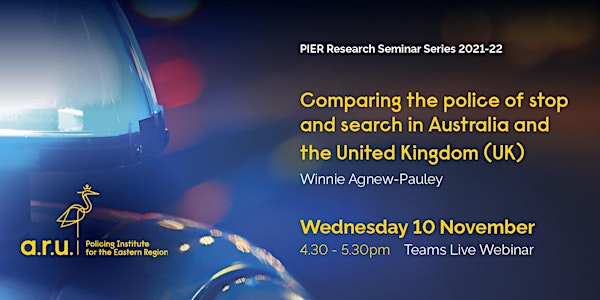 Comparing the use of stop and search in Australia and the United Kingdom
Winnie Agnew-Pauley will speak on 'Comparing the police use of stop and search in Australia and the United Kingdom (UK)'
About this event
This is the first lecture in our PIER Research Seminar Series 2021-22.
Join us via Teams Live for this FREE webinar on Wednesday 10th November 4.30-5.30pm to hear Winnie Agnew-Pauley speak on:
'Comparing the police use of stop and search in Australia and the United Kingdom (UK)'
The police use of stop and search is a frequently used, but often controversial, police power across the world. These powers allow police to stop, and potentially search, individuals where they suspect criminal behaviour. Australia and the UK represent two contexts where this power is routinely used – yet important gaps in our knowledge of this practice exist in both contexts.
This seminar will outline the preliminary findings from this comparative study, from interviews with stakeholders in both contexts and available police data. The seminar will explore the similarities and differences in stop and search in the two contexts as well as explore the benefits, and challenges, of conducting comparative research in policing.
Organiser of Comparing the use of stop and search in Australia and the United Kingdom