Event Information
Location
St. Ethelburga's Centre for Reconciliation and Peace
78 Bishopsgate
London
EC2N 4AG
United Kingdom
Refund policy
Contact the organiser to request a refund.
Eventbrite's fee is nonrefundable.
Learn how developing a compassionate mindset can help you overcome Imposter Syndrome
About this event
Join Hilary McLellan and Dr Ashleigh McLellan to overcome Imposter Syndrome in your career.
Developing your Compassionate Mindset for courageous leadership and wellbeing.
Do you sometimes feel like a fraud at work? Or worry that your achievements are down to luck rather than your own expertise? If so, you're not alone.
Imposter Syndrome is the belief that our success in life isn't deserved or has been achieved through oversight or a stroke of luck, rather than as a result of our own efforts or skills.
When suffering from the Syndrome we tend to think of ourselves as a fraud and fear that at any moment, everyone else will realise our incompetence or inferiority too. This is especially common when we start a new role, following a promotion or when we are expected to perform at a very high level.
Research has shown that developing self-compassion is a useful and effective tool in building resilience to feeling like an imposter and boosting wellbeing and performance.
This is why Hilary and Dr Ashleigh McLellan have worked together to create this unique two-day course for leaders, coaches, high achievers and professionals to embrace compassion focused techniques for tackling feelings of Imposter Syndrome.
In a world where behavioural change is no longer a choice but a daily demand, we are all likely to experience increased worries, anxiety, self-doubt and stress as uncertainty plays a greater part in all our lives. So, let's work together to eliminate that feeling of self-doubt.
Who is this training for?
Anyone who wants to change negative mindsets through learning self-compassion, but particularly suited to people leaders, coaches, mentors and supervisors.
What is it about?
Regularly the biggest challenge faced in behavioural change is our own self-critic, what it says, how it says it and the values and beliefs it forms in our deeply set unconscious behavioural habits. The first step is to release our ability to bring about the change we want. This happens when we develop a compassionate mind.
Compassionate, people-centred leaders are ahead of the game and at the forefront of developing the new generation of competitive advantage. Far from being 'soft and fluffy' or a weakness, compassion guides leaders to be courageous, strong and emotionally intelligent.
Where is it taking place?
St. Ethelburga's Centre for Reconciliation and Peace
78 Bishopgate
London
EC2N 4AG
www.stethelburgas.org
Day one
9:30am to 4pm
We support and guide you in a safe environment to:
Understand, reflect and learn.
We support and guide you in a safe environment to:
• Explore the principles of compassion.
• Share and build learning around what we understand makes us uncomfortable, anxious, scared, self-critical.
• Take part in further experiential learning, using psychological models and exercises to develop your own self-compassion.
• Reflect upon the impact of this learning and how you want to present yourself as a compassion focused professional.
Day two
9:30am to 4pm
Build, develop and maintain your learnings.
• Share learning and build further steps you can take to cultivate compassion
• Develop your authentic approach to compassion focused leadership and coaching.
• Practice using a selection of the models and exercises from day one.
• Reflect upon the impact of your learning and your practice as a compassion focused professional
Fee includes PDF pack of course materials and follow up webinar to help you embed your practice.
Speaker Bios:
Hilary McLellan, founder of Indigo Talent Development, is a Cambridgeshire-based Organisational Behaviourist.
She specialises in organisational psychology and behavioural change and creates bespoke coaching and personal development programmes for CEOs, exec boards, high-performing teams and senior managers across the UK. A Fellow of the Chartered Institute of Personnel & Development, Hilary is an Institute of Leadership and Management Level 7 Executive & Leadership Coach.
Her areas of expertise are emotional intelligence, resilience, compassionate leadership and psychological safety.
Website: https://www.indigotalentdevelopment.com
Dr Ashleigh McLellan, Consultant Clinical Psychologist, founder of Ubuntu Psychology; York-based Psychology Services.
Ashleigh specialises in Compassion Focused Therapy (CFT) using this approach to facilitate individuals reaching their potential, as well as to help those suffering with severe and enduring mental health problems. She has been applying CFT at an organisational level within the NHS to address team culture and the health and well-being of staff. Ashleigh is one of the trainers for the Compassionate Mind Foundation and is involved in research with the University of Hull looking at the impact of applying CFT at an organisational level.
Website: https://www.ubuntupsychology.co.uk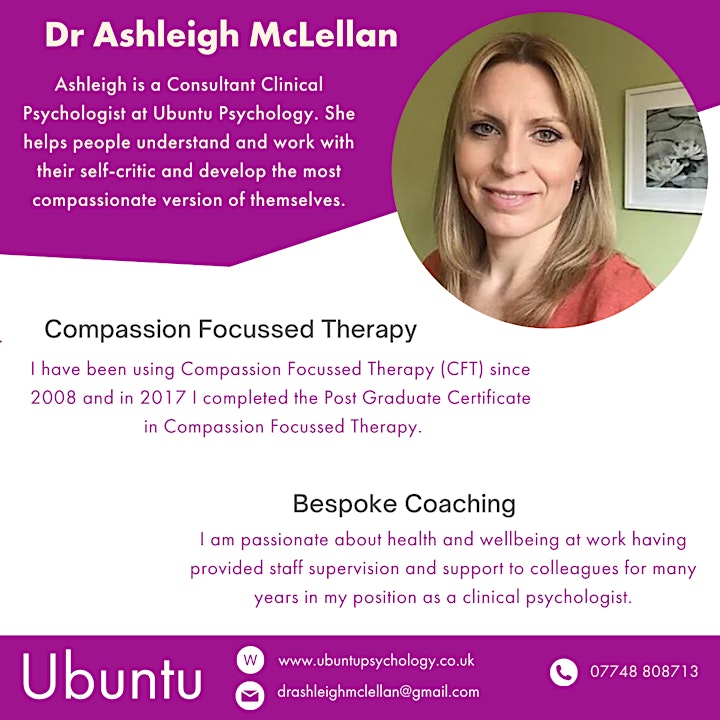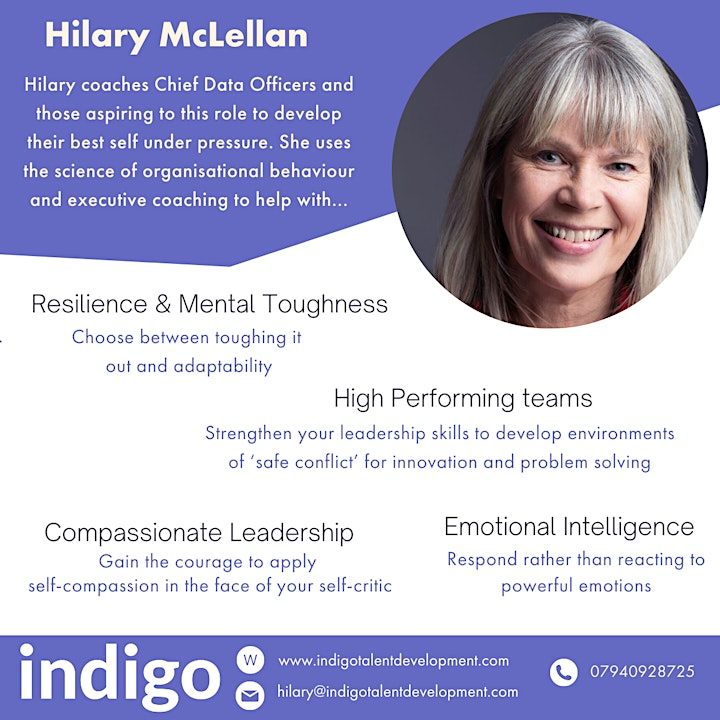 Date and time
Location
St. Ethelburga's Centre for Reconciliation and Peace
78 Bishopsgate
London
EC2N 4AG
United Kingdom
Refund policy
Contact the organiser to request a refund.
Eventbrite's fee is nonrefundable.