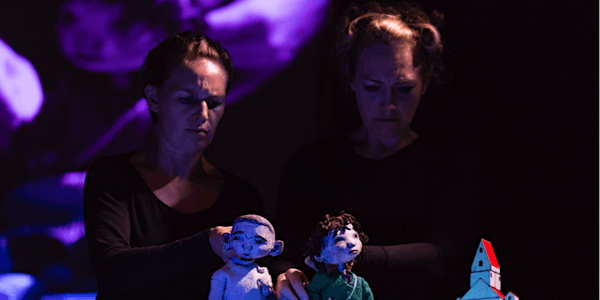 Composing Narratives: Reimagining Musical Storytelling
This presentation will explore the composer Matthew Kaner's ongoing research into musical narrativity in a variety of projects
About this event
Photo: Hansel and Gretel: A Nightmare in Eight Scenes by Matthew Kaner and Simon Armitage, photo © Still Moving Media 2018.
This presentation will explore my ongoing research into musical narrativity in a variety of projects, including my 2018 collaboration with Simon Armitage, Hansel and Gretel: A Nightmare in Eight Scenes for narrator and ensemble, and a selection of instrumental works that were conceived as "musical narratives", drawing on the theoretical work of Almén, Hatten, Klein, Reyland and others.
The research has been documented using an autoethnographic or "self-narrative" model, in order to capture the "ephemeral aspects of the creative process—which are precisely the kinds of knowledge that only creative practitioners can provide" (Leedham and Scheuregger 2018). As such, it is concerned both with storytelling through composition, and at the same time, the stories that we, as composers, tell about the act of composing itself.
Speaker: Matthew Kaner (Guildhall School of Music & Drama)
Matthew Kaner is a composer and professor at the Guildhall School of Music & Drama. His music has been described as "forlornly exquisite" (New Statesman 2016) and received praise for its "long and sinuous lines" (Telegraph 2013) and "darker and wilder energy, which seems to be entirely personal." (HK Interlude 2016).
In 2016, Matthew was the BBC Radio 3 Embedded Composer (in association with Sound and Music) for the duration of the station's 70th anniversary celebrations, during which he wrote 14 works for repeated broadcasts, for performers including Guy Johnston, Mark Simpson, the BBC Singers, the Orchestra of the Age of Enlightenment, Trio Isimsiz and many others. His 2018 collaboration with poet laureate Simon Armitage, a reworking of the fairy tale Hansel and Gretel for ensemble and narrator, commissioned by Goldfield Productions, was acclaimed as "an all too timely reminder of some children's living, waking, starving nightmare" (4* Guardian review). Upcoming highlights include the release of his debut solo album on Delphian Records in November 2022.
What is ResearchWorks?
The Guildhall School's ResearchWorks is a programme of events centred around the School's research activity, bringing together staff, students and guests of international standing. We run regular events throughout the term intended to share the innovative research findings of the school and its guests with students, staff and the public.
Guildhall School of Music & Drama Privacy Policy
Once you have registered, the Guildhall School will handle your data in accordance with its privacy policy and Enterprise, Knowledge Exchange and Research Events privacy notice.