Description

Meet up to connect people in the world of interiors and property up North. Our vision is to connect like-minded individuals within inspiring spaces; to collaborate, inspire and support one another.
It's time for our May meet-up (we still don't know where the time goes!) and we are inviting you to a brand new location, Chester! It is no secret that we love beautifully designed spaces with a history, so we hope you will enjoy spending an evening with us on the roof terrace of the beautiful Opera Grill.
In the ever-changing world of social media marketing has become somewhat a mystery so we have invited some special guests to talk us through marketing in the world of interiors. Our panel members are people who have their finger on the pulse and who are leading the way in the design world in their own individual ways. Come along and watch our panel members chat about all things marketing. Amongst other things, we will be discussing how marketing in interiors has changed and shifted in previous years, how different platforms affect the industry and what seems to work when it comes to marketing!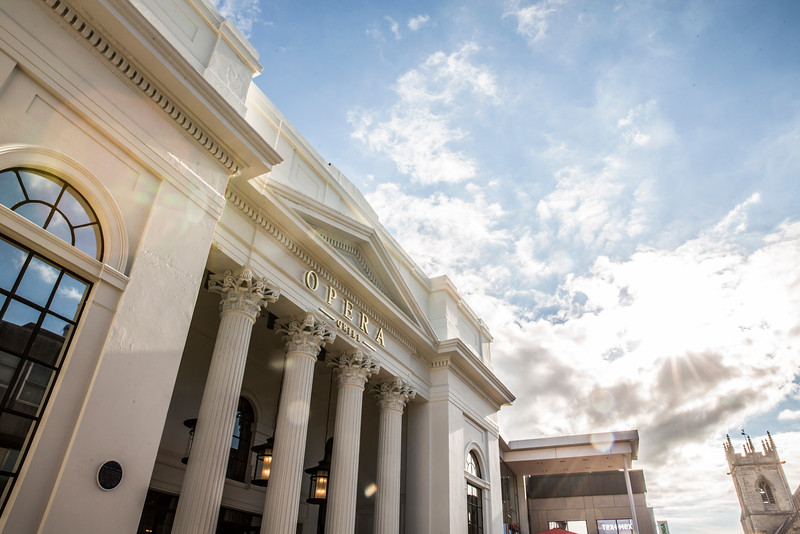 A little bit about Opera Grill...
'From worship to workshop, engineering to entertaining 
The story behind our amazing restaurant…
Our magnificent listed building dates back to 1836 when it first opened as a Methodist Chapel. It then closed shortly after World War One when the building itself was hidden behind a brand new building, a car garage called "Anchor motor co". This garage went on to manufacture fuselage and spitfire wings in World War Two.
The building has clearly played an important role over the course of its lifetime with more being discovered about its history all the time. Therefore it was only right that we made the building something special again for Chester.
Following a painstaking restoration to expose the building to its former glory, we invested a further £3m in 2016 to create Opera Grill.
The Grade II listed façade is one of grandeur, with distinct neoclassical Greek architecture including pillars, pediment and a portico, which makes it stand out from the crowd. By using pictures from the buildings archive, we have managed to recreate its original look right down to its steel railings.
We could not be prouder to collaborate with such a beautiful and inspiring space as Opera Grill and we cannot wait for you to see what we have in store for you!
Our Fab Panel Members:
Kate Baxter - katedoes.co.uk and fabricofmylife.co.uk
Kate is a freelance PR & Marketing strategist based in Manchester, UK, working with a variety of independent brands offering support, coaching and management services. She is also a multi award-winning blogger, whose little corner of cyberspace, fabricofmylife.co.uk, recently celebrated its 10 year anniversary. Straddling both sides of the industry, Kate has a multi-faceted skill-set that allows her to approach every campaign with a creative, big-picture perspective, whether working with a small start-up business or an established industry player.
Jennifer Williams - Môn Interiors
Jen is the director and face behind North Wales' leading Interior Design consultancy, Môn Interiors, offering design & project management services across North Wales & North West England.
Before establishing Môn Interiors, Jen spent 5 years working (and still does) in the property industry across the U.K. - lettings & management, property investment & development, project management, design; you name it, she's done it!
With strong business acumen & having built a growing audience of 12k+ followers over on the Môn Interiors Insta page in under 18 months, Jen is keen to share her top marketing tips and how they have benefited her business.
Karolina Barnes - ESTILA Magazine
Karolina Barnes is the creative director and editor in chief of ESTILA magazine, a British lifestyle business magazine that specialises in curating powerful stories of independent brands, designers and artists. Karolina was involved in business from her teens when her parents started a family distribution business. After gaining her degree in economics and business studies, she started her own businesses in various industries. In 2013, she retrained as an interior designer and two years later founded ESTILA with a mission to share and highlight inspiring stories of British design, sustainability, craftsmanship and innovation within creative industries.
Victoria Jackson - 4 Magazine and Apartment No 4
Former magazine editor, Victoria Jackson, is the face behind multi-award winning interiors blog, Apartment Number 4. Established in 2009, the blog has since developed into an online magazine, e-design service and content creation for interior brands nationwide, focusing on creating a beautiful home on a modest budget.
Join us for an evening of:
Food Tasting

Drinks

Mingling

Goody Bags

Live music
...and a few surprises!
Please note: Due to the limitations of the venue tickets are more limited than ever so please book in advance to avoid disappointment. Ticket sales close on the 27th of May so we can organise the food and a few surprises.
We look forward to seeing old friends and meeting new ones!
Melinda & Natalie