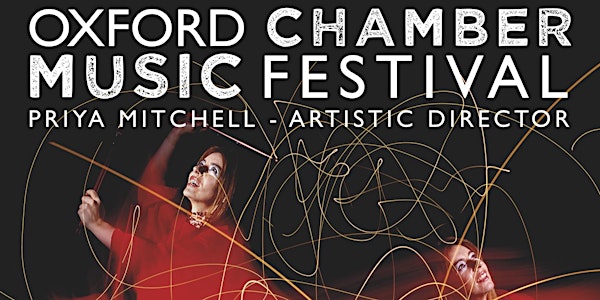 Concert: 'Fata Morgana' feat. Evelyn Glennie, Ibrahim Keivo, Hugo Ticciati
Location
The Sheldonian Theatre
Broad Street
Oxford
OX1 3AZ
United Kingdom
Description
Oxford Chamber Music Festival 2017 welcomes a true world star of music, Dame Evelyn Glennie, to play an exciting jazz-influenced concerto for violin and percussion. It is complemented by the fireworks of a Vivaldi double concerto, and contrasted with two glowing meditations. One is the glorious, mystic yet passionate Tallis Fantasia. For the other we welcome our remarkable composer-in-residence, Latvian Pēteris Vasks, whose intensely beautiful works prove that new music doesn't have to be difficult and abrasive. His violin concerto imagines a Lonely Angel looking down on Earth, "concerned, yet hopeful".
Ibrahim Keivo: Solo Improvisation

Evelyn Glennie | Solo piece
Dame Evelyn Glennie

Vasks | World Premiere for 2 Violins
Priya Mitchell, Hugo Ticciati

Vivaldi | Concerto for two violins
Priya Mitchell, Hugo Ticciati, O/Modərnt & OCMF Artists

Vaughan Williams | Fantasia on a Theme by Thomas Tallis
O/Modərnt & OCMF Artists
Conducted by John Warner

Vasks | Lonely angel for violin and strings
Priya Mitchell, O/Modərnt

Jill Jarman | Mindstream for percussion, violin and strings
Dame Evelyn Glennie, Hugo Ticciati, O/Modərnt & OCMF Artists
Conducted by David Lundblad


Jill Jaman will be present that day and we're happy to announce that she will give an introduction to her piece 'Mindstream' at 6.30 pm.
On Eventbrite, we'll only sell unreserved seats to the upper gallery of Sheldonian theatre. If you wish to have more options, please visit:
https://www.ticketsoxford.com/whats-on/all-shows/fata-morgana/6034#details

http://ocmf.net/
https://www.instagram.com/oxford_chamber_music_festival/
https://twitter.com/Oxchambermusic
https://open.spotify.com/user/1222603058/playlist/67zGl9iMUrQZOszASlCDH5

https://www.hugoticciati.com/
http://www.davidlundblad.se/
https://www.evelyn.co.uk/
http://www.jilljarman.com/

Supported using public funding by Arts Council England