Location
St Ethelburga's Centre for Reconciliation and Peace
78 Bishopsgate
London
EC2N 4AG
United Kingdom
Refund policy
Refunds up to 1 day before event
Sales Have Ended
Ticket sales have ended
Thank you for your interest in our concert. The ticket sale has now ended.
Description
This July marks 24 years since the Srebrenica genocide, which was committed during the war in Bosnia. Over the course of three days, 8372 civilians - mostly Muslim men and boys - were systematically murdered by the Bosnian Serb army. It was, and remains, the worst genocide in Europe since the Holocaust.
As part of Srebrenica Memorial week, The City Circle is hosting a memorial concert to remember and honour the victims, and to hear the stories of survivors.
We welcome once again talented musicians from the Sarajevo National Theatre who will perform a programme of traditional Bosnian Sevdah pieces. In addition, we will be joined by a genocide survivor who will share their personal story from the war, and talk about the lessons to be learnt from Srebrenica.
This year's theme is "Bridging the Divide: Confronting Hate". In an age of growing division, polarity and hate in Europe, it is crucial for us to confront hatred in our communities collectively and to build bridges that help create a stronger, better and more cohesive society. We hope that you can join us to support us in this belief.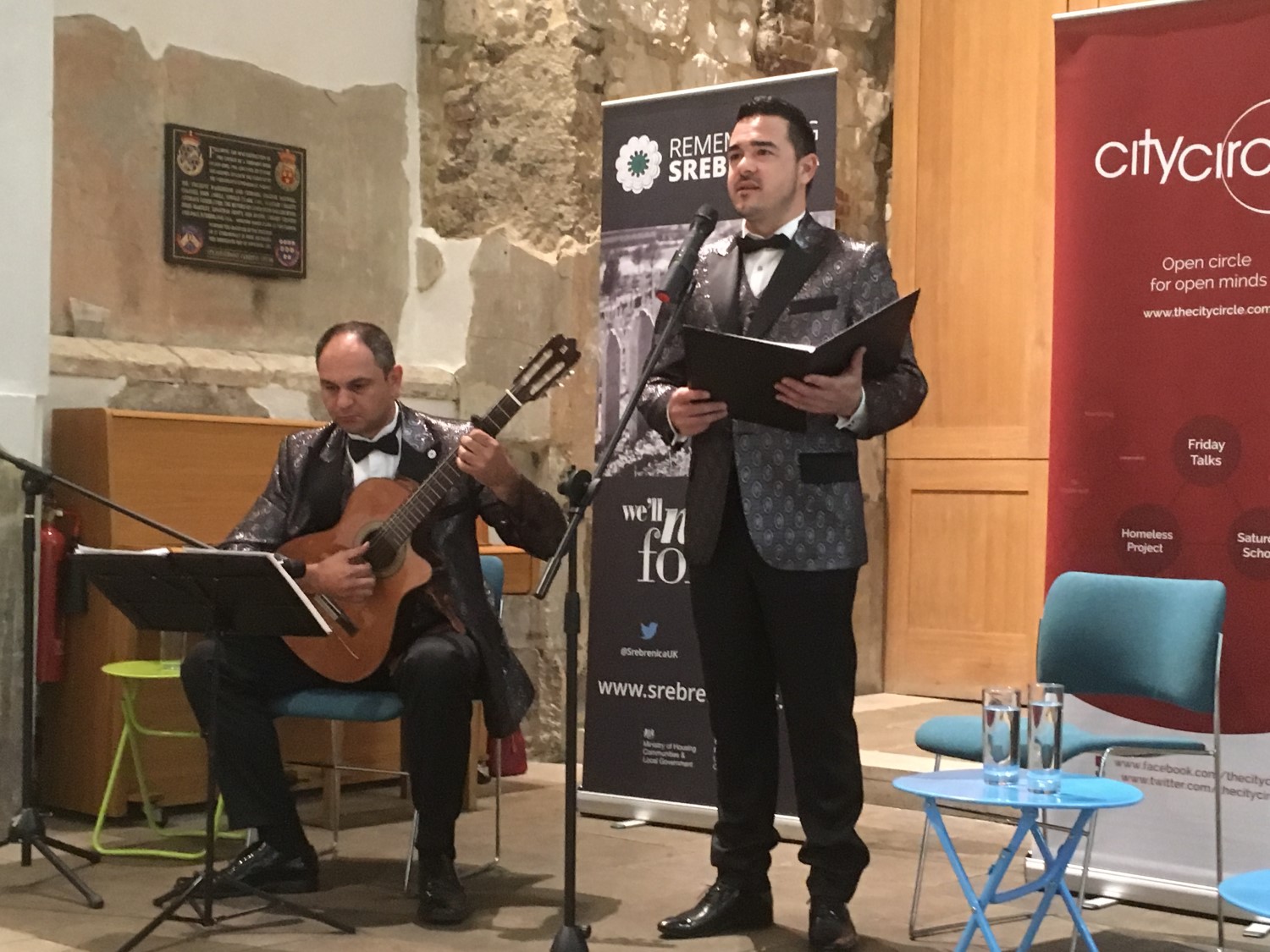 Musicians
Aida Corbadzic, soprano and Elvir Solak, guitar, both from the Sarajevo National Theatre


Guest speaker
Sudbin Musić, Genocide survivor
Sudbin was just 18 and living in northern Bosnia when the war began. When the Serb military arrived in his small village of Čarakovo in Prijedor, they burned homes and exterminated residents, including Sudbin's father. Subin and his brother were taken to the notorious Trnopolje concentration camp, where he was later joined by his mother and two sisters. There they were regularly starved, beaten, and the women and girls raped. Eventually he was taken to a village overrun with refugees in central Bosnia where he stayed in cramped conditions for 75 days before being taken by the Red Cross to Slovakia. He returned to Bosnia in 2000.
Amil Khan, Director, Remembering Srebrenica
Additional details
This is a ticketed event, so please remember to book your place here on Eventbrite.
Tickets are free as we want to make the concert accessible to everybody. If you are able to, we would be grateful if you could donate whatever you can afford at the time of booking to help cover the venue hire costs, and to support Remembering Srebrenica.
Doors open at 18:45 and the programme will start promptly at 19:00.
The event will include discussion around genocide, some of which may be unsuitable for young children.
The venue has limited space, so please note that there is no dedicated prayer area.
If you have any questions, please contact ben@thecitycircle.com.

Photo: Stari Most, Mostar. Image credit: Alistair Young/Creative Commons