Conducttr Conference 2015

Friday, 16 October 2015 from 08:30 to 19:00 (BST)
Event Details
Transmedia for Change - Connected Learning - Persistent Engagement
Conducttr Conference returns this OCTOBER 16th, bringing together insightful case studies, academic talks and practical workshops to present the importance and power of participatory experiences. 
Here you can see the detailed schedule for the day!: View schedule 
Come and meet this year's speakers: 
Jurriaan van Rijswijk, Chairman and founder, Games for Health Europe. Jurriaan has developed and produced more than 800 applied games and game concepts which have been clinically and scientifically validated.
Elaine Raybourn, Connected Learning expert from Sandia National Laboratories Center for Computing Research on assignment to Advanced Distributed Learning Initiative (ADL). See her TEDx talk on Engage Learners with Transmedia Storytelling.
Juliana Ruhfus, Creator of the award-winning interactive documentary 'Pirate Fishing'. Juliana is Senior Reporter for Al Jazeera English. 
Emmett Furey, Transmedia producer for the web series "The New Adventures of Peter and Wendy"
PaulPaul Irwin, Creator of the award-winning interactive drama TryLife
Mandy Rose, Co-Director of i-Docs and Director of the University of the West of England's Digital Cultures Research Centre.
Sarah Atkinson, Principal Lecturer in Film and Media, and Assistant Head of School of Art, Design & Media at the University of Brighton. 
Helen Kennedy, Deputy Head of School of Art, Design & Media College at the University of Brighton.
VickiCallahan  and Michael Bodie, Associate Professors at the University of Southern California's School of Cinematic Arts.
Dr. Kerry Dobbins, Ph.D.Assistant Professor of History at McPherson College
Learn more about the conference here
Get here the conference app and join us in our Sherlock Holmes connected learning experience!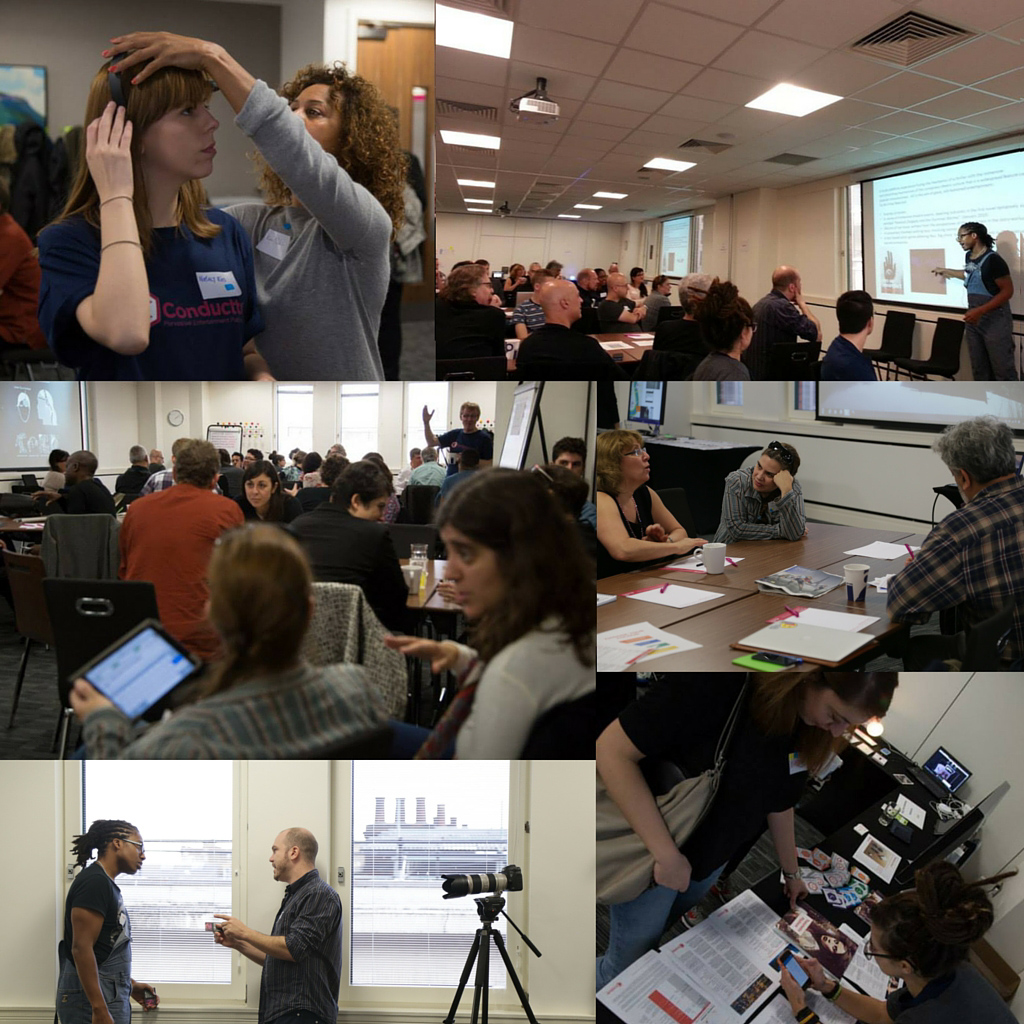 Connected Learning – new student-centred paradigms
Technology allows us to re-imagine education as a participatory experience. Students become lifelong learners in a new educational space that integrates their interests and day-to-day activities, giving them agency and an active role in the learning process.
Active learning: Students become producers and active individuals in a new learning environment. They are able to produce, design, create and have agency.
Connection: Technology extends education beyond the school, connecting a formal learning environment to real life, the online world and their community.
Integration : The integration of day-to-day activities, multiple settings, entertainment, and community activities enables a better communication and understanding of academic subjects.
Transmedia for Change
Technology can provide solutions to problems and facilitate change by bringing a new understanding to social issues. Transmedia provides new ways of approaching and addressing these issues through serious games, simulations, allowing people to connect with each other, and empowering the disenfranchised.
Impact: Interactive experiences create a deeper and more effective impact by making people part of the story, and showing the consequences of their decisions.
Make change: Technology facilitates changes by making people own the change, and be part of it. It allows building communities towards change.
Activate: Interactivity facilitates the transition from PASSIVE to ACTIVE, and  from AWARENESS to ACTION.
Empower: Empowering advocates to spread the message, and people in communities to share their story.
Persistent Engagement – how to maintain attention and enthusiasm across time and platforms
Our 6 pillars that support persistent engagement are: Community, Editorial control, Operational framework, Technology foundation, Legal framework and Business model. The design and creation of persistent engaging experiences ought to be understood as a holistic and structured process, which objective is that of creating long-term dedication to a goal.
Consumer culture and Fan culture: Building meaningful relationships with the audience as a foundation for engagement, loyalty and production.
Relevance: Providing relevant content and experiences that keep communities engaged and active.
Co-creation: Encourage fan and community participation, allowing the creation of shared storyworlds and user generated content.
Rewarding: Honour and reward the audience participation and creativity.
When & Where

Bishopsgate Court
4-12 Norton Folgate
E1 6DQ London
United Kingdom


Friday, 16 October 2015 from 08:30 to 19:00 (BST)
Add to my calendar
Organiser
Transmedia Storyteller Ltd is a thought-leader and innovator in the field of transmedia storytelling.
They are the creators of Conducttr, immersive storytelling and gaming software for entertainment, education and marketing.