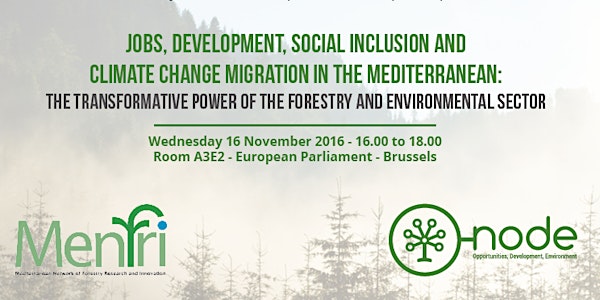 CONFERENCE - Jobs, Development, Social Inclusion and Climate Change Migrati...
Location
European Parliament
60 Rue wiertz
1000 Brussels
Belgium
Description
Version française ci dessous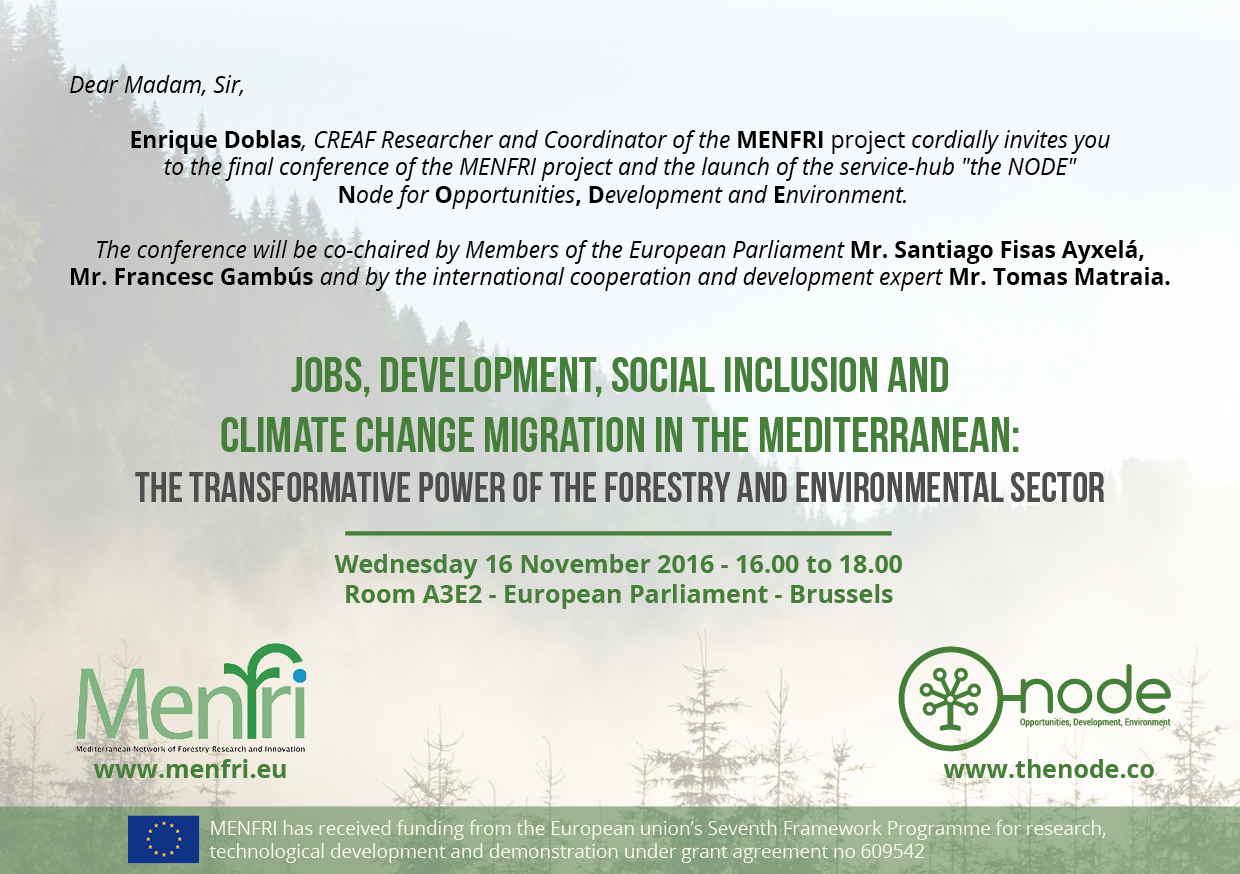 The MENFRI project has worked to promote innovative Mediterranean forest management and conservation through forest use by sharing knowledge between the northern and southern Mediterranean.This approach could lead to potential creation of jobs, sustainable development and social progress.
One of the results of the project is the establishment of the Mediterranean Network of Forest Research & Innovation. The Network has successfully expanded and has led to the formation of an external group of key actors from different sectors, all of which have joined forces and have created an independent service-hub called the Node. The NODE - Node for Opportunities, Development and Environment - uses a multidisciplinary approach combining policy advisory capacities with market opportunities, knowledge, training and people's empowerment in order to provide tailored sustainable development solutions in the forestry and environmental sector. The Node stands ready to support EU and International Organisations so that they may achieve their objectives.
You can find the agenda of the event here : http://www.menfri.eu/docs/AGENDA%20EN.pdf
To register past the deadline, please contact elise.regairaz@alienoreu.com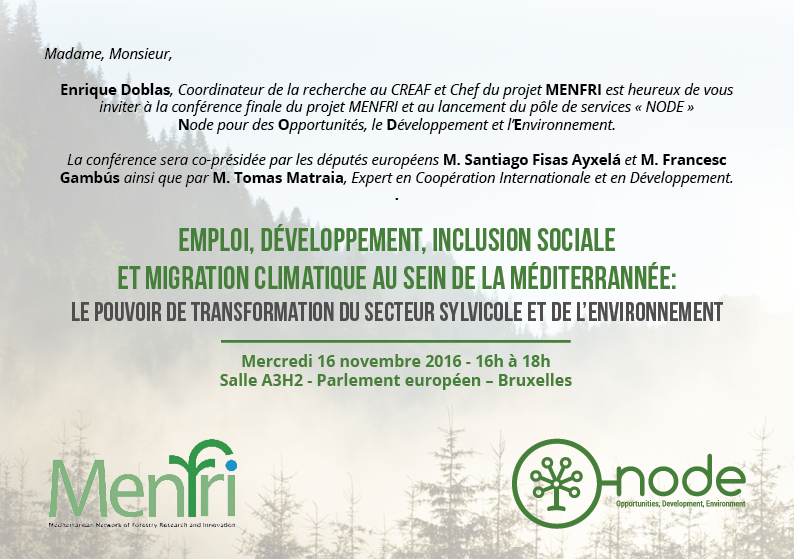 Le projet MENFRI promeut une gestion et une conservation innovante de la forêt méditerranéenne par son utilisation et par le partage des connaissances entre le nord et le sud de la Méditerranée. Cette approche pourrait contribuer à la création d'emplois, au développement durable et au progrès social.
L'un des résultats du projet est la mise en place du Réseau Méditerranéen de la Recherche et de l'Innovation Forestière. Le Réseau s'est agrandi avec succès au cours des années et a conduit à la formation d'un groupe externe regroupant les acteurs principaux de différents secteurs, qui ont uni leurs forces et créé un pôle de services indépendant appelé NODE. Le NODE - NODE pour la promotion, le développement et l'environnement - utilise une approche multidisciplinaire combinant des capacités en conseils stratégiques et politiques avec des opportunités de marché, des connaissances, des formations et une émancipation des personnes afin de fournir des solutions adaptées de développement durable dans le secteur sylvicole et de l'environnement. Le NODE est prêt à soutenir l'UE et les organisations internationales dans l'atteinte de leurs objectifs.
Vous pouvez trouvez l'ordre du jour de la conférence ici: http://www.menfri.eu/docs/AGENDA%20FR.pdf
Pour s'enregistrer après la date limite, merci de contacter elise.regairaz@alienoreu.com