Description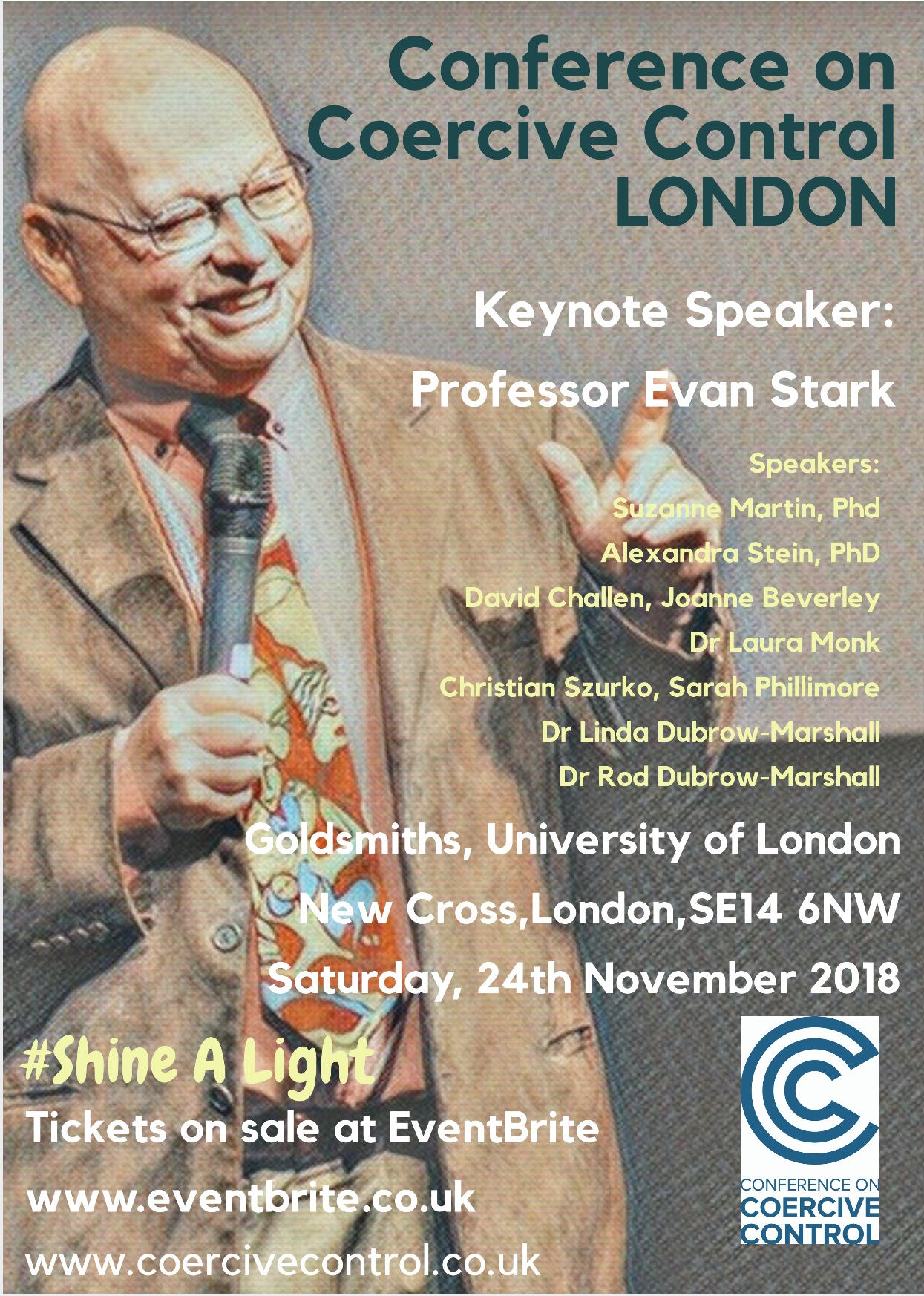 IMPORTANT NOTICE: PLEASE BRING YOUR PRINTED OUT TICKET WITH YOU.
THERE WILL BE NO ADMISSION WITHOUT A PRINTED TICKET.
APOLOGIES FOR THE INCONVENIENCE
The theme of this conference is Shine A Light and will look at Coercive Control both within Sec 76 of the Serious Crime Act, 2015 as well as outside of the legislation which criminalises it.
The venue is part of the University of London close to Greenwich. Full details will be released at the start of the next academic year towards the end of September. The venue does not have car parking but there are easy public transport links to and around London.
Schedule for the Day ( may be subject to change)
9.15 – 9.45 Registration
9.45 -9.50. Welcome
9.50 -10.00 Opening Speech David Challen

10.00-11.30 Keynote Speech Professor Evan Stark
11.30-12.00 Coffee
12.00-12.30 Living with Murder Joanne Beverley, sister of Natalie Hemming
12.30- 1.00 Trauma Informed Services- Dr Suzanne Martin
1.00-1.30 The Elderly and Coercive Control Speaker to be confirmed
1.30-2.15 Lunch
2.15-3.15 Cultic Abuse and Coercive Control Dr Alexandra Stein,
Christian Szurko,
Dr Linda Dubrow-Marshall,
Dr Rod Dubrow-Marshall
3.15 - 3.45 Online Coercive Control Sarah Phillimore
3.45 --4.15 Post Separation Abuse Dr Laura Monk
4.15- 4.20 Closing Speech
4.20 - 5.00 - Tea and Networking
5.00 ENDS
PLEASE NOTE LUNCH IS NOT INCLUDED IN THE TICKET PRICE ***
SPEAKER BIOGRAPHIES:
Professor Evan Stark is a sociologist, forensic social worker and award winning researcher with an international reputaion. He is author of award winning book, Coercive Control: How Men Entrap Women in Personal Life - one of the most important books ever written on domestic abuse and the original source of the coercive control model when the Home Office widened its definition of domestic violence. Professor Stark played a major role in the consultation that led to the drafting of the new offence.
Suzanne Martin, PhD is a Psychotherapist, VAWG specialist and academic with experience of working in the NHS, HE, voluntary and private sectors and set up the MA Understanding Domestic Violence and Sexual Abuse at Goldsmiths.
Joanne Beverley is the sister of Natalie Hemming who was brutally murdered by her partner. The story of how Paul Hemming became the subject of a murder enquiry became the subject of a Channel 4 documentary Catching a Killer:The search for Natalie Hemming
David Challen is the youngest son of Sally Challen currently campaigning for her appeal of the murder of his father Richard Challen. Sally killed her husband Richard after a suffering a lifetime coercive control and physical violence by him. With fresh psychological evidence and a more developed understanding of coercive control a successful appeal would create a landmark case.
Alexandra Stein, PhD is a writer and educator specialising in the social psychology of ideological extremism and other dangerous social relationships. She is the author of Terror, Love and Brainwashing: Attachments in cults and totalitarian systems.
Christian Szurko is the founder of Dialog Centre UK which provides information on manipulative influence and guides ex members to recovery after spiritual and psychological abuse.. He is the Review Board Member of the Open Minds Foundation
Dr Linda Dubrow- Marshall is a clinical and counselling psychologist. She is co programme leader for the MSc Psychology of Coercive Control and MSc Applied Psychology (Therapies) at the University of Salford. She co -founded the Re-Entry Therapy Information and Referral Network (RETIRN) to provide specialist mental health services in individuals and families affected by abusive groups and relationships.
Dr Rod Dubrow- Marshall is co-programme leader of the MSc Pychology of Coercive Control and Visiting Fellow in the Criminal Justice Hub at the University of Salford and on the Board of Directors of the International Cultic Studies Association.
Sarah Phillimore is a family barrister and site administrator of Child Protection Resource online
Dr Laura Monk has a degree in Person Centred Counselling & Psychotherapy, an MSc in psychology, a PhD in psychology and behavioural sciences and studied the lack of support for mothers separated from their children in a context of domestic abuse, developing a training programme to improve professionals responses to mothers living apart from their children and works in private practice.
*** LUNCH
Lunch is not included in the ticket price.
Although the University cafe will be closed, there are a lot of places nearby for lunch.
- The London Particular
- Birdie Num Nums
- Chinwag Café
- Red Lion Coffee
- Out of the Brew
- New Cross House
- Goldsmiths Café
- Beirut Canteen
There's also a Sainsburys across the road where attendees can get sandwiches.
FAQs
Are there ID or minimum age requirements to enter the event?
This event is under 18's.
Do I have to bring my printed ticket to the event?
Yes.