Description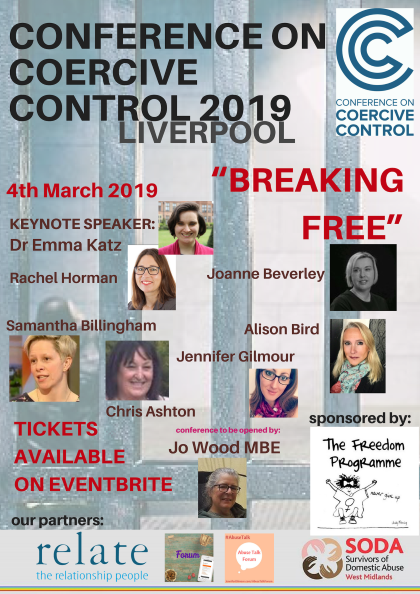 (Please note there has been an amendment to the list of speakers)
The theme of this conference is BREAKING FREE and will look at the challenge of getting out of an abusive relationship and ways for survivors to thrive even if, maybe, they still have to parent with an abuser.
This conference is sponsored by The Freedom Programme and is partnered with Relate Cheshire and Merseyside, SODA and Abuse Talk Forum.
Schedule For The Day:
9.00-9.30 REGISTRATION
9.30- 9.45 Welcome Min Grob
9.45-10.00 Opening Speech Jo Wood, MBE
10.00-11.00 Keynote Speech Dr Emma Katz
11.00-11.30 COFFEE BREAK
11.30- 12.00. Survivor & Campaigner Joanne Beverley
12.00-12.45 The Lawyer's Perspective Rachel Horman
12.45-1.45 LUNCH
1.45-2.30 The Freedom Programme Chris Ashton
2.30-3.00 Coercive Control and Stalking Alison Bird
3.00-3.30 TEA

3.30-3.50 Survivors of Domestic Abuse (SODA) Sam Billingham
3.50-4.10. Abuse Talk Forum Jennifer Gilmour
4.10-4.30 Closing Speech

4.30-5.00 NETWORKING
5.00 ENDS
Speaker Biographies
Jo Wood, MBE
Jo Wood was awarded an MBE in 2010, in recognition of her work with victims of rape and abuse and was named Cheshire Woman of The Year in 2011.for her outstanding contribution to the community.
Dr Emma Katz
Dr Emma Katz is a senior lecturer in Childhood and Youth at Liverpool Hope University and researches the impacts of domestic violence and abuse on children and mother-child mutual supportiveness in domestic abuse contexts.Emma won the Wiley Prize for best paper published in Child Abuse Review 2015-2018 and the annual Corinna Seith Prize for best publication in 2016.
Joanne Beverley
In 2016, Joanne's younger sister Natalie Hemming was murdered by her partner who received a life sentence for her murder. Joanne is a public speaker raising awareness of domestic abuse. Joanne has participated in 2 documentaries - Channel 4's BAFTA nominated Catching A Killer: The search for Natalie Hemming and the recently broadcast Behind Closed Doors;Through the Eyes of the Child
Chris Ashton
Chris Ashton is the former dirrector of WAVE Domestic Abuse Centre with merged with the Freedom Programme in 2013 to become the Freedom Programme Charitable Trust. The trust incorporates IDAC the Wigan Independent Domestic Abuse Centre. Click here for The Freedom Programme
Rachel Horman
Rachel Horman is a solicitor and the Head of Domestic Abuse, Stalking and Forced Marriage at Watson Ramsbottom Ltd in Blackburn, Lancashire. In 2016, Rachel was highly commended in the Female Lawyer of the Year category at the Law Society Excellence Awareds 2016 and has also won numerous other awards. Rachel is the Chair of Paladin, the National Stalking Advicacy Service.
Alison Bird
Alison is the founder of S-DAST which specialises in Safeguarding, Domestic Abuse and Stalking Training.She is the Clinical Lead for Changing Pathways, the only stalking advocacy service within Essex and the East of Englan. In 2017, Alison was featured in the BBC documentary Stalkers Click here for S-DAST website
Samantha Billingham
Samantha is the founder of Survivors of Domestic Abuse - SODA a support group she set up in 2009 as a result of wanting to be the support she never had. In 2015, Sam was listed as one of the top 250 and most influential Twitter accounts in the West Midlands which have created the biggest impact on the UK.
Click here for SODA website
Jennifer Gilmour
Jennifer is an author, advocate, campaigner, columnist, blogger and founder of abuse Talk Forum.
Click here for Jennifer's website
MinGrob
Min Grob is the founder of Conference on Coercive Control. The first conference was held in Bury St Edmunds in 2015 with others Bristol and London This is Min's 6th conference.
Anyone interested in tradestands or taking out an advert in the conference issue of CCChat Magazine, please email: contact@coercivecontrol.co.uk.
There are a amall number of concession tickets available.
Please email contact@coercivecontrol.co.uk for more information.