Authentic Worth Publishing are hosting their fifth annual launch and latest book release; Confident Face on Saturday 31st July at 14.00pm.
About this event
Our generation is heavily focused on investing in their physical appearance, whilst struggling with secret comparison and low self-esteem. Physical attraction is important and so are the patterns of your thoughts. We shouldn't neglect our greatest gift which is the mind and look after it every day. Being physically attractive for a moment and having inconsistent thoughts doesn't bring wholeness. Be intentional about investing in your thought-patterns and you'll eventually blossom in all areas of your life. Let's dive in…
About Confident Face:
When you look in the mirror, what do you see? In a world where physical appearance is compromised with social media filters and flawed perceptions of vanity, there's a deep void that temporary satisfaction can't fulfil. If someone asks you what makes you stand out, what will you answer to? Confident Face is the ability to nurture and embrace your own authentic beauty. Our generation is heavily focused on physical attributes that tends to neglect inner beauty – the working on one's character, behavioural patterns and attitudes which are often overlooked. The sooner you learn to accept who you are, the sooner you will move from the path of confusion to confidence. Be your own Confident Face.
This book launch is set to inspire, motivate, challenge and strengthen you from within. Let Authentic Worth Publishing support you in your journey of being your own Confident Face and overcoming the beauty standards society sets. Joining Authentic Worth Publishing on the day will be the following:
Host; Anne-Marie
Guest Speaker; Sarah Adebambo
Song Ministration; Audrey Chamunorwa
Reading of Book Foreword; Keeley Stephenson
Be prepared to interact, learn, socialise and invest in reading Confident Face that will transform you from the inside-out.
An email will be sent for the Zoom link two days prior to the start of the book launch after obtaining a ticket. Signed copies of Confident Face will be sent after the launch is completed and you will receive an email of confirmation.
We look forward to seeing you on Saturday 31st July at 14.00pm prompt.
Authentic Worth Publishing is bringing worth back into you through storytelling and book-writing!
Esther Jacob
Founder of Authentic Worth Publishing
Website: www.authenticworth.com
Authentic Worth Publishing's Socials: https://linktr.ee/authenticworth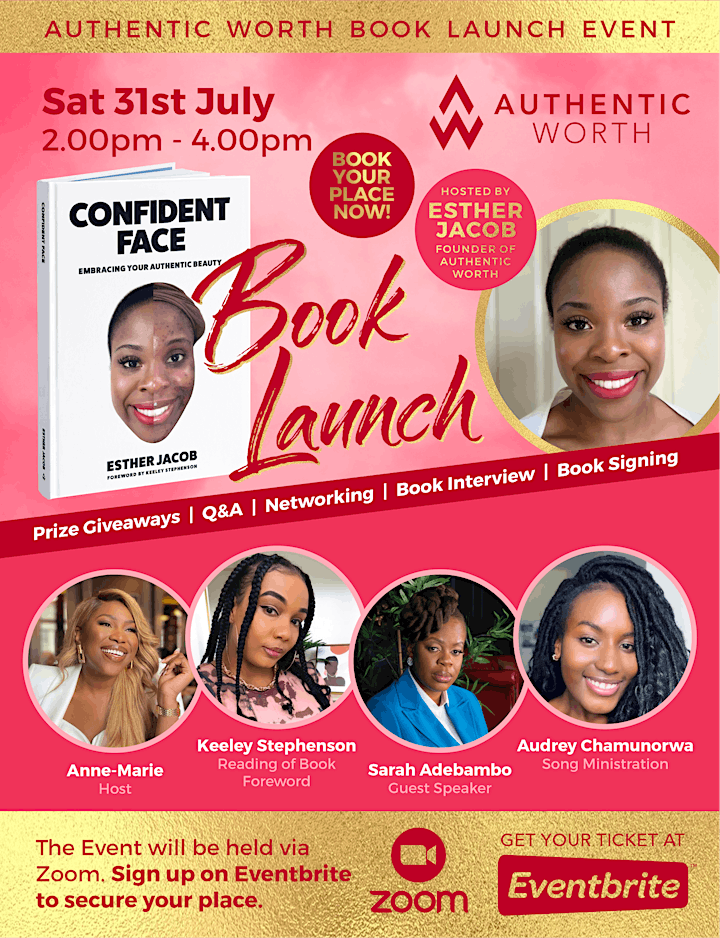 Date and time
Location
Refund policy
Organiser of Confident Face Book Launch
Esther Jacob is the Founder of Authentic Worth Publishing, Multi-Published Author, Influential Speaker, Blogger and Online Course/YouTube Content Creator. She uses her skills and expertise to support and coach aspiring authors in writing books through storytelling. Esther believes in being transparent and selfless as she writes gracefully in her books, delivers workshops on book-writing and speaks at several events. Esther is an advocate for building self-confidence and personal development and has been offered numerous opportunities on several TV programmes, podcasts and radio stations including BEN TV, Yanga! TV, United Christian Broadcast (UCB) Radio, Elim Radio Girl Talk, Premier Gospel Radio and Christian Devotion Speak Up Podcast in the United States.
Keep in touch with our social handles below:
Authentic Worth Publishing Socials:
Facebook: Authentic Worth
Instagram: authenticworth
LinkedIn: Authentic Worth
Twitter: authenticworth
YouTube: Authentic Worth
Esther's Socials:
Facebook: Esther Jacob
Instagram: esthernjacob
LinkedIn: Esther Jacob
Twitter: esthernjacob
YouTube: Esther N J