Learn how to avoid unnecessary conflicts by improving communication, as well as resolving conflicts when they cannot be avoided.
About this event
Conflicts within professional teams are inevitable and can even be beneficial, but only if managed according to the correct principles. Conflicts can occur over misunderstandings, or clashes of personalities. Difficult conversations about consistent lateness, bullying, inappropriate humour or aggressive behaviour, can also be the cause of conflict. Some people do not handle conflict very well and can even mismanage conflict, which makes the situation worse. 
The purpose of this training course is to help you interact with people in such a way as to improve productivity and create a good atmosphere. Conflict management is a way of defusing a situation early, before it has time to develop into a battle of wills. The solution is to learn how to manage conflict situations logically, confidently and quickly.
This one-day Conflict Management training course is designed to teach you how to correctly handle conflict situations and difficult people. You will learn the correct language to use and how to deliver your message, with the right amount of assertiveness.
The training style is practical, interactive and keeps the delegates involved throughout the whole training. You will find the practical step-by-step methods so helpful, you will want to use them immediately on your return to work.
By attending this training, you will feel more confident when having difficult conversations and handling conflict situations.
This course has been approved by the ILM and is CPD accredited. Completion of this course will allow the delegate to apply for an ILM certificate, for a small additional charge.
"I have found all of this course beneficial. This training has really made me think about how to deal with conflict myself and also when others approach me. Thank you so much. The presentation was excellent, kept me engaged, very knowledgeable. Really enjoyed and learnt a lot. " Delegate from East Sussex County Council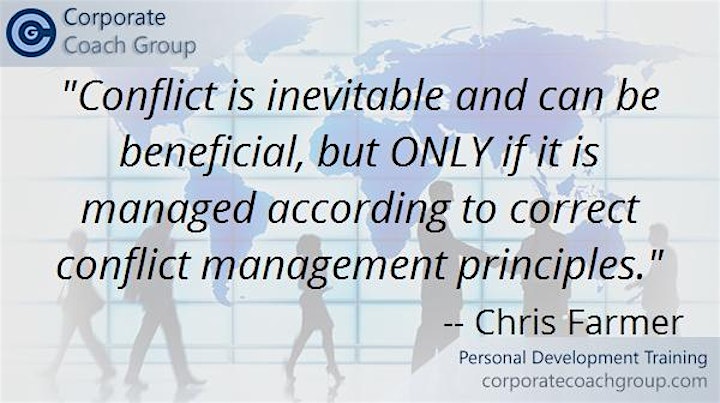 Organiser of Conflict Management Training (1 day course Manchester Salford)
Corporate Coach Training offer professional development training courses, to improve your productivity and help you achieve your goals. Our courses are highly practical, relevant and immediately applicable to your work context. We confine ourselves to ideas, methods and techniques that are of real value and are applicable to all individuals and organisations who wish to be successful.
We provide easy-to-use, practical techniques and tools that you need to get the best from yourself and your team. These training techniques can be applied immediately on your return to work.
Our range of professional training and personal development courses include:
Corporate Coach Training is an ILM Recognised Training Provider and CPD accredited.
Open courses are run at many locations throughout the UK, including London, Birmingham, Bristol, Cambridge, Leeds, Liverpool, Manchester and Reading. In-house courses are delivered both in the UK and internationally.
Please contact us to discuss your bespoke training requirements.