An opportunity to take a virtual tour around the Scottish and Japanese exhibitions and ask the artists questions.
About this event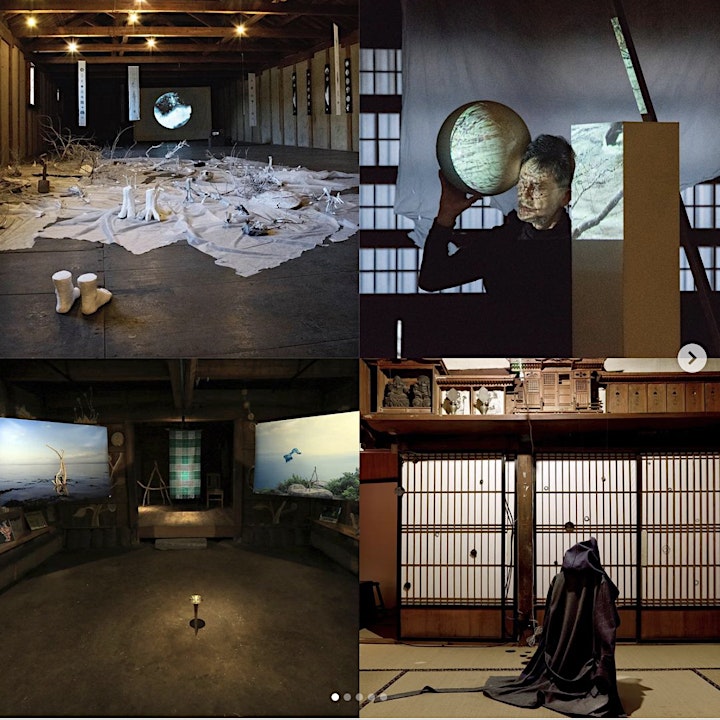 URGENT NOTICE:
It is with regret that we have decided to postpone our event this Sunday 5th of December 2021. Out of respect to a bereavement in our midst, we have decided to postpone our event until further notice. Please note that if you have already booked a place (via this site, Eventbrite), you will be sent a cancellation notice and will be notified of a future date in 2022. We apologise for any inconvenience this may cause but hope you will understand our reasons. May we wish you a peaceful and healthy end of year and we look forward to seeing you online in 2022.
IF YOU STILL WISH TO BOOK FOR FUTURE NOTIFICATIONS , THEN PLEASE DO SO.
お知らせとお詫び
メンバーのご家族の訃報をうけ、来る12月5日(日)に予定していましたイベントを延期することにしました。
メンバーと故人に敬意をこめ、お別れの時間を頂いてからの開催とさせていただきたいと思います。
このサイト、Eventbriteを介してすでに予約されている方には大変申し訳ありませんが、キャンセルのお知らせをお送りし、延期の日程を改めてご連絡いたします。開催は2022年1月以降になる予定です。
みなさまにはご迷惑をおかけしますが、何卒ご理解いただきますようお願い申し上げます。
年末のみなさまのご多幸とご健康をお祈りするとともに、2022年にオンラインでお会いできることを楽しみにしております。
ORIGINAL BOOKING IMFORMATION:
This free online event brings the Confluence of North: Spirit of North project to a conclusion. We invite you to this event to share with you this international artist exchange with took place between Scotland and Japan during the pandemic.
Please book a place (limited places) and will contact you in advance with the login details for Zoom. Please ignore the £ sign, which is a standard feature, as this event is free.
The event will take place at 10am UK time and 7pm Japanese time to enable both countries to meet at a mutually convenient time.
'Confluence of North' is an artist-led exchange project between four artists in Scotland and four artists from Spirit of North in Japan, leading to a series of exhibitions and events engaging additional artists and audiences in both countries. We will take you on a tour of the exhibition in Perth and Stornoway in Scotland and Kitakata and Nishiaizu in Japan.
Developed by Maruyama Yoshiko and Su Grierson, in collaboration with Maruyama Tokio, Asai Mariko, Takizawa Tatsushi, Kyra Clegg, Gillian McFarland and Inge Panneels.
We are grateful to our sponsors and supporters.
精神の<北>へ / Confluence of North イベント 
日本とスコットランド 4つの展覧会のバーチャルツアー 
精神の<北>へ / Confluence of North
この企画は、日本のプロジェクト「精神の<北>へ」と英国スコットランドのプロジェクト「Confluence of North」が互いに連携しながら、両国で国際展を開催したものです。
日本とスコットランドのアーティストが4つのペアを組み、国際間のコラボレーションによって、<北>の精神についての創作を試みました。
2013年に開催を始めた「精神の<北>へ」は、これまで互いの国を訪れ、交流を行なってきましたが、パンデミックの最中であった今回は、約1年間の交流をオンラインで行い、本年6月から11月まで両国で四つの展覧会を開催しました。
このプロジェクトの締めくくりとなる今回のオンラインイベントでは、スコットランドの古都パースと北西部にあるルイス島のストーノウェイ、福島県会津地方の喜多方と西会津で開催された展覧会を、作家の解説を交えてご紹介します。 日本語・英語の同時通訳付きです。
展覧会の紹介や作家の解説のみでなく、視聴者からの質問の時間も設けますので、この機会にぜひご参加ください。
ご予約をいただいた方にオンラインイベントのリンクをメールにてお届けします。
(チケットは無料です)
企画:丸山芳子、Su Grierson 
参加作家:丸山芳子、丸山常生、浅井真理子、滝沢達史、Su Grierson、Kyra Clegg、Gillian McFarland、Inge Panneels
この企画にご協力いただきましたスポンサーとサポーターの皆様に感謝いたします。
日時
2021年12月5日(日)
日本時間19:00-20:30
英国時間10:00-11:30

Organiser of Confluence of North - visual connections between Japan and Scotland