Congregate 3.0- Reconnecting | Reactivating. Post-Eid Special Reflections.
About this event
Watch Live at 6pm BST on 28th May 2021
Please note this is an online event - not in person.
We've had over a year of lockdown amidst the global pandemic. It's also been a year since Congregate first began responding to that experience. Now, with the holy month of Ramadan just behind us, the Soul City Arts team invite guest artists from the UK and abroad to offer a post-Eid special, live from Birmingham Museum and Art Gallery (BMAG).
In a unique departure, we will stream live from the Museum, with an artistic takeover of a gallery space while the museum remains closed to the public. We will transform it through lighting, sound, and live artistic presentation. Cautiously, but with optimism, we will both reconnect our communities and reactivate the Museum space in a way that has not been seen since before pandemic hit – in fact, in a way that has rarely been seen before within these four walls.
During these difficult times have we become insular? Have we forgotten how to bond? Have our communities fragmented? And what has become of our places of worship and our civic spaces? In tonight's special Mohammed Ali and SCA invite vocalist Faisal Salah, Manga artist Asia Alfasi and poet Tshaka Campbell to respond live to these themes both from within the gallery space and from their global locations. Join us to congregate once again.
Featuring:
Mohammed Ali (lead artist and curator); Manpreet Darroch (tech and presenter); James Hodkinson (presenter); Faisal Salah (guest vocal artist); Asia Alfasi (guest visual artist); Tshaka Campbell (US Poet); Sara Wajid (BMAG, guest speaker), Tasleem Jamila (US Musician)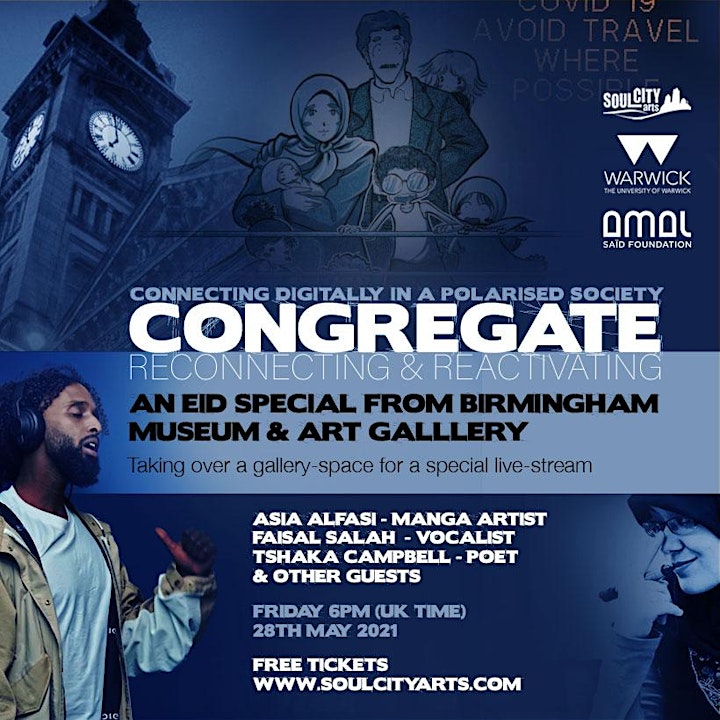 Featuring also: an exclusive showing of the full film 'The Call' from multiple locations around the world. Starting with Part 1: Birmingham
Organiser of Congregate 3.0- Reconnecting | Reactivating. Post-Eid Special Reflections.