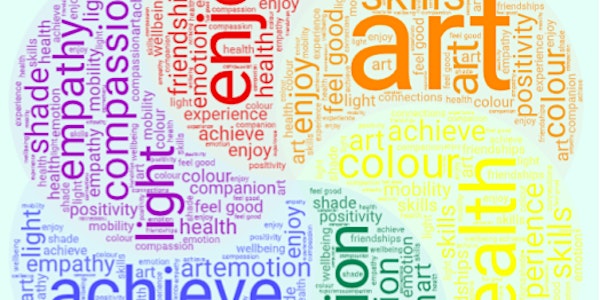 Connect & Create: Birmingham's Arts & Health Networking Event #4
Event Information
Location
Midlands Arts Centre
Cannon Hill Park
Edgbaston
Birmingham
B12 9QH
United Kingdom
Connect and Create with: artists; activities; conversations; ideas; people; tasters; venue tours; ideas; skills; partnerships; friendships.
About this event
If you work in arts, health/social care in Birmingham this is for you and one not to miss.
Connect & Create: This will be the fourth arts & health networking event since 2018 and is recognised as an important event for key workers delivering or supporting arts & health activity and initiatives in Birmingham. It offers the opportunity to develop further cross-sector partnerships to a range of stakeholders interested in how arts, culture and personalised therapy programmes can promote the health, happiness, well-being and independence of citizens in Birmingham, particularly those already known or at risk of becoming known to the social care and health sectors.
This event is aimed at arts, health/social care sector workers in Birmingham who want to make informed choices when considering arts projects as opportunities to support people within their care. We will look at social prescribing models and what they mean to you in your work, referral frameworks and how they can support your choice into the right activity for your residents and you will get to experience some of the activities on offer first hand through taster and introductory sessions.
Come with an open mind and open arms!
Background information:
Since 2018, BCC's Cultural Development Service has led on a range of initiatives and commissioning opportunities with the aim of nurturing cross-sector arts & health partnerships which in turn offer innovative cultural programmes of support for residents' health and wellbeing. The appointment of a Culture Officer sitting within Public Health, BCC, has enabled this cross-sector work to flourish and reach more residents with targeted health and wellbeing cultural programmes and related outcomes.
This work is steered by an Arts & Health working group which comprises representatives from both arts and social/health care sectors. The working group reflects on the needs of both sectors to facilitate stronger cross-sector working partnerships and to inform arts & health work planning.
Agreed aims of the group:
To support the Arts sector in its delivery of health and wellbeing related activity.
To empower the health and social care sector to engage with the cultural sector in developing appropriate and safe activity to meet social care/health outcomes for Birmingham residents.
For Birmingham to be a Centre of Excellence for Arts & Health work.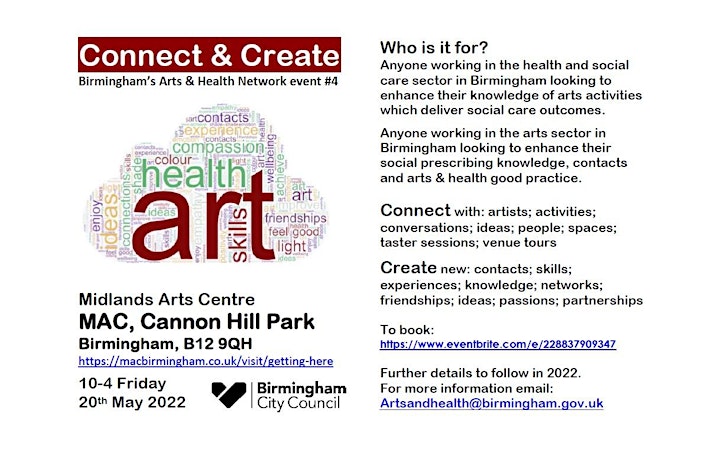 Date and time
Location
Midlands Arts Centre
Cannon Hill Park
Edgbaston
Birmingham
B12 9QH
United Kingdom