Connect Your Business Data and make better business decisions
Description
Connect Your Business Data and make better business decisions
Do you have multiple versions of "the truth" across different areas of the business? Do you find yourself always looking in the rear view mirror rather than ahead?
Plus Accounting and Cloud9 Insight are delighted to bring you our latest webinar on how to Connect Your Business Data and make better business decisions.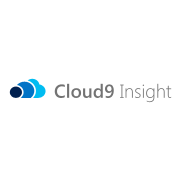 Learn about how other SME businesses are transforming their business processes to spend more time on client attraction, retention and overall customer experience. Changes in HMRC tax reporting will require all businesses to adopt modern accounting solutions. Is your business ready for this change and what other benefits can you gain from adopting modern workplace solutions.
All attendees will be eligible to sign up for a free "SME Modern Workplace Technology Health Check" with Cloud9 Insight (normally charged at £375) AND a free Demo session of Xero, to see if it is right for you (30-minute free demo and follow up report).
Plus Accounting's Emma Hardwick will be taking your through the benefits of Xero and how using Cloud Computing can have a positive impact on the efficiency of your business. Cloud9 Insight, award winning Cloud Specialists will be presenting on Microsoft Dynamics.
Why should you attend this webinar:
Looming deadlines for "Making Tax Digital" and a need to change IT Systems

Efficiencies of connecting Sales and Accounts (Connecting the front end and back end is of huge value)

Single platform for client data and single view of client

Efficiency of quote creation, confirmation and invoice process

Productivity and mobility on the road

Accuracy and Speed of Accounts including ease to complete end of year accounts, debt collection and cash flow management

Planning to support acquisitions and mergers from a technology and business integration perspective
This webinar will be delivered via Zoom platform and details of how to log in will be sent via email closer to 16 October.
The Workshop is aimed at company directors, owners, sales, marketing and finance managers and will provide you with an insight in business efficiencies via CRM and Cloud Computing.