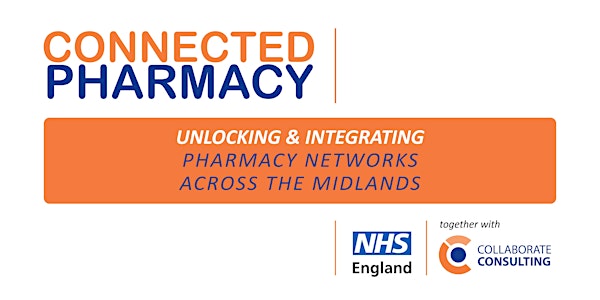 Connected Pharmacy – Black Country and West Birmingham
Calling all Registered Pharmacy Professionals and their teams, working in Black Country & West Birmingham in any sector, this is for YOU!
About this event
The world of pharmacy is in the biggest transformation of the NHS ever. For the first time, we have the opportunity to integrate pharmacists, across the healthcare ecosystem, to serve patients more effectively.
Take advantage of an NHS England funded developmental programme.
–––––––––––––––––––
WHEN?
DATES
Launch Event: 4th May 7pm - 8pm (Zoom)
Workshop 1 (two options):
11th May 7pm - 8.30pm (Zoom)
18th May 7pm - 8.30pm (Zoom)
Workshop 2 (two options):
8th June 7pm - 8.30pm (Zoom)
21st June 7pm - 8.30pm (Zoom)
–––––––––––––––––––
Please Note: To get the most out of the programme we encourage you to attend the launch, workshop 1 and workshop 2 (choose the dates that work best for you).
WHY ATTEND?
Understand how the new NHS priorities relate in your current daily activities.
Connect Pharmacy teams across interfaces to provide seamless care.
Create protected time/headspace to highlight and address real challenges in your day to day work.
Build personal and team resilience through local connections and networks.
Improve your work/life balance whilst delivering a modern pharmacy service.
Improve your communication and influencing skills and techniques in line with GPhC competency framework.
WHAT?
LAUNCH (1 hour)
Hear virtually from key speakers/leaders
Connect with team pharmacies across your locality
Highlight and address challenges
Start your personal development journey.
VIRTUAL WORKSHOP ONE (1.5 hour)
Understanding my local context and implications for my role
Registered Pharmacy Professionals and their teams as leaders/coaches
My connector style and how to improve communication within my pharmacy team and external stakeholders
My cross sector initiative and personal commitments.
VIRTUAL WORKSHOP TWO (1.5 hour)
Reporting back on progress on cross sector initiatives and update on personal commitments
Influencing without the positional power (input and working in small groups)
Creating individual and team resilience.
THROUGHOUT THE JOURNEY: Cross sector initiatives, sharing of best practice, peer support, access to on-line resources and key speakers.
------------
By Registering for this programme you are automatically entered into the draw to win a copy of the book 'Connect: Resolve conflict, improve communication, strengthen relationships' by Guy Lubitsh and Tami Lubitsh-White. Connect has been shortlisted for management book of the year by Chartered Management Institution (CMI). Winners will be announced at the Launch.
Connect is a book you take with you to crucial business meetings, to meetings with your boss, even conversations with co – workers. Connection and the ability to connect with each other will help you take your communication skills to the next level. Connect will help you understand what Connection is, what type of Connector you are, and give you a simple model to Connect better with others in an honest and meaningful way.
Find out more here: https://www.amazon.co.uk/Connect-conflict-communication-strengthen-relationships/dp/1292286873
If you are having problems registering for this programme, please email emma@collaborateconsulting.co.uk