Location
Committee of the Regions
Rue Belliard 99-101
1040 Brussels
Belgium
Description
The Internet of Things (IoT) ​is creating real-time data streams, which are increasingly becoming integral in the fabric of modern cities. Such urban environments are where the complexities of technology, business and society meet in their most condensed and voluminous forms, shaping also the rest of society. The Connected Smart Cities Conference is a unique global venue for cities, policy makers and businesses to connect to the forefront of human-centric societal development shaped by real-time connected technologies, markets and polity in the 21st century.
The CSC Conference 2017 is organised by the Open & Agile Smart Cities initiative (OASC) with the European Network of Living Labs (ENoLL). OASC is a focused effort – driven by cities, backed by industry – to establish a global smart city market based on simple standard mechanisms for interoperability and exchange of data, especially real-time data from connected devices, since this is where the main challenges are. It is therefore timely to take this opportunity to focus on IoT for cities and citizens. ENoLL is a platform for best practice exchange, learning and support, and Living Lab international project development.
Agenda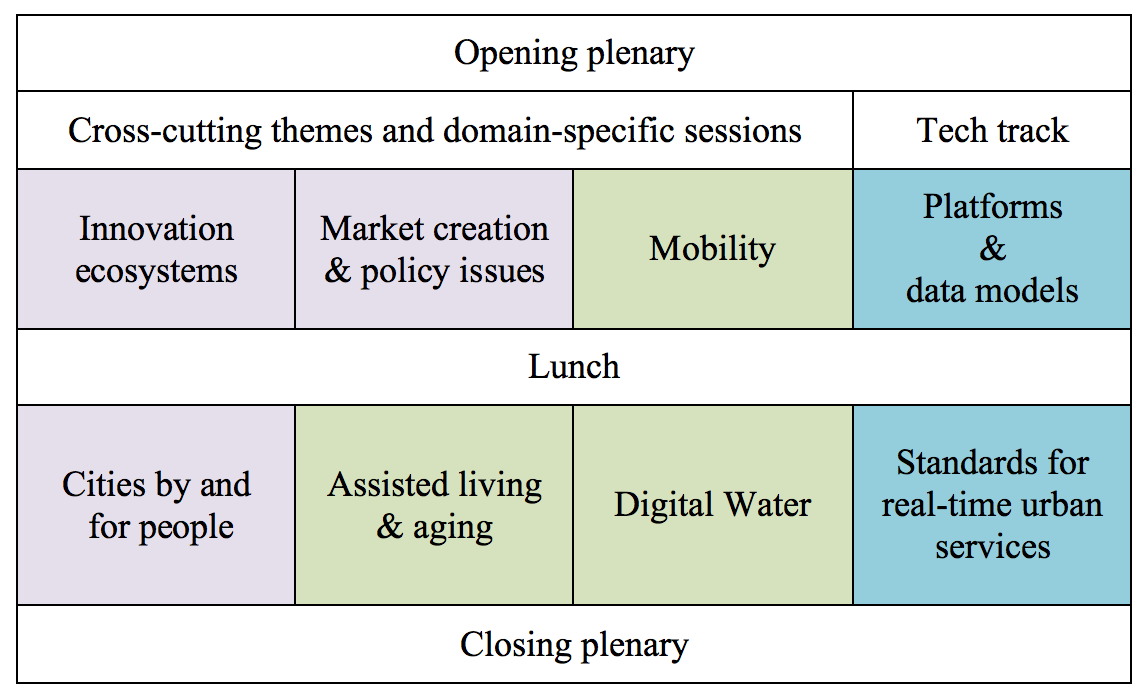 8:30–9:00 Registration and morning coffee
9:00–9:15 Plenary: Welcome from the Chair, Dr. Martin Brynskov, Open & Agile Smart Cities
9:15–10:00 Plenary: High-level keynotes
10:00–10:15 Coffee break
10:15–12:15 Parallel sessions 1 (4 sessions)

Innovation ecosystems (JDE52) – Chairs: Gohar Sargsyan, OISPG, CGI & Zsuzsanna Bodi, ENoLL

Market creation and & policy issues (JDE70, 7th floor) – Chair: Hugo Goncalves, Forum Virium Helsinki

Mobility (JDE53) – Chair: Seppo Haataja, City of Tampere/OASC

Platforms & data models (JDE51) – Chair: Jarmo Eskelinen, Future Cities Catapult
12:30–13:30 Networking Lunch
13:30–15:30 Parallel sessions 2 (4 sessions)
Cities by and for people (JDE52) – Chair: Marita Holst, Lulea Technical University

Assisted living & aging (JDE70, 7th floor) – Chairs: Sergio Guillen & Giureppe Fico, Universidad Politécnica de Madrid

Digital Water (JDE53) – Chairs: Durk Krol & Andrea Rubini, WSSTP

Standards for real-time urban services (JDE51) – Chair: Catherine Mulligan, Imperial College London/OASC
15:30–16:00 Coffee break
16:00–16:30 Plenary: Results from the parallel sessions
16:30–17:00 Plenary: Final keynote speeches and closing of the conference
Ben Levine, Executive Director of MetroLab Network, USA

Chi-Hyung Lee, President, Seoul Digital Foundation, Republic of Korea

Alberto Martin Torras, Smart City Expo

Mechthild Rohen, Head of Unit, Internet of Things, European Commission, DG CONNECT
17:00 Networking Reception
18:30 End
Details on the parallel sessions (4 morning + 4 afternoon)
3 cross-cutting themes, 3 domain-specific sessions, 2 technical sessions.
Cross-cutting themes:
Innovation Ecosystems: Open innovation between small and large, public and private (morning)

Market Creation & Policy Issues: On market creation (morning)

Cities for and by People: Co-creation, ethics & privacy (afternoon)
Domain-specific:
Mobility: As the recent OASC survey shows, mobility is a dominant aspect in any major smart city strategy (morning)

Digital Water: Water management is one of the biggest existing deployments of sensors in urban areas (afternoon)

Assisted Living & Aging: Focus on living environments for elderly and disabled citizens (afternoon)
Technical track:
Platforms & Data Models: Emerging mechanisms for interoperability (morning)

Standardisation: Connecting cities to ongoing initiatives (afternoon)
The Connected Smart Cities Conference is organised by Open & Agile Smart Cities (OASC), produced by OASC and the European Network of Living Labs (ENoLL), kindly hosted by the European Committee of the Regions, with contributions from the following organisations and related projects (alphabetically): Alliance for IoT Innovation (AIOTI), Big Data Value Association (BDVA), Creative Ring, EUROCITIES, European Commission, European Innovation Partnership on Smart Cities and Communities (EIP-SCC), European Platforms Initiative on IoT (IoT-EPI), Future Cities Catapult, MetroLab Network, Open Innovation Strategy & Policy Group (OISPG), OrganiCity, SELECT for Cities, Seoul Digital Foundation, Smart City Expo and SynchroniCity.