Description
This event costs £5.
We ask for a £10 deposit, which is refunded via eventbrite by SKC the day after you have attended the event.
This event brings people together across Kent for:
Networking breakfast and lunch
Seminars for practical tips and tools
1-2-1 advice sessions with Funding For All, Kent Community Foundation
1-2-1 SKC Employer Supported Volunteering advice and 1-2-1 SKC organisation "health checks"
Best Practice panel and table discussions
Plus The National Lottery Community Fund + The National Lottery Heritage Fund will be there!
Who should book?
CEOs, trustees, staff, volunteers and supporters of Kent community groups, voluntary organisations, charities and social enterprises linked in some way to our themes:
Art
Culture & Literacy
History
Heritage
This is everything from community choirs to art for regeneration, art for wellbeing, oral history projects to local museums, community media & literacy projects & more!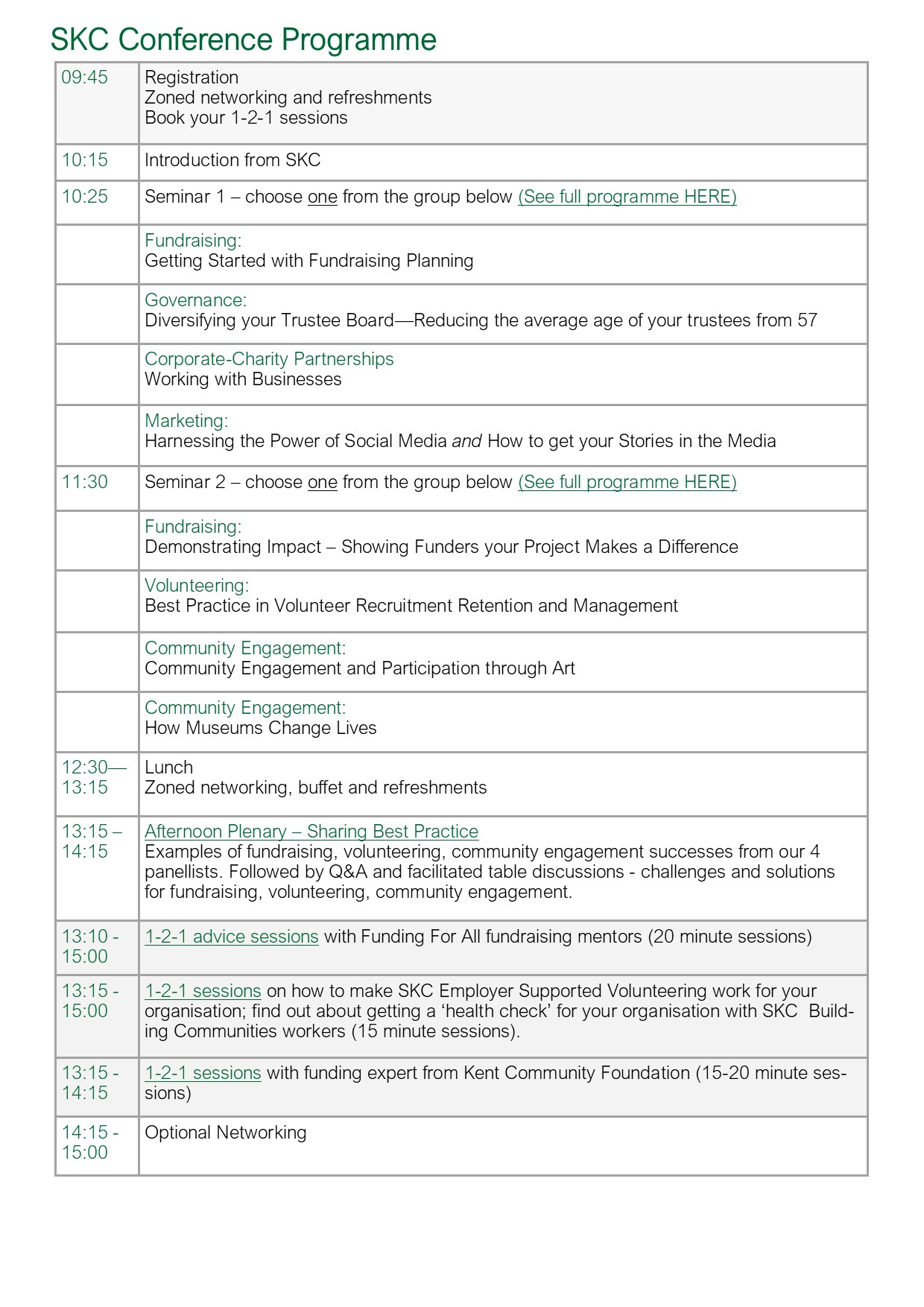 Recommendation:
It's well worth a few people coming from one organisation to attend different sessions and share notes - especially if you sign up to 1-2-1 sessions in the afternoon and so miss part of the panel and table discussions.
Bring along your burning questions and some volunteering, fundraising and community engagement challenges you're facing for our afternoon plenary and some questions to put to the panellists and the conference floor. We have question cards to fill in and submit if you prefer others to read out your questions and a volunteer from each table will be invited to share to the wider group.
Cost:
£5
This is to cover eventbrite booking fees plus a contribution towards lunch. We ask for a £10 deposit, which is refunded via eventbrite by SKC after you have attended the event**
Important:
**You must register at the SKC Welcome desk so we refund your deposit. If you do arrive late in the day, please ask for event organiser Emma Cooney and make sure you speak to her before you go so she can register you. This has worked very well so far.
No refunds are possible for cancellations or non-attendance.
What time does it start?
9:45 - 10:15 registration. Tea, coffee, fruit and pastries and networking breakfast
10:15 Sessions start
What time does it end?
14:15 Sessions end
14:15 - 15:00 optional networking
13:15 - 15:00 1-2-1 sessions with mentors